Delivery Information
Delivery Information
If you're ordering items for delivery, take a look at the table below to find out when they'll reach you.
If you take advantage of our Click & Collect service you can collect your items for free from your local store, sometimes as quickly as an hour after placing your order online!
Delivery Options
Unfortunately we're unable to deliver certain volatile or hazardous items - this will be made clear on the item's product page.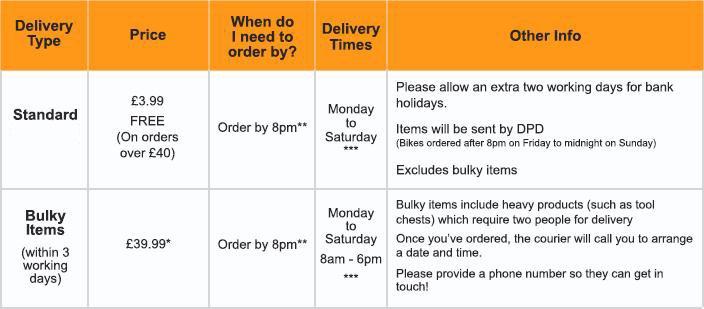 * Delivery of bulky items to the Scottish Highland and Northern Ireland will cost £99.99
** Items sent directly from the supplier (such as Halfords Marketplace orders and car parts) need to be ordered by 3pm. The delivery times for your order will be shown during checkout.
*** During busy periods these times may be extended.
Additional info
| | |
| --- | --- |
| Bank holidays | Unfortunately we do not deliver on Bank Holidays |
| Bikes ordered 8pm Friday – midnight Sunday | Our courier for bikes does not deliver at the weekend. Therefore, unbuilt bikes ordered between 8pm Friday and midnight on Sunday will be delivered on the following Tuesday. Please allow an extra working day for built bikes. |
| Volatile or hazardous items | We're unable to deliver certain volatile or hazardous items - this will be made clear on the item's product page. |
Get more info on Click & Collect.
Having built bikes delivered
Certain bikes can be delivered built; these will be delivered within five days.
Where do you deliver to?
We can deliver your order to addresses in the UK, but unfortunately we're unable to deliver to non-UK destinations (such as the Republic of Ireland, Channel Islands, BFPO addresses and PO boxes) at this time.
Deliveries to non-mainland UK addresses and remote locations (such as the Scottish Isles, Isle of Man, Isle of Wight, Northern Ireland and the Scottish Highlands) may take a bit longer to reach you.
What if I'm ordering more than one item for delivery?
If all the items in your order have been sold and sent by Halfords there will only be one delivery charge. If you're ordering an item from more than one Approved Partner (or items from Halfords together with items from an Approved Partner) there will be a separate delivery charge for each part of your order.
General Delivery Information
We'll do everything we can to meet the delivery times above, but sometimes they may be affected by factors outside of our control and can't be guaranteed. We'll let you know if we become aware of an unexpected delay.
For further details, please see our full Terms & Conditions.
Returning Items That Contain Hazardous Materials
All products that contain substances which are flammable, pressurised, corrosive, damaging to the environment, irritant or harmful, are classified as "Hazardous items". These items are classified as dangerous goods in the EU. When transporting and handling these items specific guidelines must be followed. If you want to return such items to Halfords you must follow the guidelines set out below.
Please use the returns instructions on your dispatch note and guidance below. If you?re returning a hazardous item from outside the UK, please contact our customer service team for information.
Packaging
Where possible, use the original packaging when sending back the product to us. This packaging already comes with the labelling and packaging formats that you need to apply. If your Halfords parcel was damaged please use new packaging to send the product back to us. To the new packaging please apply the additional labels included in your parcel. If you cannot locate your additional labels, copies can be downloaded using the links below.
Please ensure you download and apply all the labels present on your original packaging.
For items which contain batteries, including lithium batteries, make sure the package is strong and rigid. Secure the equipment against movement within the outer packaging and against accidental activation. Make sure any containers with liquids, aerosols or other substances prone to spillage are tightly closed and packed within a leak proof plastic bag. Place the containers upright in the box and put the filling material around the product to fill any empty spaces in the box. Newspaper can be used if original filling materials have been disposed of.
If you're returning multiple hazardous items, you must only return one item per parcel to ensure compliance.
Damaged Hazardous Items
If you receive a damaged hazardous item, please don't use it, and follow the instructions on the product.
Damaged hazardous items, including damaged lithium batteries, are NOT returnable and should be disposed of in a recycling centre. If the item you want to return contains damaged lithium batteries please detach them from the item before returning. The item without the battery can then be returned. If the damaged battery can't be detached or if the item itself is a damaged lithium battery; please contact our customer service team for advice.