Delivery Information
Delivery Information
If you're ordering items for delivery, take a look at the table below to find out when they'll reach you.
If you take advantage of our Click & Collect service you can collect your items for free from your local store, sometimes as quickly as an hour after placing your order online!
Delivery Options
Unfortunately we're unable to deliver certain volatile or hazardous items - this will be made clear on the item's product page.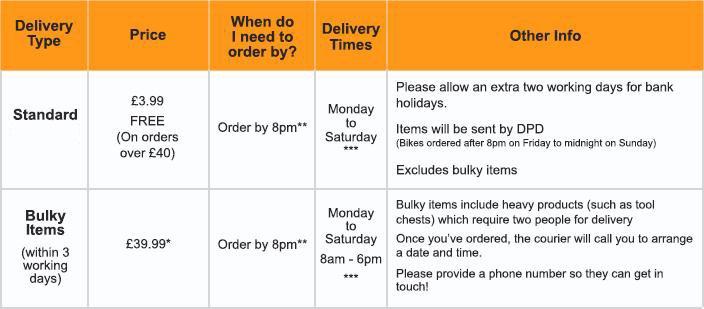 * Delivery of bulky items to the Scottish Highland and Northern Ireland will cost £99.99
** Items sent directly from the supplier (such as Halfords Marketplace orders and car parts) need to be ordered by 3pm. The delivery times for your order will be shown during checkout.
*** During busy periods these times may be extended.
Additional info
| | |
| --- | --- |
| Bank holidays | Unfortunately we do not deliver on Bank Holidays |
| Bikes ordered 8pm Friday – midnight Sunday | Our courier for bikes does not deliver at the weekend. Therefore, unbuilt bikes ordered between 8pm Friday and midnight on Sunday will be delivered on the following Tuesday. Please allow an extra working day for built bikes. |
| Volatile or hazardous items | We're unable to deliver certain volatile or hazardous items - this will be made clear on the item's product page. |
Get more info on Click & Collect.
Having built bikes delivered
Certain bikes can be delivered built; these will be delivered within five days.
Where do you deliver to?
We can deliver your order to addresses in the UK, but unfortunately we're unable to deliver to non-UK destinations (such as the Republic of Ireland, Channel Islands, BFPO addresses and PO boxes) at this time.
Deliveries to non-mainland UK addresses and remote locations (such as the Scottish Isles, Isle of Man, Isle of Wight, Northern Ireland and the Scottish Highlands) may take a bit longer to reach you.
What if I'm ordering more than one item for delivery?
If all the items in your order have been sold and sent by Halfords there will only be one delivery charge. If you're ordering an item from more than one Approved Partner (or items from Halfords together with items from an Approved Partner) there will be a separate delivery charge for each part of your order.
General Delivery Information
We'll do everything we can to meet the delivery times above, but sometimes they may be affected by factors outside of our control and can't be guaranteed. We'll let you know if we become aware of an unexpected delay.
For further details, please see our full Terms & Conditions.