Back to results
Bike Lights Buyers Guide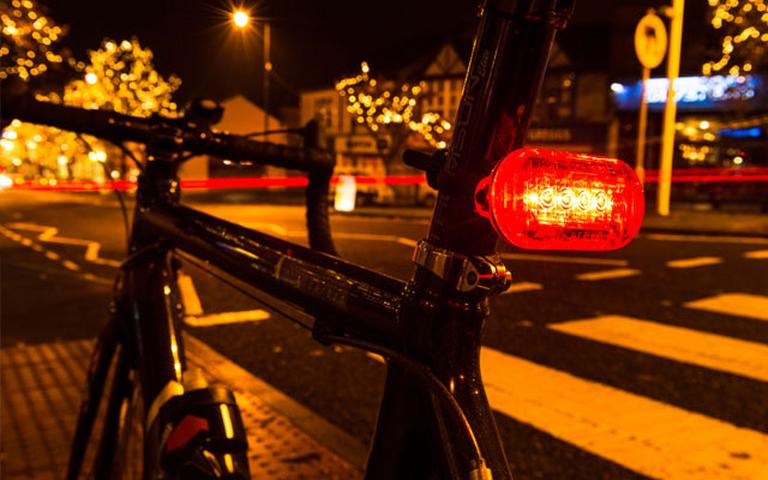 Find out more about bike lights, and work out which type of light is best for you.
Bike Lights Buyer's Guide
If you've ever been on an evening bike ride and been taken by surprise with how quickly darkness takes over, you'll know how important it is to have bike lights so you can see and so others can see you.
As soon as daylight starts to fade, the law says you need to have a white front light and a red rear light on your bike, as well as reflectors. Sounds pretty simple, but there are so many different types of lights out there that knowing which one's best for you isn't always straightforward. To help you out, our light gurus have written this guide to bike lights.
Types of lights
Before buying any lights, ask yourself what kind of light you're after. There are three to choose from:
Front light: As the name suggests, front lights are designed to be attached to the front of your bike and throw out a white beam. Typically more powerful than a rear light, front lights will help to ensure you're seen, but will more importantly help you to see where you're going.
Rear light: These are for the back of your bike, and they usually sit snugly on the seat post. They have a red beam and their primary purpose is to make sure traffic sees you.
Light sets: Usually cheaper than buying front and rear lights separately, light sets are the money savvy choice and come with both a front and rear light.
Whilst having a front and rear light on your bike keeps you on the right side of the law, it's also a really good idea to have some secondary lights to give you even greater visibility. These don't have to be expensive or powerful; anything that lights you up at night helps. You can get small lights that clip onto your bag or clothes, as well as helmets with lights built into them.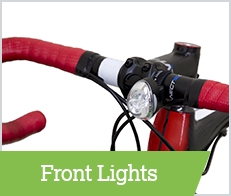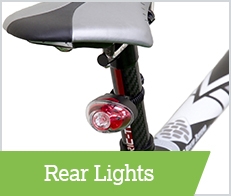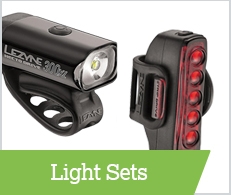 Important things to look out for
When you start looking at lights, you'll notice that some are simple single button affairs, whereas others have a features list as long as your arm. Below, we've outlined the key things to look out for.
USB rechargeable: Plenty of lights on the market are USB rechargeable. Not only do these save you money as you're not buying loads of batteries, but they're also really easy to charge. Simply plug the light into a computer or USB plug to charge it up.
Battery life: Some lights feature battery indicators so you know how long you've got left before they leave you in the dark. This is a great way of knowing when you need to replace the batteries or charge the light up, instead of charging it every day or having it die during a nighttime ride.
Power output: A light's brightness is measured by 'Lux' or 'Lumens'. Lux measures distance as well as light power, whereas Lumens is just the power output from the source of the light. The range of lumens available is huge and can range from about 5 to 100 lumens for rear lights, and from 10 up to around a dazzling 1,000 for front lights. Lower lumen lights are ideal for cycling in built-up, well-lit areas, whereas higher lumens are designed for taking the road less travelled.
Light modes: Even basic lights will often come with several light modes. These usually range from constant to flashing, and will help to save your battery. Some let you alter the brightness as well, which is helpful if you're travelling between well-lit and rural areas.
Waterproof: All good quality lights are waterproof, which is pretty much essential in this country. Having your rear light fail due to a water leak can be pretty dangerous as it could happen midway through a ride.
Mounting: It's not all about the light; the bracket and mount are also important. A good bracket will securely lock the light in place and focus the beam in the right direction.
Where are you cycling?
Lights are designed for different purposes, so the light's that best for you will depend on the kind of cycling you do.
Commuters
If you commute through a city or a town, it's important to make sure you're highly visible. Whilst having a good set of primary lights and secondary lights is the perfect starting point, you'll also need a reflective jacket and bag or bag cover at the very least. Lights that enable you to see are less important in urban areas thanks to the street lighting, but lights to be seen are incredibly important, even if you're riding in quieter suburban or rural areas.
It's a good idea to keep some emergency lights as a backup, in case your main light fails and leaves you riding in the dark. Emergency lights are usually small and compact so you can leave them in a saddle bag, whilst being powerful enough to get you back home.
Road
If you like to hit the road after work or on the weekend, it's best to get a light set that enables you to both see and be seen in all climates.
Since the Great British weather is famously unpredictable, it's best to invest in a good light set that can help guide you home when the heavens open. A light set with various modes will come in handy here; these will help you find the perfect amount of light for certain times, as well as helping to save the battery. As you can imagine, these are ideal for cycle routes that take you from brightly lit areas to dim country lanes, enabling you to set the correct amount of light for each situation.
Reflectives and staying visible
There are loads of options out there when it comes to ensuring you're visible on the road. You'll notice that many products, such as saddle bags, pannier bags and helmets feature reflective strips, and you can also buy reflective strips and stickers separately to put on your clothes or bag. Hi-vis backpack and helmet covers, along with reflective waistcoats are also a good idea. And don't forget to pop a few reflectors onto your bike!
If you're buying something like a pannier bag or helmet, think about buying secondary lights which can be connected onto these items. They'll help to improve your visibility and keep you safe!
See all Bike Lights