Back to results
Road Biking - What do you need?
Our handy guide can help you choose the right clothes for road cycling.
Road biking - what do you need?
When it comes to speed, road bikes are a different breed. They've got ultra-thin tyres and nimble carbon-fibre frames, so they're the quickest bikes you can get. If want to get the most out of your racing bike you need cycling clothing that'll keep you safe and comfortable but won't interfere with your speed.
Road Bike Clothing
Road bike helmets
Having a bike helmet is always important, but it's essential to wear one if you're going to be reaching the speeds that most road bikes are capable of.
Cycling shorts
Padded cycling shorts are comfy on longer rides, but did you know that they also make you more aerodynamic? This means that you'll be able to keep up those top speeds. We've also got cycling bib shorts which have shoulder straps to even out pressure and keep out any draughts.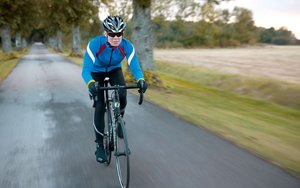 Cycling jerseys
A skin-tight cycling jersey will also make sure that no speed is lost through wind resistance. Most of them are also made out of a 'sweat wicking' and fast-drying material, so they'll soak up moisture and make for a comfy ride.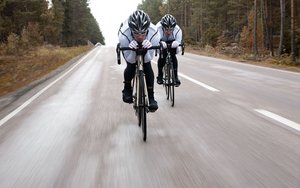 Cycling glasses and goggles
Some people don't realise that when you're cycling fast, you often need something to keep the wind or spray out of your eyes. Good glasses or goggles will do this, and they'll also give your eyes UV protection.
Road cycling gloves
Losing any grip on your handlebars is the last thing you want if you're hurtling down the road on a racing bike. We've got a range of cycling gloves to help you out.
Cycling shoes
Most modern race bikes come with 'SPD fitment' pedals, and you have the option to buy special shoes that clip into the pedals. They're a great option because they'll give you the ultimate control of your bike.
Your road bike gear at Halfords
We've got all the bikes, accessories and clothes you need at Halfords if you're into road bikes. Take a look online or pop into your local store for help.
View Cycling Clothing