Back to results
Summer Cycling Clothing Guide + Video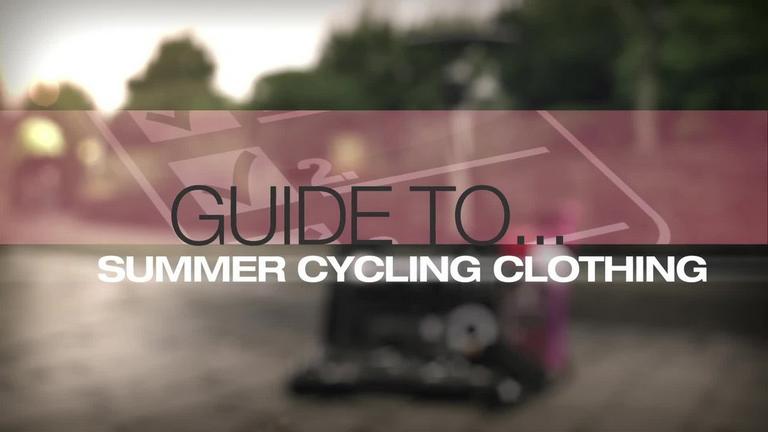 Being comfortable when you're out cycling makes a huge difference to your enjoyment and performance. Read our guide for some clothing tips for hot weather.
Summer Cycling Clothing Guide
Most people do much more cycling in the summer than the winter, and that means more time spent in your cycling kit! Obviously there's a lot less clothing to wear in the summer compared to the other months, but having the right kit can make you much more comfortable.
Start with the basics
Many summer jerseys and shorts offer UV protection, to keep you from getting burned. Of course, they're normally quite minimal to start with, but here are a couple of features to think about:
Shorts - A good quality pair of shorts should be your first port of call when it comes to getting kitted out. Cycling shorts normally have a chamois, which is a padded area that goes between you and the saddle. It's also worth looking for bib shorts, which have straps that go over your shoulders rather than just a waistband. This is much more comfortable when you're riding along. Cycling shorts are supposed to be worn without anything underneath.
Jerseys - A summer jersey will be made of a thin, breathable and wicking fabric, which means it carries moisture away from your skin. Mesh panels can also help to keep you cool, and pockets at the back help you carry things like food, a phone and tools in a comfortable and balanced place.
Changing conditions
Remember, conditions can change while you're out riding. It's good to be prepared for a shower or a cool breeze, or have something that works in the early morning chill as well as the midday heat.
Base layers - It might sound a bit counter-intuitive to layer up in the summer, but some base layers are designed to help keep you cool and comfortable, by wicking away sweat and giving it a bigger surface area to evaporate from. Of course, if it's not as warm, having a nice intermediate base layer can really help too.
Arm, leg and knee warmers - These are great for changing conditions. You can head out on a ride first thing with arm and knee warmers, then take them off and put them in a pocket when it warms up, meaning you're comfortable for the whole thing. They're normally fleecy sleeves that tuck under your jersey or shorts and give a bit of extra warmth.
Gilets/jackets - There are lots of jackets and gilets available that pack down really small, and will fit in your jersey pocket. If you find yourself caught by a sudden downpour, or there's a bit of a chill in the air, you'll be glad you picked one of these up on the way out of the door.
Accessorise!
Now you're pretty much ready to go, here are a couple of extra things to bring along:
Sunglasses - Of course, these keep your eyes safe from the sun, but they also keep out dust, debris, bugs and the wind.
Cycling caps - These can wick away sweat from your head, or work like a sweat band and keep it out of your eyes.
Gloves - A pair of short mitts gives a bit of padding for your hands. They also protect your hands a bit if you happen to come a cropper.
Hopefully you're now all kitted out to go riding. Before you do, remember to put on some sun cream and stay hydrated ! As well as getting colder, you can be caught out by running out of fluids on a hot day. Take a look at our range of cycling clothing if you think you're missing something.
View all Cycling Clothing