Back to results
Why Should Kids Cycle?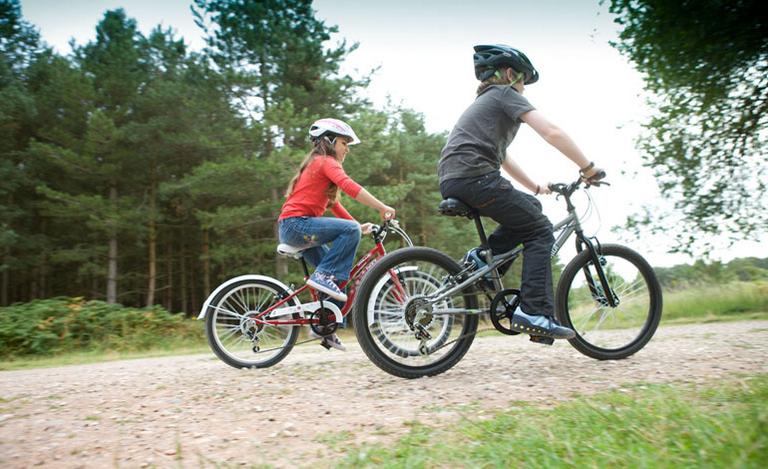 Get your kids enjoying an active lifestyle from an early age.
Why Should Kids Cycle?
You can't beat cycling for getting outdoors and exploring. Fun and exciting, riding a bike helps to keep your child fit and healthy, and it's a great way to spend some time together as a family. They'll also learn some valuable skills and create memories that'll last a lifetime.
The main benefits
There are countless benefits to cycling, from staying fit and healthy to getting to know your surrounding area - and let's not forget fun! Below, we've listed just a few reasons to get your little one out on a bike.
Exercise - Keeping fit is one of the top ways to ensure we stay healthy, and burning some extra calories doesn't hurt, either! Getting kids into cycling whilst they're young will help to keep them active as they get older.
A happy mind - Few things beat exercise for improving mood. Couple that with being in the great outdoors and you're onto a winner.
It's Cheap - Cycling is a very affordable hobby. After buying the bike and important accessories, there's next to no maintenance costs.
Family time - A cycling trip makes a great day out. A picturesque route and a packed lunch have all the ingredients for a great day out with your loved ones. Teaching your child the basics of bike maintenance is also a fab way to bond.
Balance and coordination - Cycling is fantastic for fine-tuning motor skills, as well as building up strength in both the legs and the core.
Independence - Cycling enables kids to get around under their own steam, providing much needed independence once they get a bit older.
The lay of the land - What better way to discover your local area than cycling around it? Not only will your child learn their way around their hometown, they'll also pick up valuable skills for cycling on the road and in traffic.
Fun! Who doesn't relish the feeling of freewheeling down a rural hill, feet off the pedals, whooping at the top of your voice? No matter what age you are, that never gets old!
But which bike?
There's certainly plenty of kids' bikes to choose from, and it can be more than a little overwhelming at first glance. Kids' bikes are sized according to the size of their wheels, and each wheel size roughly corresponds to an age. Take a look at our Guide To Finding The Right Size Kids' Bike for more help.
When your child is little, not much differentiates bikes from each other than the style, though one thing to look out for is frame material. Many kids' bikes are made from steel which is strong, but also heavy. Bikes with aluminium frames (such as our Carrera and Wiggins ranges) benefit from being as strong as steel but a lot lighter, making them easier to ride.
Once your child is ready to move up to a 20" bike (around the age of 7), there tends to be more choice between the type of bikes available:
Mountain bikes are a popular choice for kids, as they have knobby tyres that are great in mud, and they can withstand a bit of tough love.
Hybrid bikes do well on both the road and cycle trails, making them great all-rounders.
Road bikes are fast, light, and nimble; great for young speed demons.
BMX bikes nearly always have 20" wheels, so one that fits a child will also fit an adult. At home in the skatepark or on the street, BMXs are strong and can perform tricks; great for mini daredevils!
What Halfords can do for you
If you have any questions about getting the right bike for your child, pop into your local store and we'll be more than happy to lend a helping hand. If you decide to buy a bike from us, we'll build it for free and you can bring it back after six weeks for a free safety check.
We'll also fit any accessories for free if you buy them at the same time as the bike, so it's all set up and ready to go as soon as you leave the store.
View all Kids Bikes