Back to results
Buying Sledges for Children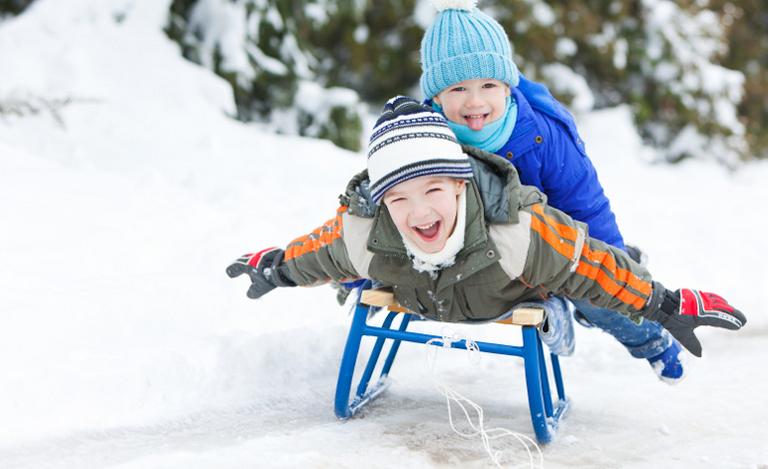 Sledges are the best way to get around for your little ones when it snows
Buying Sledges for Children
Remember how much fun you had as a child playing in the snow and how sledging made the frozen toes and nose worthwhile? The Halfords Sledge Wizards have come up with a useful guide to help you pick the best sledge for your child's adventures.
There is something for everyone to make those snowy days the best days of the year. However, don't forget to stock up on Hot Chocolate too, as it works wonders after a day of sledging.
Types of Sledges for Children
Baby Sledges - Baby Sledges are the very safe way of pulling your infant around the kingdom of snow and getting them involved in the winter fun. The sledge is kitted up with seat belts and anti-slip padding, so that your little angel is super-safe even when you're pretending to be a horse or a race car pulling the sledge around.
Lightweight Sledges - Lightweight Sledges are the perfect choice for the more adventurous youngsters who love a bit of speed and sledging adrenaline. The sledge is super easy to carry, which comes in handy when you're climbing a hill and it most often features break control for a safer ride.
Traditional Sledges - Traditional Sledges allow you to admire the view as you're sliding down, plus they get extra brownie points for the very cool, retro look. If you like stability and you fancy an easier ride, go for the classic.
Inflatable Snowtubes - Inflatable Snowtubes brings together the absolute best of two very different worlds: sledges and lilos. Super-fun and speedy, this hybrid sledge is suited for older children and teenagers. Plus, you can always deflate it for easy storage.
Which one will find its place under your Christmas tree this year? You can buy sledges online for home delivery, or reserve online and collect from your local Halfords store. If you're looking for more gifts check out the other awesome toys such as scooters, electric ride-ons and even skateboards. Great for kids and adults alike - admit it, you are still as excited about Christmas gifts as you were in childhood and there's nothing wrong with that.
View all Sledges