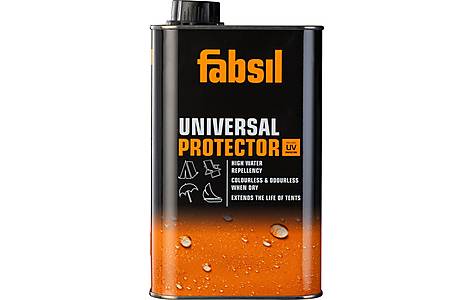 Description

Fabsil Liquid 1L

Fabsil Liquid 1L

is a silicone-based water repellent treatment for all kinds of tent, tarpaulin, canopies and awning fabrics. It dries to an odourless and colourless finish and will really extend the life and performance of your tent. This stuff's pretty magical!

Fabsil Liquid 1L Extra Info

1ltr will cover upto 18sq metres of nylon, 7.5sq metres of light weight canvas and 5sq metres of medium weight canvas.
A light 2 person tent is approx 6sq metres.
Fabsil Liquid 1L
Cat code: 203518
Other customers who bought this also viewed
Reviews

Good all round proofer

This stuff is perfect for any tent but remember a tent is a thin bit of material so its never going to make it 100% proof but I tell you it gets close!! Also I used it on a gazebo that is not meant to be waterproof by any means and it worked just as well. Suggest using the spray version on seams and zips and the liquid version in a plant sprayer for best results.

31 May 2012

did not work

it worked in mild rain but in heavy rain you got soaked, not very good it did not do what it said on the tin.

24 May 2012

Fab Fabsil Liquid!

Very easy to apply, hubby just painted it on. Less waste than spray products we've used before. Cleaned the awning first with another Fabsil product and made awning look like new. Product was alittle on the smelly side but when it dried the smell went away.

17 April 2012

Fabsil

Good stuff, used it to water proof 2 motorcycle covers and 2 jackets, works well.

06 October 2010

Other Buying Options

You can buy this product from one of our carefully selected Approved Partners. The full list of options available are below. Simply add your chosen option to your basket and proceed to checkout when you're ready.

You can purchase products supplied by Halfords and selected other suppliers on halfords.com.

Checkout is always via halfords.com and all payment will be taken via halfords.com. In checkout the products will be split into separate deliveries for each supplier.

Showing 1 -

X

of our buying options

| Price | Seller Info | Purchase |
| --- | --- | --- |