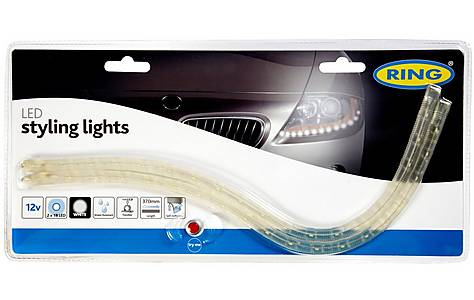 Description

Prism Flexi Daytime Styling Lights

These Flexi Daytime lights from Prism are made with a waterproof construction and are designed to easily fit vehicle contours. The lights create a daytime running lights effect and a contemporary lighting style to enhance the look of your car.

Prism Flexi Daytime Styling Lights Extra Info

2x37cm flexi clear daytime styling lights
2x18 high intensity white LEDs
Both the strips and dhesive are clear preventing them from effecting the look of the car when not in use
Strips can flex both horizontally and vertically to match the contours of modern headlamps
Easy 12V 2 Wire fitment - full instructions included

Click here for fitting instructions

Additional Information

Road legal when used in conjunction with your vehicles original side postion lights.
Prism Flexi Daytime Styling Lights
Cat code: 128515
Free Click & Collect
Delivery Available
Show Options
Standard Delivery

£2.99

FREE within 4 working days on all orders over £30 (Halfords products only)

Next Day Delivery

£4.99

Order by 8pm for delivery tomorrow (Mon - Fri)

Named Day Delivery

£4.99

Choose your delivery day (Mon - Fri)

Saturday Delivery

£5.99

Order by 8pm Friday for delivery on Saturday

Sunday Delivery

£5.99

Order by 8pm Friday for delivery on Sunday

Morning Delivery

£6.99

Order by 8pm for delivery 8am - 12 midday (Mon - Fri)

Afternoon Delivery

£6.99

Order by 8pm for delivery
12 midday - 6pm (Mon - Fri)

Evening Delivery

£9.99

Order by 8pm for delivery 6pm - 9pm (Mon - Fri)
Other customers who bought this also viewed
Reviews

Prism Flexi Daytime Styling Lights

11

11

Good product, Shame they didn't match !

A good product at a fair price, but unfortunately after buying TWO sets at the same time, they were different styles, slightly, so the effect when installed was different, and very disappointing.

31 August 2011

Dont Bother

I purchased a set of these lights a few weeks ago. They are overpriced and not very effective during the day. Do not stick very well and the wire is very thin and hard to work with. There are better out there. Give these a miss...!

06 April 2011

Good if it suits your car

Good looking product that suits my cars headlights - check that it does first, Should be a fitting service.

15 March 2011

Good purchase

This item served the purpose that it was ment for. The flexability was quite good under the current summer (2010) temperatures (20`-26`C). The led light is quite bright but could be a little bigger. The installation is qute simple. A good substitute for the real thing.

25 July 2010

Looks great but.........

Bought these last week,They were getting fitted in a heated garage. Both snapped when trying to mold them to the shape required. Absolute Rubbish Avoid.

24 January 2010

Flimsy

Intenal wiring broke when strip bent to shape, first three bulbs still work and give good effect. Clearer instructions may have produced a better result.

12 January 2010

Great Product

Added these to my Taxi. The added light great for others to see me properly. DOES NOT give off much light but thats not the reason I bought them. First set I bought were faulty, Halfords replaced them with out a problem. TIP:- when fitting them use a hair dryer to make them warm and then you can shape them any way you like with out any risk of breaken the contact strip inside..

11 January 2010

faily good product

The item needs careful handling when changing the contour of the lights from the packet to headlight profile The first one fixed OK ,but the second light snapped when trying to straighten (They are quite brittle) I had no trouble changing the broken light at my local store If you require these lights to work off the ignition independent of side lights, the wiring can be a bit of a headache especially on diesel engined cars

03 January 2010

Other Buying Options

You can buy this product from one of our carefully selected Approved Partners. The full list of options available are below. Simply add your chosen option to your basket and proceed to checkout when you're ready.

You can purchase products supplied by Halfords and selected other suppliers on halfords.com.

Checkout is always via halfords.com and all payment will be taken via halfords.com. In checkout the products will be split into separate deliveries for each supplier.

Showing 1 -

X

of our buying options

| Price | Seller Info | Purchase |
| --- | --- | --- |