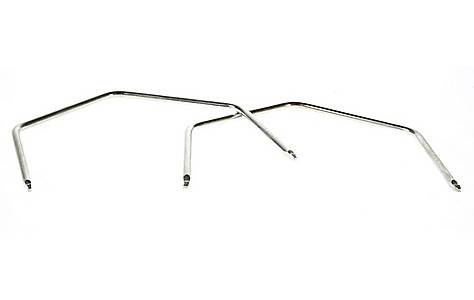 Description

Autoleads Audio Release Tool for Vauxhall PC5-110

Autoleads Car Audio Release Tool PC5-110 for Vauxhall. Autoleads car audio release tools to remove the majority of car audio head units where a release hole is located on each of the 4 corners of a double sized OEM head unit such as a Vauxhall.

Additional Information

Various tools are available for removal of the Original Equipment stereo in a vehicle. In general, most car stereo can be removed with standard DIN removal keys available in Halfords stores, alternatively, slot keys are also available if the style of the stereo dictates. Please visit your local Halfords store for further assistance.
Autoleads Audio Release Tool for Vauxhall PC5-110
Cat code: 254565
Free Click & Collect
Delivery Available
Show Options
Standard Delivery

£2.99

FREE within 4 working days on all orders over £30 (Halfords products only)

Next Day Delivery

£4.99

Order by 8pm for delivery tomorrow (Mon - Fri)

Named Day Delivery

£4.99

Choose your delivery day (Mon - Fri)

Saturday Delivery

£5.99

Order by 8pm Friday for delivery on Saturday

Sunday Delivery

£5.99

Order by 8pm Friday for delivery on Sunday

Morning Delivery

£6.99

Order by 8pm for delivery 8am - 12 midday (Mon - Fri)

Afternoon Delivery

£6.99

Order by 8pm for delivery
12 midday - 6pm (Mon - Fri)

Evening Delivery

£9.99

Order by 8pm for delivery 6pm - 9pm (Mon - Fri)
Customers who bought this product also viewed
Reviews

Autoleads Audio Release Tool for Vauxhall PC5-110

13

13

Useful

Brought to remove a tape cassette player from a 2003 Vauxhall Corsa C. Undo the 4 grub screws in the holes of the stereo unit then push these right in to the holes and push them outwards towards the tools respective closest door then you should be able to pull the head unit out. Made this a simple 2 minute job with these keys. Had no problems what so ever. Spent the money on them but saved time.

02 June 2011

Right Tool For The Job

Does exactly what its ment to do. Removes stock, double DIN radios. Remove grub screws with allen keys. slot the removal keys in fully. Apply some lateral pressure and pull. The radio will slide out

08 May 2012

Important tools

Having a 2 DIN radio for the first time and wanting to fit a handsfree kit posed a problem. The removal tools I had wouldn't fit, these are great. Things to note: the four holes may or may not have small grub screws, double check. Make sure the tools go in straight. To engage the tools properly put pressure on the tools pulling them towards the sides before pulling the radio out.

19 March 2012

Great product

Really good product I used it to remove my cd player from my Renault clio and had no problems with it very easy to use

05 March 2012

Worked after a few attempts

The tools eventually succeeded in taking out the radio, but I had to try several times to get them to 'lock' in place. The problem seemed to be that there was no guidance as to which way round the tools needed to be (which rotation), or how far they needed to be inserted before they locked. Several times I thought I had it right but they just slid out when i pulled on them. However, once they were locked in place they worked a treat and the radio came out easily.

21 December 2011

Very useful tool

was changing the stereo on my vectra and these tools got the old stereo out quite easily

31 October 2011

Perfect

When you've realised that your CD 30 doesn't produce good enough sound, it's time to take it out and put in your own Extreme Bass Heavy Stereo. But how? With these keys! Plug into the 4 slots and pull out the old Vauxhall Unit. Done.

30 April 2011

Radio removal made easy

needed to remove an in built Vauxhall radio and these removal tools made the job easier. Getting the radio to release is almost impossible without these tolls but it still takes patience to actually get the radio out

15 November 2010

Other Buying Options

You can buy this product from one of our carefully selected Approved Partners. The full list of options available are below. Simply add your chosen option to your basket and proceed to checkout when you're ready.

You can purchase products supplied by Halfords and selected other suppliers on halfords.com.

Checkout is always via halfords.com and all payment will be taken via halfords.com. In checkout the products will be split into separate deliveries for each supplier.

Showing 1 -

X

of our buying options

| Price | Seller Info | Purchase |
| --- | --- | --- |