WEEE Regulations
Since July 2007, the UK's Waste Electrical and Electronic Equipment (WEEE) Regulations requires that all producers of electrical equipment are now obliged to pay for recycling of household electrical goods.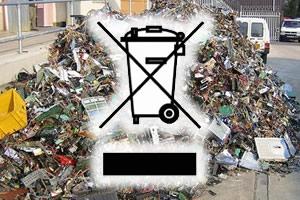 WEEE Regulations
Recycling Household Electrical Goods
Each year in the UK the quantity of electrical waste we create would fill the new Wembley stadium six times. An average household has numerous items of electrical equipment and once you replace them it is difficult to know what to do with the old ones. Whether it is an old television or microwave, there are vast amounts of electrical equipment that are thrown away and end up in landfill sites.
Recycling your used electrical equipment is quite simple and helps the environment. Much of the resources from recycling can be recovered and made into new consumer products. To remind people to recycle, all electrical goods sold now carry the crossed out wheeled bin symbol.
The WEEE Regulations are designed to encourage people to get their electrical items recycled with ease at local council waste collection facilities. A national fund has been set up to increase the number of collection facilities which will in turn allow producers of this equipment to meet their obligations under the regulations.
Visit www.recycle-more.co.uk to find your nearest participating site and get advice on all aspects of recycling at home.
Compliance With UK WEEE Regulations
In order to partially meet our obligations as a distributor, as defined in the UK WEEE Regulations, Halfords have opted to become a full member of the Distributor Take back Scheme (DTS). As a member of the DTS, we have made a financial contribution toward the development of the network of Designated Collection Facilities (DCFs) instead of offering in-store take back of WEEE. This money will be put towards the improvement of WEEE collection facilities located at Local Authority Civic Amenity sites.
In addition, through our support of the national recycling website, www.recycle-more.co.uk, we will also meet our obligations to make information available to users of EEE in private households on:
The requirement on each Member State under Article 2 of the Directive to minimise the disposal of WEEE as unsorted municipal waste and to achieve a high level of collection of WEEE for treatment, recovery and environmentally sound disposal.
The collection and take back schemes available to them.
Their role in contributing to the reuse, recycling and other forms of recovery of WEEE under these Regulations.
The potential effects on the environment and human health as a result of the presence of hazardous substances in EEE.
The meaning of the crossed out wheeled bin symbol.
From Castrol oil to Sat navs Halfords go the extra mile