Camping Buyers Guide
Whether your looking to go camping with the family over summer, or enjoy a festival over a weekend, we can help you choose the right tent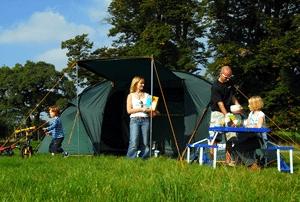 Choosing The Right Tent For You
Lightweight
If you are camping when cycling, trekking, motorcycling etc, you will want a small lightweight 1 or 2 person tent. Any extra space inside the tent is a luxury that is likely to result in the tent being too large and heavy to be carried with you.This sort of tent is quick to pitch and is ideal for overnight stays.
Compact
When you are using a car or other mode of transport to go camping you can afford to make your camping more comfortable by choosing a slightly larger tent which will give more space for you and your kit to spread out into; and more headroom so you can even stand upright inside. A larger tent generally takes a bit longer to pitch, but for the ultimate in quick pitching why not try one of our new almost instant pitch pop up tents.
Family
Once you are camping as a family, you definitely need space. Large family tents give enough bedrooms for the whole family, enabling each person to have some privacy. Don't forget you will also need space to store your clothes, personal belongings and any camping furniture. You need to have a reasonable amount of standing room inside the tent to be able to retreat from bad weather comfortably.
Many of these family tents use a pair of angled connectors between the sides and top of the dome poles, to modify the curve of the bent pole and provide the headroom over a bigger area (see illustration below).
Conventional & Angled Dome Tents
Key Factors to Consider
How Many Are You Going to Sleep?
Firstly you need to think about how many people need to sleep in the tent. If you are sleeping two, the obvious choice is a two person tent, but think about possibly buying a 3 or 4 man tent to give you extra storage space. Or if you have a family of 4, maybe buy a 6 person tent.
Sleeping layouts differ between tents. Some tents will have just one large sleeping area while others will have separate bedroom compartments, like on our Urban Escape Himalaya 4.
What Kind of Living space do You Want?
Also think about the living and storage space you would like - compare tent layouts and ask yourself whether you want somewhere to relax and what you want that space to be like. For example our Urban Escape 4 person tent pack tent is 30% larger in size than our Halfords family tent pack tent and has larger windows to let the light in while you watch the world go by..
How High do You Want the Roof of Your Tent?
The higher the the tent, the more spacious it will be, giving you a larger living area too. Look out for walk-in height tents - you won?t need to duck when getting in.
What to Look For When Buying a Tent
Once you know the style and size of tent you need, you can start to look at the different benefits each tent in that style offers.
Comfort
How Waterproof do You Want Your Tent to be?
Of course you want one that is waterproof, but some will protect you more than others...
How do You Know How Waterproof Your Tent is?
'Hydrostatic Head' is the measure- the higher the number the more waterproof the tent. Common ratings are 1500, 2000 and 3000hh. An entry level tent with a hydrostatic head of less than 1000 is really only showerproof - fine for festivals perhaps. For a tent to be classified as waterproof it must have a hydrostatic head of at least 1200. Premium tents will use a flysheet fabrics with a hydrostatic head of 2000 and above - all our Urban Escape tents have 2000 Hydrostatic Head.
Here is our range of tents with their Hydrostatic Head rating:
| | |
| --- | --- |
| Tent | Hydrostatic Head |
| Halfords Value | 1000 |
| Halfords | 1500 |
| Urban Escape | 2000 |
| Gelert & Lichfield | 2000 or 3000 |
| Wild country | 3000 |
Insulation
How the tent is made will influence how warm you will be at night. Protection against condensation and improving insulation will make you more comfortable.
Most tents are double skinned, meaning they have two layers of fabric, improving insulation. The first is the outer flysheet, and the second is the inner bedroom which is just clipped on.
Also think about how much you want air to circulate round the tent to help it stay cool in the summer and minimise condensation. The Urban Escape has extra ventilation vents to help with this.
Protection from wildlife
Finally, will the bugs bother you? Consider whether you want to buy a tent that gives a little extra protection - our Urban Escape tents have mosquito nets on the bedroom doors making harder for insects to get in helping to prevent bites and stings - great if your camping near water!
Groundsheets
A basic loose groundsheet is pegged to the ground with little protection from the outdoors, while attachable rising groundsheets attach to the sides of the bedroom and tent, to reduce draughts and bugs. The Urban Escape tents all use attachable rising groundsheets that are initially fixed in position by hooks and elastics. The rising sides are then secured to the inner tents and the sidewalls with a combination of elastic hoops with toggles and hook and loop tape.
To avoid any trip hazards when using the tent doors, the rising side section of the groundsheet at the door can be lowered and safely pegged to the ground.
Lighting
Are you going to stay up once it's dark outside? If so, you'll need a lighting point. Some tents do not have anywhere for you to hang your lights, whilst our Urban Escape tents do, giving you a handy opening allowing you to feed your cable into the bedroom, whilst still being able to completely close the bedroom door.
Storage
Think about how organised you want to be - some tents have built in storage pockets, including ones for your bedroom doors to help keep you tent tidy and have somewhere to keep your kit. The size of these pockets vary by tent as well.
Five Questions to Ask When Choosing Tent
Do I want a light weight or a family tent?
How many people are going to sleep in it?
How much space do I need to store my stuff and relax?
How much do I want to protect myself from the rain, draughts and bugs?
Do I want one that just pops up?
Summary
We hope this guide has helped you decide which style of tent you want, and which features are important to you. To see our range of tents compared, look at our comparison charts, or select the tents you want to compare while browsing our product pages.
Once you've chosen your tent, have a read through our checklist of essential kit to take.
Halfords has a huge range of tents offering good quality, and our exclusive Urban Escape range offers you even more space, comfort and protection. Halfords are bound to have the right tent for you. With up to half price deals on tents and tent packs and a great range of camping accessories, we'll have what you need.
Hints & Tips
Insects like to live near water; lakes and pools and rivers and they also like wooded areas, where they are sheltered from windy conditions. Whilst you can use the insect nets on the doors and vents of you tent to protect you from the occasioal insect, it is best to pitch well away fro many areas with very high numbers of insects.

It is always a good idea to practice pitching your tent before your first trip; it ensures that you understand the instructions and become familiar with the procedure for pitching the tent. Why not do this at or near your home and in good weather conditions - much less stressful than attempting to pitch the tent for the first time on arrival at your holiday campsite, when the weather and or light may be less than perfect!

If you are new to camping you might want to consider trying a weekend at a campsite not too far from your home. This not only gives you practice at pitching the tent, but also it will help you establish what other items and accessories you haven't got that you will want to take with you on a longer trip.

Make a checklist of essential camping equipment before you leave - we've got a simple one for you to use.

Make sure your tent is dry before you store it to avoid mildew, so get it out again at home to clean it down and air it.