Pressure Washers Buyer's Guide
A pressure washer is a great way to save time when cleaning a variety of items and surfaces such as cars and patios - take a look at our guide to buying the best pressure washer to help you purchase the right one.
Pressure washers work by increasing your standard tap pressure by over 100 times, which makes it much easier to remove stubborn grime from your car, garden paths and patios. If you use a specialist detergent, you'll get even better results.
Using a pressure washer rather than a standard cleaning method such as spraying with a hosepipe helps you complete the job faster and use less water, saving you money. Follow the guidance below to help you decide which pressure washer to buy.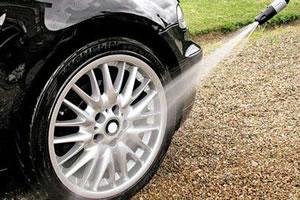 Which Pressure Washer Should I Buy?
Before deciding which pressure washer to purchase, it's a good idea to familiarise yourself with some of the key factors to look out for:
The Rate Pressure (measured in bars) - This tells you how much force is behind the water. The higher the pressure, the greater the ability to shift stubborn dirt.
The Flow Rate - This is the volume of water the pressure washer uses in an hour, in litres. The higher the flow rate, the bigger the area you can clean in the time.
The Wattage - This indicates the size of the motor in the pressure washer. A higher wattage gives you more cleaning power and better overall performance.
Hose Length - The longer the hose length, the more manoeuvrability you have when cleaning. We suggest that you measure your working area before buying. It's easy to underestimate how much hose you will need, especially when cleaning a car on all sides.
To compare the different pressure washers we have available, take a look at our pressure washer comparison chart. This should help you choose the best pressure washer for your needs.
Choosing the Best Pressure Washer - Additional Factors
As well as the key factors outlined above, there are a number of other features to look out for when deciding which pressure washer to buy. These include:
'Auto Stop' - This is a feature that ensures the motor runs only when you are pulling the trigger, helping to prolong motor life.
Wheels - These make your pressure washer much more portable and easy to manoeuvre.
A retractable hose - This will prevent the hose getting entangled dangerously around your feet.
Buy Pressure Washers at Halfords
At Halfords we offer a comprehensive pressure washer range both online and in-store. Pop into your local Halfords, and our store colleagues will be pleased to talk you through the different models available.
We also sell a range of pressure washer accessories, from brushes and sponges to nozzles and connectors, as well as special detergents that will help to shift grime and dirt.
You can buy pressure washers and accessories online for delivery, or reserve online and collect from your local store. Take the hard work out of cleaning - order your new pressure washer from Halfords.com today.