Increase The Value Of Your Car
Recent motor trade research has shown that cleaning, valeting and making minor cosmetic repairs to your car before you sell it can add several hundred pounds to the value of your car.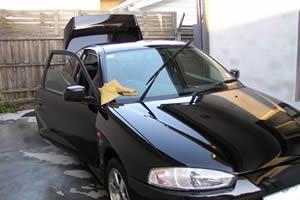 Checklist
Interior Valeting
Step 1 - Clean Your Car
Clean the inside of your car thoroughly, emptying out any rubbish on the floor, under the car seats and in door wells and ashtrays and remove any loose car mats to clean or replace them. Once done, vacuum the interior upholstery.
Step 2 - Clean Upholstery
Use a foam fabric or upholstery cleaner to remove any stubborn marks or you could invest in new car seat covers if the seats are really worn or tatty.
Step 3 - Clean Plastic Trim
Use a suitable cleaner, such as a Plastic Trim Restorer on plastic trim parts - spray it onto a cloth to avoid overspray on surrounding components.
Exterior Cleaning
Step 1 - Wash Your Car
Rinse the dirt off your car with a hose or pressure washer, then mix some car shampoo into a bucket of hot water and sponge the car down, starting on your car roof to get all the dirty water moving down towards the ground.
Step 2 - Rinse
Rinse the car shampoo off with a hose or pressure washer and repeat if necessary, then dry the car with a chamois leather.
Step 3 - Clean Glass
Use a glass cleaner to clean the windows, both the interior and exterior surface.
Step 4 - Clean Wheels
Use an alloy wheel cleaner on the wheels, if applicable. Disposable gloves may be worn if needed. Alternatively, invest in some new wheel trims for your car to give your wheels an instant makeover.
Step 5 - Polish Tyres
If the tyres look a bit scruffy, a special tyre polish will remove brake dust and grime from the sidewalls. Keep it off the tread.
Repairing Minor Scratches And Improving Paintwork
Step 1 - Remove Scratches
To remove any light scratches, buy a chip stick, choosing the colour that most closely matches your car. Work the chip stick into any scratches and wipe off any excess with a clean cloth and keep reapplying until the scratches are no longer visible.
Step 2 - Polish Paintwork
Finish by polishing your car's paintwork - use a paint-restoring or 'cutting' car polish if the old paint has faded. Use only a small amount at a time and work it in with a soft, lint-free cloth over a small area, then move onto the next spot.
When your car is completely covered in polish, take another dry cloth and wipe of the polish, rubbing it in to the paintwork as you do until your car is gleaming.
Hints & Tips
If you haven't got the time to do it yourself, Halfords offers a professional valeting service. Vist your local store for details.
View our range of car cleaning tools and products.
Haynes Hints
Don't use washing up liquid to wash your car - it's much too harsh. Smelly interiors are a real turn-off. Use a deodorising product to get rid of smells such as wet dogs and cigarettes. There are lots more hints in the latest addition of the Haynes Car Book.