We Fit Child Car Seats
Halfords are the specialists on child car seats and booster seats with over 2,800 trained child car seat professionals in stores nationwide to help you choose the right seat for your child and the perfect fit for your car.
Customer review
"This is the kind of expert advice you simply don't get at other stores and to have someone who is genuinely passionate about what he does made the world of difference. Top service!"
Catford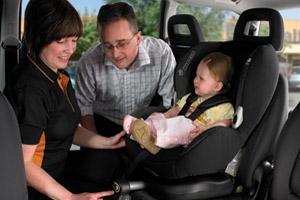 We Fit Child Car Seats
Understand The Law
Drivers now face a fixed £30 penalty or fine of up to £500 if they fail to comply with regulations on child seats in cars.
The law requires ALL children to be carried in child restraints that are appropriate for their size. It covers children less than 12 years old, but only if they are less than 135cm in height. If a child is taller than 135cm they are allowed to use an adult seat belt, regardless of their age.
Before you buy a child car seat, make sure you take a careful look at our guide to Child Seat Law.
Halfords Can Help You to Choose the Right Child Seat
Before you buy a child car seat, make sure you take a look at our Child Seat Buyer's Guide.
Halfords in-store colleagues can provide advice and fitting guidance to every customer who purchases a child car seat from us. Visit your local store where a member of staff will be happy to help after understanding your needs and requirements.
We Fit Child Seats
When you visit your local store, a fully trained and qualified member of staff will be able to help you to choose the best child seat for your needs, according to the size of your child and the vehicle which the seat will go into.
When we fit your new child seat we will check the seat in your vehicle to confirm it is suitable for both the car and the child. We will then demonstrate the fitting and show you how to fit the seat yourself to ensure you fully understand how it works. Once you are comfortable fitting the seat, we will then take you through our 16-Point fitting checklist to ensure you understand what aspects of the fit to look out for in the future.
Furthermore, even after you drive away, we are always happy to help you with any part of the fitting or with the features of your new child car seat as part of our comprehensive after sales service.
Pre-booking may be required. Please contact your local store for details.
Fitting subject to vehicle inspection.
About our Service
Halfords were the first, and are still the only national retailer to provide a free fitting and demonstration service in all of our stores that sell childrens car seats. We have offered this service for over ten years.
Halfords have over 2800 fully trained and qualified child seat fitters, supported by a network of nearly 200 "Gold" standard trainers.
We have an exclusive partnership with the Royal Society for the Prevention of Accidents to ensure all colleagues have access to the highest standards of information and practical training. This means we can provide you with the products and advice to give you total peace of mind.