WEEE & You
Halfords is a member of a retail industry scheme that is financing Local Authority civic waste sites to improve the facilities for segregating and storing electrical waste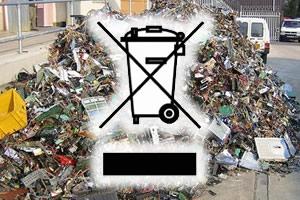 WEEE & You
The Waste Electrical and Electronic Equipment (WEEE) Directive is a Europe wide initiative which aims to prevent electrical and electronic waste arising and to encourage its reuse, recycling and recovery. It sets requirements for the collection, treatment, recycling and recovery of WEEE. Manufacturers and retailers are responsible for financing these activities and the consumer is entitled to dispose of their electrical and electronic waste without any charge
Waste products that will be classified as WEEE, are identified with a crossed out wheeled bin symbol with a date code or a solid black bar beneath it. These WEEE marked products should not be mixed with general household waste, but kept separate for the treatment, recovery and recycling of the materials used.
If consumers dispose of WEEE correctly, they will be helping to save valuable resources and to prevent any potential negative effects upon human health and the environment, of any hazardous materials that the waste may contain.
Halfords is a member of a retail industry scheme that is financing Local Authority civic waste sites to improve the facilities for segregating and storing electrical waste.
We are also a member of a manufacturer's WEEE compliance scheme, which finances the specialist recycling companies to collect the WEEE from Local Authority and other waste collection sites, disassemble it and recover the materials used.
Having joined the WEEE compliance schemes, Halfords encourages all of our customers to take any waste electrical or electronic items to their nearest Local Authority civic waste site, where the waste will be accepted for its correct recovery and recycling without any charge.
Halfords is registered as a producer of WEEE in the UK. Our producer registration number is WEEE/FG0133ZR.