Back to results
Best Scooters for Tricks
Some great advice for picking a scooter that'll take you to dizzy new heights.
Best Scooters for Tricks
If you want to get into freestyle scootering, you'll need a scooter that's up to the job. Check out our guide to the best scooters for tricks to help you find a scooter that's ideal for hitting awesome tricks and stunts, whether you're on the street or down at the skatepark.
Scooters have come a long way since they first exploded onto the scene in the 2000s. There are now many pro and stunt versions available that are specially designed for landing freestyle tricks, similar to that seen on a BMX or skateboard.
Take a look at our tips below to help you pick the best trick scooter for you - you'll be pulling off bunny hops, 360s and tailwhips in no time.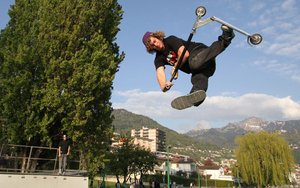 The best trick scooters
There is a world of difference between a proper trick scooter and your average entry-level push scooter. Your scooter will take a lot of abuse as you land tricks over and over again - mainstream push scooters just aren't designed to withstand this.
The best scooters for tricks are those that are strong, light, and tough enough to withstand the forces being thrown at them. Look for one that has as many of these features as possible:
Fixed/one piece deck design. This means that the deck and head tube are welded together, providing a strong base. Most stunt scooters aren't foldable for this reason.
An aluminium or chromoly frame, as these metals are light yet tough.
Rigid down-tube and handlebars, to provide extra strength and stability.
Thick foam or rubber handlebar grips, to provide the best grip and shock absorption.
Metal-core wheels rather than plastic - plastic ones won't last long if you're putting in long hours at the skatepark.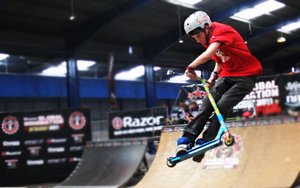 Stunt & trick scooters at Halfords
Halfords has a wide variety of trick scooters available to reserve online and collect in-store, or buy online for home delivery.
We've also got a cool range of electric scooters which are great fun - take a look through our full range of scooters for sale to see what we have available.
View all Scooters