Back to results
What is a 29er?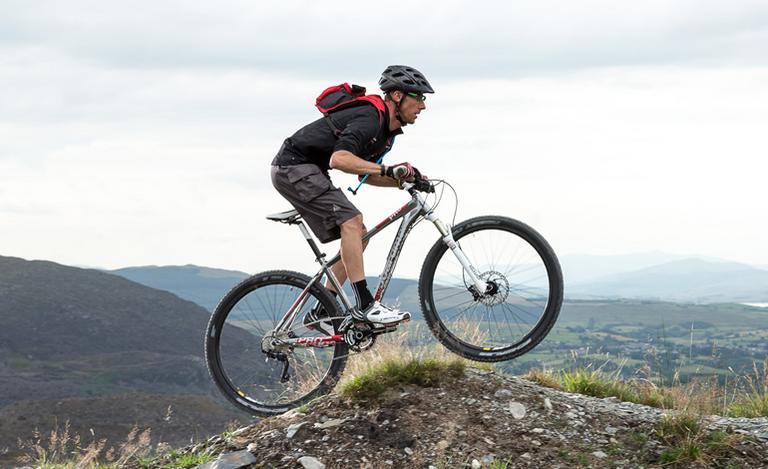 Find out all the hype about 29er mountain bikes with this handy guide.
What is a 29er?
A 29er is a 29"(inch) wheeled mountain bike. This means that both the rims and the tyres are bigger than regular mountain bikes, which are mostly 26". As a result, many parts are created specifically to cope with the increased wheel size, which in turn provides a very different style of riding.
29er mountain bikes have become a phenomenon in the USA, where the types of trails are suited to a faster ride and now the craze is spreading across the pond! 29er bikes provide distinct advantages over the more traditional 26" wheel mountain bike. The benefits of a larger wheel include:
Increased momentum
Larger wheels carry momentum better than smaller wheels. Greater momentum will allow you to travel at a faster pace through tricky, technical areas on the trail. With a larger wheel, you can keep up your speed without rough terrain slowing you down as much as it would on a 26" wheel
" Larger wheels carry momentum better than smaller wheels!"
Improved obstacle clearance
The bigger diameter of 29er wheels will allow you to ride over objects more easily, so you don't get caught on obstacles anywhere near as much. The larger wheel provides a shallower angle when travelling over gaps or riding over rocks, meaning it is easier to maintain your speed regardless of the terrain.
Better grip
Simply put, the larger the tyre, the more of it that will maintain contact with the ground. This provides better grip, both when going uphill or most importantly, when cornering. Increased grip means faster times on the trails, and more confidence in your bike. With confidence you'll throw yourself into the tougher sections that you might not consider on a 26" wheel mountain bike.
Greater comfort
The larger wheels can offer a more comfortable ride in a similar way to a full suspension mountain bike, whilst still retaining the complete control that you get from a hardtail. The bigger wheels absorb dips better and ensure you get the best riding experience, whatever the trail
Bikes at Halfords
Take a moment to check out our handy mountain bike buyer's guide, for more in-depth tips on what off road bike is best for you. From full suspension, to hard tails there'll be plenty of styles to choose from. Don't forget that every Halfords bike, (apart from Trax) can be built in-store free of charge for you so you're ready to ride.
View all 29er Bikes