Back to results
Finding the Right Size Bike for your Kids Guide + Video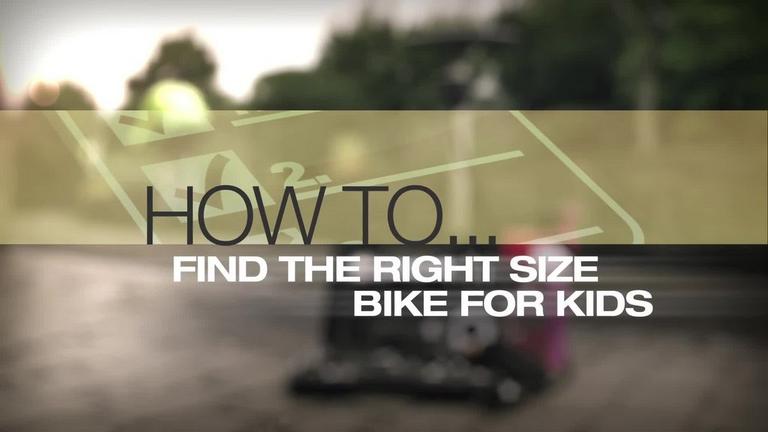 Make sure you choose the right size bike for your little one with our guide.
Finding the Right Size Bike for your Kids
It's important to pick a bike that will be the right size for your child, as one that's too large can be uncomfortable and difficult for them to ride. Of course, if your child is between sizes, it's sensible to pick the larger one, but forcing them onto a bike that is too big might mean that they won't enjoy it.
Getting the right size
One way to find the right size bike is to get your child on one! If you can, pop into a store and try them out. You're looking for a bike where your child can put their toes on the floor when on the saddle and gives enough room for them to stand over the top tube when they're not. It's also good to look at them from the side, to see if the bike is long enough for them. Children tend to ride in a more upright position, but if they're squashed onto a short bike then it can be unstable and uncomfortable.
Of course, you might not have time to go into store, and sitting your child on a bike might spoil the surprise if it's going to be a gift! We've included a size guide below, so you can sneakily measure your child's height or inner leg (inseam) to get some idea of what might be a good size. You can find out your child's inseam by measuring the distance from the floor to the top of their inner leg.
| Age | Height | Inseam | Wheel Size |
| --- | --- | --- | --- |
| 3-5 yrs | 98-112cm | 46-55cm | 12" |
| 4-6 yrs | 105-117cm | 51-60cm | 14" |
| 5-7 yrs | 112-125cm | 56-65cm | 16" |
| 6-8 yrs | 117-129cm | 57-66cm | 18" |
| 7-9 yrs | 125-136cm | 68-81cm | 20" |
| 8-11yrs | 130-141cm | 75-88cm | 24" |
View all Kids Bikes