Back to results
Alloy Wheel Refurbishment and Repairs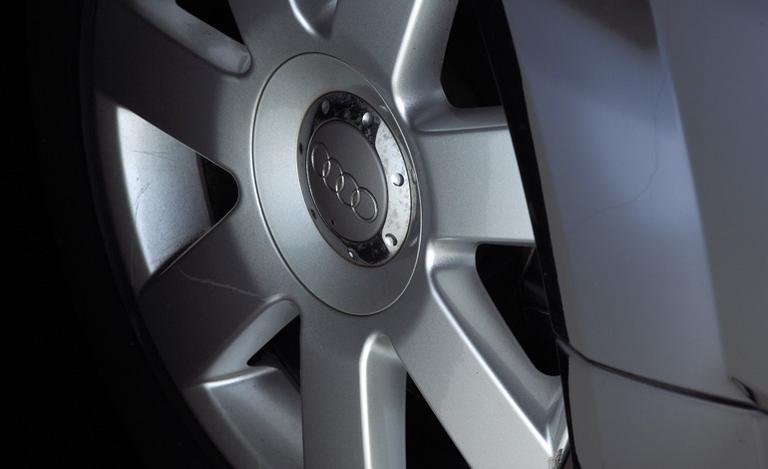 Scruffy and scuffed alloys? Halfords Alloy Wheel Refurbishment can help restore your alloy wheels to their former glory - read on to find out more.
Alloy Wheel Refurbishment and Repairs
If you've invested in a set of alloy wheels for your car, then you'll want to keep them looking sleek and shiny as new. To help you keep your alloys in top condition, here at Halfords we offer an alloy wheel refurbishment and repairs service.
Unfortunately it's all too easy to chip or scuff your alloy wheels whilst out driving, even if you're a very careful driver. Kerbing your car whilst parking can happen to the best of us, scratching and damaging wheels and generally making your car look a bit scruffy.
Luckily our technicians can help with our alloy wheel repair service - read on to find out more.
Our Alloy Wheel Refurbishment and Repair Service
Halfords can restore your damaged, scuffed or tarnished wheels to their original factory finish*. All our alloy wheel refurbishment and repair work is performed by body shop trained technicians and can be carried out when and where it suits you - at home or your place of work, morning or afternoon. We're nice and thoughtful like that.
Wheels up to 16" cost £65 (€78) per wheel, and wheels 17" and over cost £95 (€114) per wheel. All work is guaranteed for three years. We recommend that you get both the wheels on one side of the car refurbished at the same time to keep things nicely matched. Fancy making an appointment? Just contact your local store to get booked in for some alloy TLC.
How do you repair an alloy wheel?
We start off by sanding the damage to blend the repaired area with the rest of the wheel. Any major damage is filled in using a specialist resin to reconstruct the shape and contour, and then the wheel surface is scuffed so the fresh paint can stick to it. After covering the wheel and vehicle to avoid overspray, we apply quality primer to cover the repaired area.
We match the paint colour using a series of colour swatches or by using the manufacturer's paint code. This paint is then applied by spray gun before using a clear lacquer to seal the wheel and give a sleek high gloss finish. We then dry everything off using infrared brake lamps. When dry, the wheel is finally buffed to give a high gloss finish, leaving your alloy wheels refurbished and as good as new.
* Please note: Unfortunately repairs to alloy wheels that are chrome, laser cut, split rim construction or corroded are not available. All alloy wheel repairs are subject to vehicle inspection. Feel free to get in touch with your local store if you'd like any more info!
View all Motoring