Back to results
Buyers Guide to Roof Boxes + Video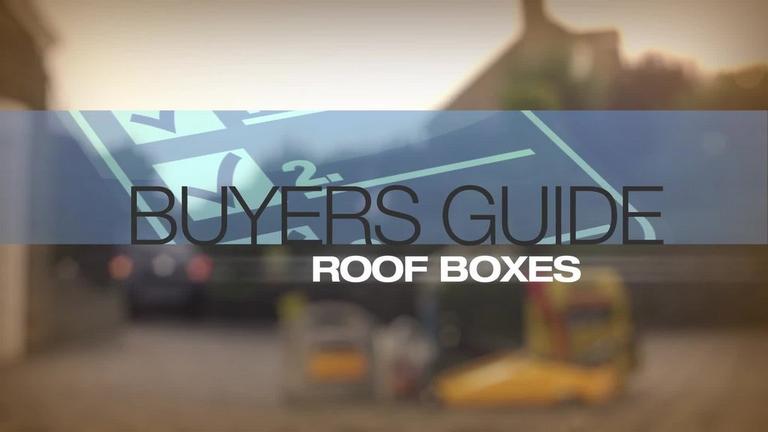 Roof boxes are great if you need to carry more stuff than you can fit in your car. Read our guide for the lowdown on what you should consider before buying one!
Roof Boxes Buyers Guide
There's always the temptation to take everything away with you when you go on a trip, and it normally leads to a packed car and some cramped passengers. A roof box lets you carry your extra stuff - you guessed it - on the roof instead!
They can add loads of extra space to your car, and of course you only need to put them on when you need them. That means you can expand your smaller car when you go on holiday, but still enjoy easy parking and low fuel consumption!
Which roof box will fit my car?
All roof boxes need roof bars to attach to. If you don't have these, head over to our roof bars buyer's guide to get started.
If you already have roof bars, you just need to check that the roof box doesn't overhang the vehicle, either at the front or the back.
What size roof box do I need?
Roof boxes come in lots of shapes and sizes, so that you can choose the perfect model for your travel needs.
Roof boxes have various load capacities, normally ranging from 50kg to 75kg. So think about the heaviest item that you want to carry, and make sure that it will fit in the roof box you are choosing. You will also need to check the load carrying capacity of your vehicle's roof.
How does it fit to my roof bars?
There are three main mounting systems on roof boxes to fit them to your roof bars.

U bolts usually take just over 10 minutes to fit. These fit by placing U-shaped bolts around the bar, with two screw caps inside the box to hold them in place.
Quick locks usually takes just under 10 minutes to fit. Again, a U-shaped bolt is placed around the bar, but then a single clamping mechanism holds it in place.
Power clicks normally take under 5 minutes to fit. A pre-installed 'claw' grips around the roof bar, and is tightened by twisting an internal disc.
What else are you carrying?
Roof boxes come in different widths. A full width one will cover your whole roof, and will normally have the most space. If you want to carry bikes, skis, or something else on your roof, a narrower roof box, like a half width one, will leave some space on your roof bars.
Staying on the right side of trouble
If you're going to be travelling abroad, you should think about a roof box that can be opened from both sides. This way, you'll always be able to get your stuff out without having to stand in traffic. If you're not planning on venturing outside the UK then there's no need to worry about this!
Roof box fitting at Halfords
If you think you need a roof box, but you're not too keen on the idea of fitting it, have no fear! We can fit your roof box from just £15 (€20). If you need roof bars too, we can fit both your roof box and roof bars from £25 (€35). For more information, get in touch with your local store.
Hopefully by now you're clued up on roof boxes. Head over to our roof boxes to have a browse and see how much stuff you'd like to take with you!
View all Roof Boxes