Back to results
Camping Tips and Tricks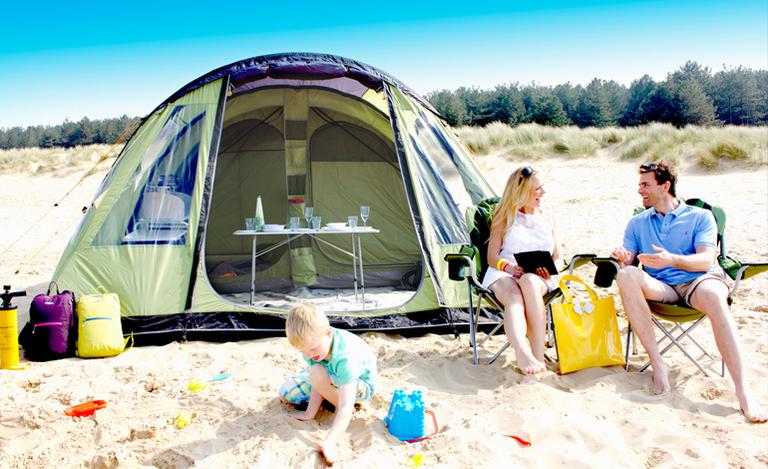 Heading for the great outdoors? Make sure you check out our top camping tips before you leave.
Camping Tips and Tricks
Ahhh, camping. The great outdoors. If you fancy getting back to nature whilst relaxing and having a little fun, read our top tips on how to achieve that perfect getaway.
Before you leave
Be prepared! Take a peek at our camping checklist to make sure you've remembered everything.
Check the weather forecast. If it's going to rain (and if you're camping in Britain, let's face the fact that it probably will), take some waterproofs and wellies with you.
Practise pitching your tent - we're sure that many an argument is caused over the correct way to put up a tent. Avoid these arguments by making sure you know what goes where.
Take spare tent pegs and guy lines in case one breaks/wanders off.
Consider a pop-up tent - great for quick getaways and festivals.
Plan your route in advance and take a map. Even if you have a sat nav it's always best to have a backup!
Make sure you've got some money and a phone on you in case of emergencies.
Other everyday household items that can be invaluable when camping include string, duct tape, kitchen foil, Tupperware boxes, plastic bags, matches and toilet roll.
When you get there
When you reach your destination, you need to pick a spot to pitch your tent.
Don't camp in a dip, as water will gather there if it rains. Choose a flat or gently sloping pitch on higher ground if possible.
Insects like to live near water, so if you're camping next to a river or lake, take plenty of repellent and close the insect nets on your tent door.
Don't camp right next to the toilets or water point, as these can be noisy and can get waterlogged - not to mention the smells!
Keep the tent door facing away from the wind and sleep with your feet pointing downhill for the comfiest shut-eye.
Don't forget to make sure your tent is dry before packing it away, and air it out when you get home; this stops it from going mouldy.
Get kitted out at Halfords
One final camping tip: use our store locator to see if there's a Halfords on your route or near your campsite. You could reserve the camping equipment you need online and pick it up on the way, or pop out and get anything you've forgotten once you're on-site.
View all Camping