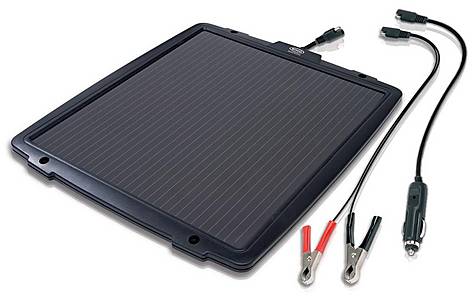 Description

Solar Battery Maintainer 12v 6w

The 12v Solar Battery Maintainer 6w is a clean, green energy solution wherever you are to keep your battery level topped up. It is ideal for maintaining 12v batteries in cars, motorbikes, vans, boats and other applications up to 250Ah.

Solar Battery Maintainer 6w Extra Info

Helps reduce power drain from onboard electronics
Works in overcast conditions
Durable and waterproof casing
Reverse polarity protected
Supplied with a 12v DC power plug and battery clips
Mounting screws for easy mounting
For use on batteries up to 250Ah

Note: - in order to maintain a battery via the 12V cigarette / plug socket, this must have a permanent live feed on your vehicle. If not, you'll need to attach directly to the car battery terminals using the crocodile clips provided.
Overview

| | |
| --- | --- |
| Type: | Solar Battery Maintainers |

Detailed Specs

| | |
| --- | --- |
| Type of Charger: | Charger Accessories |
Solar Battery Maintainer 12v 6w
Cat code: 361383
Other customers who bought this also viewed
Reviews

Solar Battery Maintainer 12v 6w

12

12

Solar charger

I have used one of these over a number of years on a car that stands for a number of weeks without use, and never had a problem with flat batteries.

12 December 2014

Solar Battery Maintainer 12V 6W

Having a car with an appetite to maintain it's internal electronics, this was found to be, so far, the ideal method of keeping my battery up to full power. If the car was left for any the length of time, possibly up to 3 weeks the battery would be flatter than a Dover Sole. Modern cars with all the fancy alarms, satnavs etc do drain the battery eventually over time. This is the best way I have found to keep the battery in peak performance condition.

29 November 2014

not perfect

I wanted to plug unit in before handing car over to meet & greet driver at airport to ensure that the battery remained charged while abroad for some time. I asked salesman if it was OK to leave plugged in permanently, he said yes. Having bought item the instruction say Do not leave plugged in or damage may occur. Have to return as it can not be used as required.

22 November 2014

excellent gadget

Only used this the once so far but it worked has taken the pressure off when using the van stereo when camping - no fear of a flat battery.

02 October 2014

Outstanding

This is a great bit of kit. We bought it after letting the battery in the camper van go flat. Now leaving it on the dashboard when it's parked up we never have a problem. Great item, highly recommended.

06 September 2014

Solar Battery Maintainer 12v 6w

Excellent item, however would be better if had fixing suction cups included as with the smaller lighter model.

28 August 2014

Works well

Used the 6w battery maintainer for a few months now after my battery kept failing to start. it keeps the battery at 12.2v and has done, even when left for weeks at a time. A 4w maintainer I tried first couldn't cope with all the modern electrics on my car.

18 July 2014

The 6W version is the one to have

I've been using this solar charger for nearly two months, and am compelled to write a review here. I'm very impressed. Although I have a long daily commute in my Honda, my wife's Audi is only used occasionally and the battery level keeps dropping off. So while it sits on the drive, we simply leave the solar panel on the parcel shelf with a lead to the 12V socket in the front and all has been well. My Honda however, with nearly 150K on the clock, really suffers when it's not used. After leaving it for four days across the last bank holiday, it refused to start on the Tuesday, but while on annual leave at home recently - where the car sat for five consecutive days with the solar charger connected in largely overcast weather - the car started easily, almost as if the battery level was full. The lead is easily long enough to reach around most areas of the car, including under the bonnet should you need to connect straight to the battery. Unlike my wife's Audi, the 12V socket is only powered when the ignition is switched on, so I put the panel on the dashboard and routed the cable through the door, under the wiper and into the bonnet. Took all of two minutes to secure, with the panel being weatherproof too. This solar panel is a genuinely useful piece of tech and worth the money. In fact, I've since been looking online at more expensive panels with even higher wattage ratings!

28 May 2014

Other Buying Options

You can buy this product from one of our carefully selected Approved Partners. The full list of options available are below. Simply add your chosen option to your basket and proceed to checkout when you're ready.

You can purchase products supplied by Halfords and selected other suppliers on halfords.com.

Checkout is always via halfords.com and all payment will be taken via halfords.com. In checkout the products will be split into separate deliveries for each supplier.

Showing 1 -

X

of our buying options

| Price | Seller Info | Purchase |
| --- | --- | --- |