Back to results
How To Camp - A Beginners Guide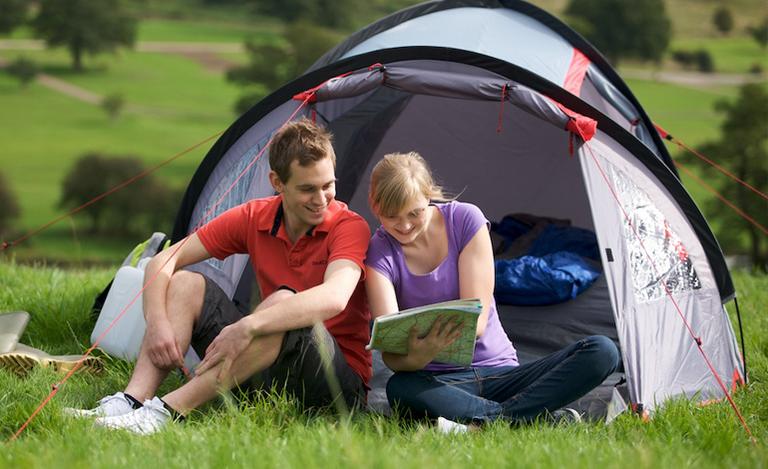 If you're new to camping, follow these top camping tips to guarantee camping holiday success!
How to Camp - A Beginner's Guide
As well as being affordable, camping is great for spending quality time with loved ones and discovering the great outdoors. At first it may seem like there's a lot of kit to buy, but once you've got it, your camping equipment will provide you with holidays for years to come.
Top Tips on How to Camp for Newbies
Choose the right tent - Your tent is the first and most important piece of kit. Get one that will provide enough room for your group and their belongings and practice putting it up in the garden before heading off. A two person tent is enough for two to sleep in, but if you want extra space then look for a living area or choose a tent that sleeps more people than you need. Take a look at our tents buyer's guide for more advice.
Get the right equipment - The right camping equipment can make your trip easier and more comfortable. Airbeds and sleeping bags are a must for a good night's sleep, and you'll also need a camping light for night-time loo trips. Folding chairs, tables, a rucksack and some tools are also handy, and gazebos can provide some extra outdoor shelter. Check out our camping equipment buyer's guide for more detail.
What to eat? - Some people prefer to eat out, but for many campers cooking and eating outside is all part of the fun. Take along a camping stove, coolbox, and some plastic cutlery and crockery and you'll have all you need to rustle up some tasty grub without the worry of having to pack your best china! For some ideas on what to cook, take a look at our guide to Easy Camping Meals.
Pick the right campsite - For your first trip think about what you'll want to do while you're away. If you're going with kids, you may want to choose one that has a playground and entertainment on-site. Also consider things like bathroom facilities, nearby attractions and whether pets are allowed.
Relax and have fun! - All this kit and preparation might seem a bit daunting! Remember to take the time to sit back, relax, and enjoy your surroundings. While a bit of advance planning is a good idea, there's no need to approach it like a military operation. If you forget anything, don't panic - there's usually a Halfords nearby or a shop on-site where you can grab any essentials.
Why not take a look at our range of camping equipment, and start planning your trip today?
Shop all Camping