Back to results
Bike Tyres Buyers Guide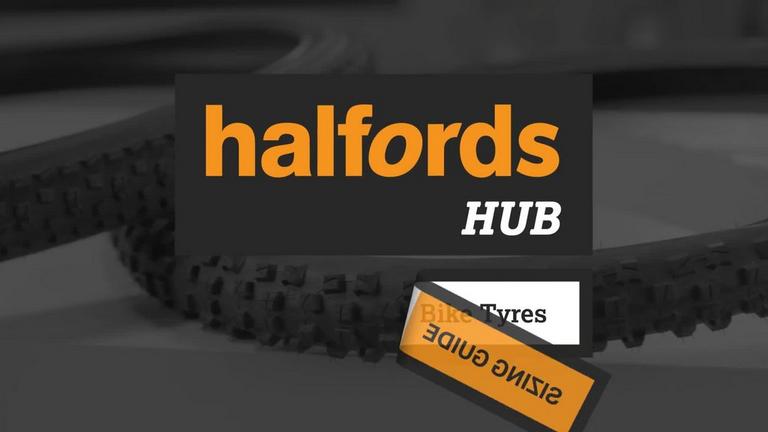 Tyres are one of the most important parts of your bike, providing grip on the road (or off the road on a mountain bike), cushioning you from stones and uneven surfaces, and even allowing you to cycle faster with the right set up. There are lots of options to choose from when selecting bike tyres, so our bike tyre buying guide will help you to pick the right tyres for you.
Which tyres do I need for my bike?
---
Depending on what kind of bike you have, there'll be specific tyres for certain situations:
Mountain bike tyres
Mountain bike tyres tend to be thicker and wider than those you'll find on a road bike. They'll usually have a much more uneven surface, with deeper treads and more features helping your tyres to dig into mud, loose stones or slippery surfaces. The knobblier and deeper the tread, the more grip you'll get.
Shop Mountain tyres »
Road bike tyres
Road bikes are designed to only be ridden on smooth roads, so the tyre you'll need is much thinner and with a lower profile than a mountain bike. As they are designed for speed, the tread is much shallower (sometimes barely visible) and will provide a different kind of grip compared to a mountain bike tyre. Winter and wet weather tyres provide much more grip so road cyclists can still get out and about if the weather is bad.
Shop Road bike tyres »
Hybrid and commuter bike tyres
Just like the bikes themselves, hybrid bike tyres can lean more towards mountain bike tyres for their grip and balance properties or more towards road bikes for speed and optimum energy transfer. Some hybrid wheels have slightly wider rims, so you'll need to check the tyre width too.
Shop BMX tyres »
BMX tyres
BMX wheels are much smaller than the tyres you'll find on other bikes, so you'll need to look at tyres made specifically for BMX bikes. Some BMX bikes are designed for gripping onto smooth surfaces, such as the ramps and concrete floors you'll find at the skate park, whereas others focus on grip on the street.
Shop BMX tyres »
---
Shop all tyres »
What different bike tyre sizes are there?
---
There are lots of different tyre sizes to choose from depending on type of bike you have and the bike's wheel size. For example on mountain bikes, tyre size will vary depending on wheel diameter and rim thickness, with wider tyres available for tougher surfaces. On road bikes however, you'll generally find 700c wheels that can handle tyre widths from 23c to 32c.
Top Tip: You'll notice that many bike tyre sizes are given in inches, but you'll also see tyres that give 700c as a size. Simply put, this is the wheel measurement in millimetres, with the c referring to the beading (the bit that sits on the rim and holds the tyre in place). 700c wheels are pretty typical to road bikes, so you won't need to worry about this if you're a mountain bike rider. If you are a road cyclist, then you'll soon find that 700c is one of the most popular wheel and tyre sizes thanks to the larger diameter, allowing for improved rolling speed.
How to find the right tyre size for your bike
---
Here are the three important things to look at when buying tyres:
Bike tyre diameter
This is the measurement from the edge of the rim, across the wheel through the hub and to the other rim, and is the most important number you'll see on bike tyre packaging - the tyre won't fit if its diameter doesn't match that of the bike wheel.
Bike tyre capacity
This is how much air the tyre can hold. Depending on the size of the tyre and its thickness, capacity can vary with different results. For example, a thin road bike tyre's capacity means it won't handle bumpy surfaces or collisions with stones as well as that of a much larger mountain bike.
Bike tyre width
Wider tyres are usually found on mountain bikes and create a larger surface area at the point where the tyre touches the ground. This provides more grip, important on uneven or loose surfaces. You'll often find that with mountain bike or hybrid bike tyres, the front tyre tends to be slightly wider than the rear one, offering more control and grip, as well as a bit of extra cushion against rocks and stones.
Bike tyre features
No matter what kind of bike you ride, tyres need to provide a level of grip to prevent sliding when cornering or riding over varying surfaces. Some bike tyres will use grooves and notches like you'd see on a car tyre, whereas others will use knobs (bumps found in the centre of the tyre) and lugs (bumps on the outside of the tyre that improve cornering) that increase surface area and dig into uneven surfaces. For example if you're riding a road bike, you won't need as much grip than you would if you were planning on thrashing your bike around a muddy trail, so slicker tyres that focus on faster riding would be a better choice.
The surface and features found on bike tyres can vary significantly.
How much should I inflate my tyres?
---
Top Tip: The golden rule is to never over-inflate your tyres - look out for the maximum capacity on the tyre's wall or check the paperwork or packaging that came with it.
If you have a certain type of bike, or plan on riding on different surfaces, then altering your tyre pressure can improve performance. For road riders, a solid tyre that allows for a very small contact area with the ground is ideal for reaching high speeds, but for mountain bikers, a slightly under-inflated tyre might end up providing more grip and a bit of give to absorb collisions with loose stones or tree roots. How much you should inflate your tyres depends on both the type of ride and personal preference - some people prefer very firm tyres, whereas others benefit from some flexibility.
Which are the best bike tyres?
---
Good
Halfords tyres are great value for money and are great tyres for beginners or casual riders. We stock tyres for mountain bikes, road bikes, BMX bikes and hybrid bikes.
Shop now »
---
Better
Bike Hut tyres are the next step up from our great value Halfords range, with additional features and added durability thanks to the mix of materials used in manufacturing of Bike Hut tyres.
Shop now »
---
Best
Schwalbe provide a huge range of tyres of all kinds for bike, ranging from 12 inch BMX tyres all the way up to a monster 26 inch Hans Dampf Snakeskin tyre!
You might recognise the Continental name from their association with car tyres, but they also create bike tyres for a huge variety of bikes and ride types. Continental tyres are all about performance, so you'll be paying for high quality and long lifespans alongside cornering and grip.
Shop now »
What is puncture protection?
---
Many of the bike tyres we sell use additional materials or even reinforced rubber to stand up to sharp objects that cause punctures to occur. This is ideal if you get punctures often, as you'll be repairing ⁄ replacing much less often. Just keep an eye out for the words Puncture Protect as you shop.
Halfords bike tyre fitting
Although fitting new tyres is a common job for cyclists, we can also fit tyres onto your bike in-store. Just ask a colleague for some help, or even better, check out our CycleCare plans. From tyre and inner tube fitting to full bike servicing, we'll make sure your bike is both safe to ride and set up properly for your riding style.
Find your local store »
---
Now that you're fully clued-up on bike tyres, it's time to choose your next upgrade! Check out our full range of bike tyres - you'll soon be going faster, enjoying more grip and maybe even falling off less!
Shop all tyres »