Back to results
Cycling Clothing Buyers Guide + Video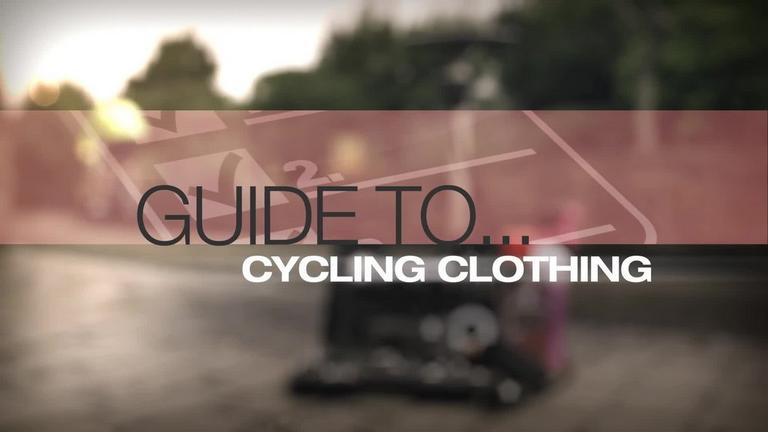 The world of cycling fashion can be a bit daunting, so check out our handy guide for tips on what to buy.
Cycling Clothing Buyer's Guide
Buying the right cycling clothing can help to make bike rides more comfortable, and improve your performance too. If you're not really sure where to start in the world of cycling fashion, take a look at our handy bike clothing buyer's guide. The main purpose of bicycle clothing is to protect you from the elements, as we all know the weather in the UK can be somewhat unpredictable! The best overall advice is to go out wearing several layers, which can be removed or added when needed.
Types of cycling clothing
Cycling Jerseys
Great at keeping your top half cool in the summer or warm in the winter. Short-sleeved cycling jerseys come in lightweight, breathable material, while long-sleeved thermal jerseys will keep you toasty on those cold winter days.
Cycling Jackets
A good cycling jacket should keep you warm and will protect whatever you're wearing underneath. A waterproof cycling jacket is a must if you're going out in the rain!
Legwear
If you want to keep your legs completely protected, a pair of cycling trousers is a good idea. They range from sleek leggings for road racing, to waterproof baggy versions that can be worn over your normal trousers. In the summer, cycling shorts are more common.
Base Layers
Cycling base layers add an extra layer of warmth under your clothes in the winter, and can be worn on their own in the summer to keep you cool.
Accessories
There's a whole range of cycling hats, cycle gloves, and cycling sunglasses that will all help to make your ride more enjoyable, as well as offering extra protection. Also, make sure you wear the right cycling shoes for maximum grip.
Some features to look out for on cycling clothing
The fabric and design of cycling clothing is important if it's to protect you properly - here's some features to keep an eye out for:
Hi Visibility - If you're going to be riding in the dark then you should wear hi vis clothing to ensure motorists can see you. Regular cycle clothes will often have reflective strips built in for the same reason.
Lightweight, breathable material - As well being cooler, lightweight fabric should ensure you can reach those top speeds without being weighed down. Some of our lightweight jackets can also be packed into small sacks, making them really easy to carry.
High Wicking and Quick Drying - You'll often see this written on sports clothing. It means the material is good at drawing moisture away from your body, helping to keep you dry during intense workouts. Also look out for ventilation zones, which will cool you down.
Elasticated/zipped pockets - Handy for keeping water bottles and personal possessions in.
Make sure you check out some of the stylish cycling brands on offer like Dare 2b and Boardman for some top quality design.
Order cycling clothing online from Halfords
Choosing the right mixture of cycling clothing means you'll be comfortable on your bike in all conditions. Don't forget, you should always wear a bike helmets, and for more extreme styles of riding, bike body armour will shield you from bumps and falls.
Our massive range of bike clothing and bike accessories can be reserved online and collected in store, or ordered online for home delivery. Look and feel great on your bike with Halfords.com
View all Cycling Clothing