Back to results
Folding Bikes Buyers Guide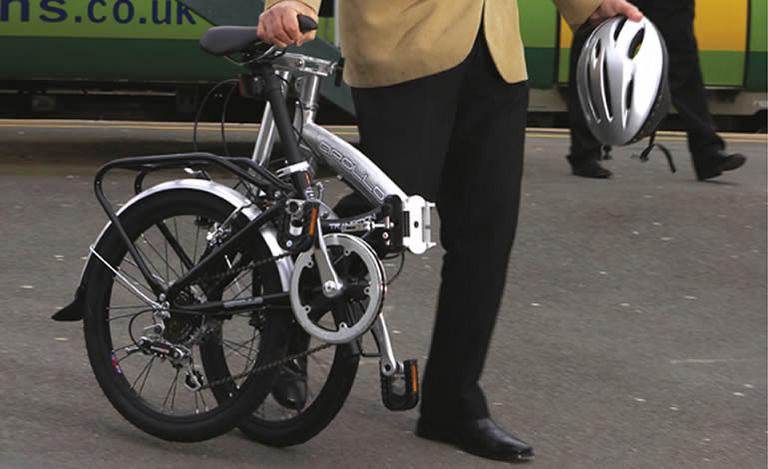 If you're looking for a bike to take on the train or keep under your desk, a folding bike might be the answer! Read on to find out more.
Folding Bikes Buyers Guide
Folding bikes (as you can probably guess) are fully-functional bikes which can be folded up. This makes them much smaller, so you can bring them inside or on public transport more easily. They're great if you're looking to do part of a longer commute on a bike (riding to the train station, for example) or if you want to take a bike on holiday without fitting a bike rack.
Why a folding bike?
Of course, the main reason for getting a folding bike is for commuting. Most kinds of public transport will let you bring on a folding bike even if they don't allow other types. When you arrive at work, a folding bike will happily live under your desk or in a corner, which is a real bonus if you don't have a secure place to store a full-sized bike. Similarly, if you don't have a big garage or live in a flat, a folding bike will take up much less space.
When it's folded up, a folding bike will take up a really small amount of space in a car boot or caravan. This means that if you're taking a trip and want to be able to ride around when you arrive then getting a folding bike can be a wise move!
What do folding bikes look like?
The first thing you might notice about most folding bikes is that their wheels are much smaller than a regular bike. This helps them fold up to such a compact size. Most folding bikes only come in one size, and have a pretty long seat post and steerer tube attached to the small frame. These long tubes mean that the bikes are really adjustable to suit people who are different sizes, but also help to keep the bike compact when it's folded up.
Into the fold
There are a few things to look for when it comes to how a folding bike folds up:
How small will it be when it's folded?
Are the oily parts (the gears and chain) on the 'inside' of the folded-up bike, or covered by a chain guard? This keeps the dirty parts out of the way - perfect for commuters!
Can you wheel the bike along when it's folded? This tends to be easier than carrying the bike.
Does the folding bike come with a bag? A bag can help keep you clean, and some types of public transport only allow folded bikes in bags.
Other things to look for
As well as looking at how the bike folds up, here are some other features to keep an eye out for:
The weight - bikes with an alloy frame can really help here. You're more likely to be carrying a folding bike, so make sure it's light enough for you to lift!
Hub gears - with these, the gears are hidden inside the wheel. That means less maintenance and oily parts to get you dirty, as well as more reliability.
Mudguards and luggage racks - these are self-explanatory. Because folding bikes are mostly for commuting, keeping your work clothes clean from road muck and letting you carry your bag is a big bonus.
So that's it for our whistle-stop tour of folding bikes! If you'd like to cut down your commute times, have a look at our range of folding bikes.
View all Folding Bikes