Back to results
Ultimate University Cycling Guide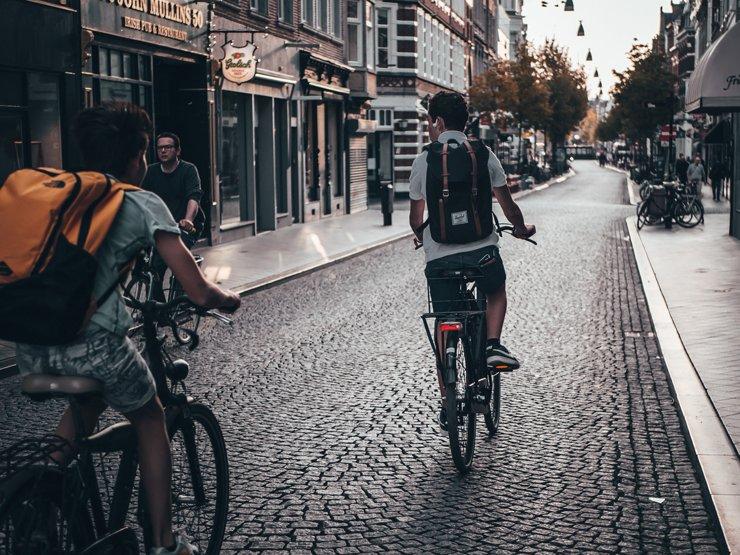 Ultimate University Cycling Guide
Cycling to Uni The Complete Guide
---
Whether you're cruising into further education with your fresh A-level results or going back for your third year as a veteran, bikes are the ultimate mode of transport for any student. Our university cycling guide is packed with tips for cycling to uni safely, as well as a few ways to save some cash while you're at it!
Why are bikes so good for students?
---
Getting to and from university can be a hassle, especially if you live just over walking distance from the campus or city centre. Riding a bike means students can often cut their journey by more than a half.
Then there are the health benefits. Cycling is a superb cardio workout, even over short distances. Also, if you can think of a better hangover cure than a bike ride in the fresh air, we're all ears!
The other huge benefit that comes from cycling is a near-zero carbon footprint. Granted, the manufacture and sale of the bike will involve some damage to environment, but this is thousands of times less than that of manufacturing a new car. Plus, you won't be taxed for or judged on the emissions that leave your lungs!
Which bike should I get for university?
---
This one really depends on the journey to university, and whether you'll be using the bike for anything other than the commute.
Road bikes are the lightweight, thin-wheeled variety of cycle you'll see being ridden on certain Tour de France stages, or at least by enthusiasts on country roads on a Sunday morning! They're designed for flat, paved surfaces and are ideal if you travel into a city centre every day.
Mountain bikes or MTB are the thicker framed, chunky-wheeled bikes designed for muddy trails and country paths. They'll get you to uni on flat roads, but you'll be able to thrash around a field or wood at the weekend too!
Hybrid bikes are a mixture of the two, with some more like road bikes and some more like mountain bikes. Hybrid bikes give riders the best of both worlds, so you can get the speed up while still being able to glide over mud when needs be.
Electric bikes come with an electric motor and rechargeable battery. The motor doesn't propel you along, but instead makes pedalling easier when you're cycling uphill. For students studying in hilly places like Sheffield or Bristol, an electric bike could end up being a Godsend!
Which size bike do I need?
---
If you haven't touched your old bike for a few years, it's highly likely that you've outgrown it! Riding around on a bike that's too small will not only be uncomfortable and highly inefficient, but you'll probably look a bit daft too.
Choosing an adult bike is quite straight forward, with the frame matched to your height and inside leg length. To get an idea of the size of bike you'll need, check out this handy bike sizing guide, or go and see a Halfords bike expert – they'll be able to tell you the size of bike you'll need and you can even test out a few to make sure they're comfortable.
But aren't bikes expensive?
Let's face it; you're paying enough for the privilege of further education without another big outlay of cash for a new bike! In reality, you'll easily save yourself an awful lot of cash, especially if you invest in a bike in your first few weeks.
To see just how much money you could save, we looked at the average costs of five modes of transport between Jesmond, one of the most populated student areas in Newcastle, and the main city centre campuses of both Newcastle University and Northumbria University.
The costs per return journey are based on purchasing a £330 Carrera Crossfire 2, a great hybrid bike for the flat, paved journey into the city centre, a student term-long bus pass, a metro annual student saver, the average cost of running a car plus petrol for the trip, and an app—based taxi trip. Calculations are based on a 36 week university term, with the exception of car costs which are calculated on an annual basis.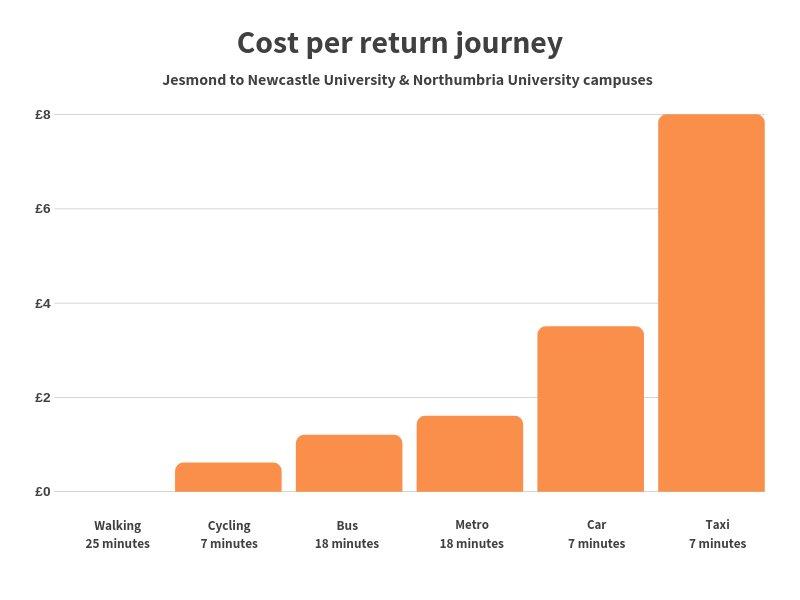 It soon becomes pretty obvious that just getting to uni is very expensive, even on low-priced public transport. It's also worth noting that you may struggle to find parking when going by car and taxi prices can soon shoot up if you get stuck in traffic – doing this journey by bike takes 7 minutes every time, unless you stop for a snack on the way (which you'll be able to, saving a pound every day by cycling instead of getting the metro – that's enough to buy another bike by the time you've graduated!)
This example is of course geared to just one typical student journey, but you'll see similar results across the entire country – the costs per journey will also increase dramatically for students in London, Manchester or Birmingham!
Safe cycling at uni
---
Cycling is a pretty safe activity, but if you need to go on a shared road or path, or cycle at night, then the risks go up. The following items and tips will help you to decrease your chances of having an accident or even having to replace your precious bike!
Helmet
Easily the most important thing you'll need on this list. Helmets are proven lifesavers and will certainly prevent you from any missed days if you do come off your bike even at low speeds. Yes, they're a pain to carry, yes, they'll wreck your hair and no, they aren't the most fashionable thing in the world, but all of that is better than a serious head injury, right?
If you're planning on cycling at night, then a smart helmet is a great shout. A little bit pricier than a standard helmet, you'll get great features like rear LED lights, indicators that can be operated from the handlebars, and potentially even Bluetooth connectivity so you can take calls whilst you ride.
Bike Lights
Cheap and easy to install, bike lights do two jobs that will keep you a lot safer when riding in the dark. As well as lighting you up like a Christmas tree so that drivers, pedestrians and other cyclists can see where you are, they'll also light the path ahead and help you avoid embarrassing collisions with bollards, bins and benches.
Reflective Clothing
Cycling to uni on cold winter mornings and evenings will certainly keep you on your toes, but other road users (especially car drivers) might not be as awake as you are. Don't give them the opportunity to miss you with reflective clothing, bike reflectors or even an LED armband.
Cycling on the road
---
Sharing your commute with cars can be daunting, especially for inexperienced cyclists. Some drivers go out of their way to make life hard for cyclists, or just aren't that good at driving and don't leave enough room for error! There are however a few simple tricks to help you navigate even the busiest roads.
Stay out of the gutter
It may be tempting to drift right next to the kerb to stay away from passing cars, but you're more likely to have an accident if your wheels are a few inches from the edge of the road. You could hit a particularly deep gutter, ride over the broken glass and debris that usually gets left behind or even collide with the kerb itself, throwing you onto the pavement or into the road. Leave a good two to three foot gap, even if this means slowing down traffic behind you - even if you do get a maniac driver who is too close, you'll have a couple of feet of back-up space to get out of their way.
Signal clearly and confidently
If you need to turn or go around a roundabout, stick out a hand and make it very clear where you intend to go, even if it means going in the very middle of the road. After all, you're essentially a vehicle when you're cycling on the road, and you wouldn't like being cut up by a car that wasn't indicating!
Take extra care in slippery conditions
Rain and ice can make roads perilous, so slow down, consider using winter tyres and don't overdo it on corners.
Keep a cool head
If you've got someone blasting their horn or trying to run you off the road, stay calm and pull over until they've left. If you feel that a driver is persistently putting you in danger or is displaying threatening behaviour, don't hesitate to call the police - taking things into your own hands isn't a good idea and you'll be the winner at the end of the day when their license is revoked for dangerous driving!
Don't weave in and out of traffic
Be patient if there's a jam, and slot into traffic when queueing at traffic lights or roundabouts. Don't be tempted to cycle in the gutter to squeeze past stationary traffic, as you risk getting car-doored, a serious problem that arises from passengers and drivers failing to check their mirrors before swinging their door open on the inside.
Don't cycle under the influence
Many people's university experience involves enjoying a few drinks, but don't be tempted to cycle home even after a couple. Cycling under the influence is actually illegal and you could end up with a fine or potentially even jail time if you're found to be guilty of 'wanton and furious driving'.
What's the best cycling route to University?
---
If you've moved to a new part of town, or don't know the area around your university too well, then you'll need to figure out the best way to go so that you aren't late on day one! Google Maps is probably the go-to for this job, but consider doing a test run or checking how much of the route involves cycling on the road. If there's a slightly slower or longer route with less road-riding, then you might actually save time by not getting stuck in traffic. You'll also be able to enjoy a safer ride if there are fewer cars around.
5 Tips To Prevent Your Bike From Getting Stolen
---
5. Consider taking your front wheel off and into class with you
You might get a few funny looks, but no-one is going to be cycling off on a one-wheeled bike if they manage to get the lock off (unless they're from the circus...)
4. Lock your bike up properly
Make sure the lock goes through at least one of your wheels and through the frame and make sure the whole thing can,t be lifted off the bollard or fence that you're locking your bike to! Check out our how to secure your bike guide for more information.
3. Register your bike with your university
Many universities now offer security measures, like barcode stickers or etching directly onto property to make it unsellable, or easy for police to find. You could even add a tracker for an extra few quid, so you can show the police or insurers exactly where it's got to.
On the subject of insurance, it's probably worth getting some cover in case your bike does go missing. Bike insurance is pretty reasonable, even for high-end bikes, and costs at most a few pounds per month. You'll also be able to get a replacement quicker, without having to pay for it yourself.
2. Park in a well-lit area with CCTV Coverage
Lots of bike parking areas and racks around universities are in busy places with lots of eyes, so don't leave yours in a back street where it's easier for thieves to take it without anyone seeing.
1. Use a locked bike shed
Halls of residence and some university campuses will have manned or lockable bike sheds, so try and get your bike in these before heading to the racks!
Bike Maintenance
---
Most bikes require very little TLC, but if you check and maintain your ride regularly, you'll probably save yourself some cash in the long run.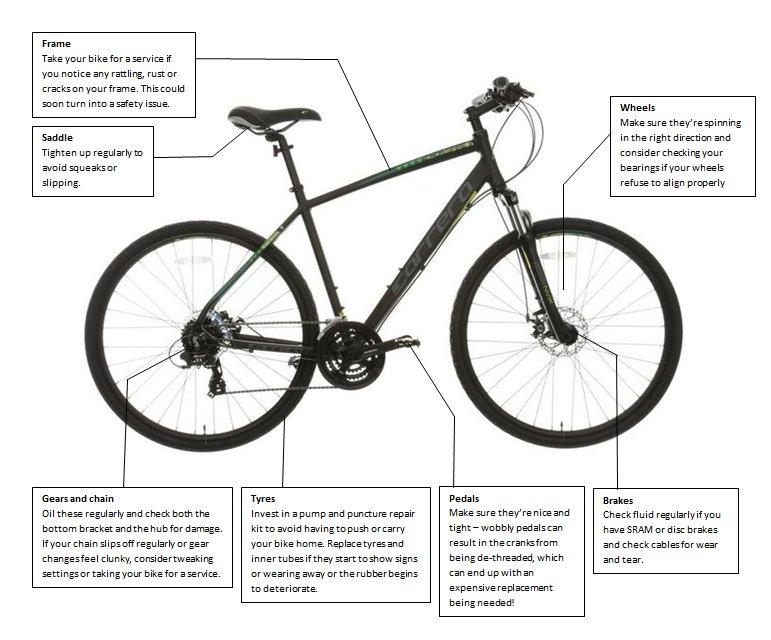 If you don't feel confident enough to carry out maintenance on your bike (or just can?t be bothered!) then Halfords will provide a free bike safety check to make sure you aren't riding an accident waiting to happen. They also offer BikeCare plans, which provide an annual service (a bit like you?d get on a car) with replacements and tighten-ups making your bike feel like new.
Find out more
Cycling Clubs
If you're heading off to university for the first time, then meeting new people and making friends is probably high on the agenda. Cycling clubs are a great way to do this, and you'll instantly have a group of like-minded folks who will want to talk all things cycling during weekly meets and rides. Joining a cycling club may also bring added benefits too, with discounted bike and personal insurance often available to members of recognised clubs.