Back to results
Getting Back Into Cycling: Our Top Tips For Women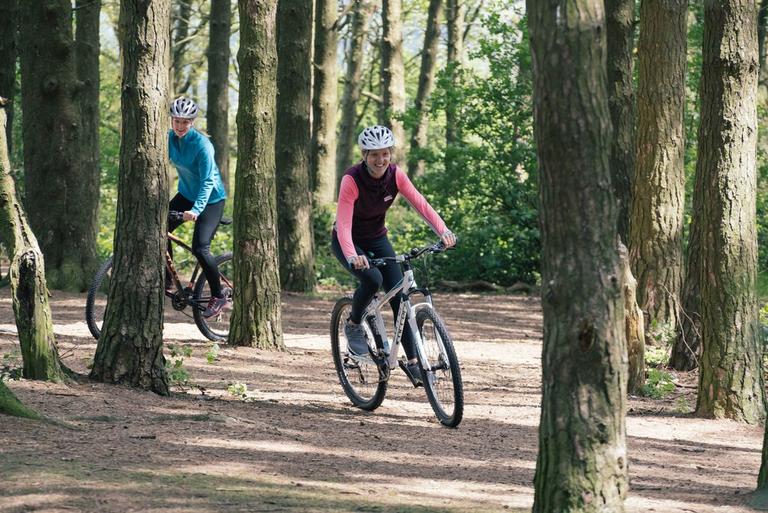 Have a read of our top tips for women looking to get into cycling.
Getting Back Into Cycling: Our Top Tips For Women
Have you been hibernating for the winter or are you new to the saddle? Either way you'll be pleased to choose from a 17 model range of upgraded women's frames. Read on for our top tips on how to get back into cycling.
How do I know which bike is for me?
This is the exciting part! Have you decided to embrace your inner eco warrior and take to the tarmac on your way to work? Are you training for a charity bike ride? Or maybe you're just looking to improve your fitness. Whatever your reasons, let us help you to make the right choice.
Knowing what type of terrain you'll spend most time cycling on will act as a good guide for choosing the right model. Take a look at our What Type Of Bike Is Best For Me? article to help you out.
Safe and Sound
Before you ride, make sure to check that your brakes and gears are working properly, and give your bike a good once over to make sure that everything is done up and nothing is cracked or wobbly. Our guide to checking your bike is a good place to start if you're not quite sure what you should be checking, or for added peace of mind pop into one of our stores for advice from one of our experts.
Then there's the helmet. Despite all those refusals to wear one as a teenager, it's important to keep your head protected on every ride, whatever the conditions. Every journey will differ from the next and safety should always be a top priority.
For new mountain bikers, it may be worth wearing body armour or pads whilst you learn the ropes. There'll inevitably be a few tumbles before you nail the perfect touch down!
Help! I've got a puncture!
Worry not, if you can remember to carry a spare inner tube when you're out riding it's much easier to just replace it and repair the punctured one once you're home. If the puncture has damaged your tyre and you can see the tube poking through, you can use tape, a gel wrapper or something similar as a 'boot' to cover the hole and get you home. We recommending ensuring you have a puncture repair kit on you whenever you go for a ride.
It's also a good idea to take a multi-tool with you too, so that you can repair any parts that wear out or break whilst you're on a ride and prevent a potentially long walk back. Don't forget to take some money as a last resort in case things don't go to plan.
What do I need to take on my journey?
When hitting the road, it's easy to forget the essentials when you're in a rush. Whether it's your morning commute or a last-minute plan to make the most of the weather, remember to prepare before you hit the pedals. Aside from the spare parts and tools as mentioned, it's essential to take food and water for your journey. We're not suggesting breakfast on the go, or chowing down at the traffic lights, but carrying an energy bar along with some water will be sure to see you through your ride.
Last but not least, make a note of where your nearest Halfords is; we'll be happy to help get you back on your way should you encounter a cycling crisis.