Back to results
Guide to Pedals + Video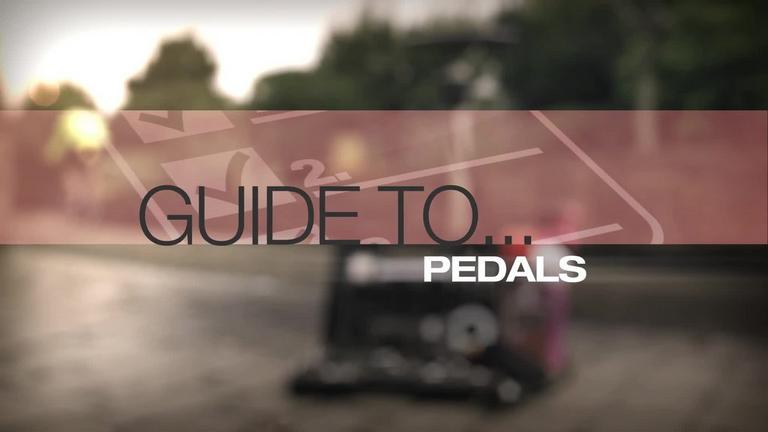 Pedals are what connect you to your bike, and there are many different types depending on what you want to do with them. Here's a guide to help you choose.
Guide to Pedals
Although they might seem simple, the fact that pedals are what connects you to your bike and drives you forwards means that there are a lot of different choices. That's why we've put together a guide to help explain some of the basics.
Remember, some bikes don't come with pedals. This is because many cyclists prefer a certain kind of pedals, or they already have the shoes and cleats to match another bike. If this all sounds a bit confusing, read on to get the facts!
Clipless vs. Flat
The first choice to make when looking at pedals is whether or not you want to be able to attach your feet to your bike, which is what happens with 'clipless' pedals. This is done by putting cleats (included with the pedals) on the bottom of your shoes, which can be locked into the pedal by pressing down and normally released by twisting the heel outwards.
This can be a bit scary at first (and most people tend to forget to un-clip at least once when they start using clipless pedals), but once you're used to it it's possible to power the bike more efficiently.
Clipless pedals get their name from the traditional way of attaching your foot to pedals - using plastic or metal 'clips' and toe straps that go over the top of the shoe and bind your feet in place. These pedals are sometimes included with new road bikes to get people started.
Different Kinds of Pedals
Road

Clipless pedals are popular with road cyclists, where it's unlikely that the rider is going to be doing much walking off the bike - except maybe into the café or onto the podium! Pedals designed for road cycling tend to include a larger cleat for a more stable platform, and can usually only be entered from one side. Road pedal cleats often use a standard pattern of three bolts in a wide triangle to attach to the shoe.

Road shoes are normally stiffer than other types and don't include any tread on the bottom. Some road riders prefer mountain bike style pedals because they like to be walk around easily, as well as being able to use the same pedals and shoes on all of their bikes.

Mountain

Mountain bikers tend to use either clipless pedals or flats. Flat pedals for mountain biking are normally large with metal pins to grab the sole of your shoe and combine stability with the ease of putting your foot down in a pinch. Mountain bike clipless pedals have a smaller metal cleat which is recessed into the shoe slightly, so that it's easier to walk. Mountain bike cleats normally attach to the shoe using two bolts next to each other.

It's not unusual for mountain bike shoes to have large lugs or even studs in the sole to give better traction in mud, and mountain bike pedals can often be entered from more than one side. They're also designed to keep working when conditions get muddy.

Some mountain bike pedals combine a platform with a clipless mechanism, to give a bit more security and allow you to pedal without being clipped in.

Hybrid/Touring

Hybrid and touring pedals are normally very similar to mountain bike pedals, as the recessed cleats let riders walk around in their cycling shoes, or platforms let them pedal in regular shoes.

Some pedals have a clipless mechanism on one side and a flat platform on the other, to give riders both options on one bike.
Practise Makes Perfect
As with all things, it takes a bit of practise to get used to clipless pedals, and you might fall off once or twice if you forget to take your foot out in time! It doesn't take long for it to become second nature, though, and many people believe that riding with clipless pedals is much more efficient.
If you choose to ride with flat pedals, it's best to pedal with the ball of your foot for the most efficiency and comfort in the long term.
Now you're in the know, why not take a look at our range of pedals?
View all Cycling