Back to results
What is a 29er?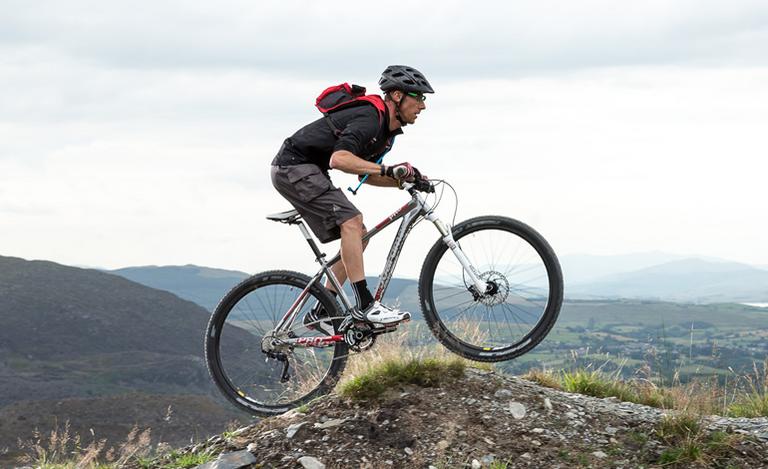 Have you ever heard people talking about '29er' mountain bikes? Read our guide to find out what a 29er bike is, and why you might want one!
What is a 29er?
29ers are mountain bikes with 29 inch wheels, and are normally the biggest wheel size available on mountain bikes. But why would you want bigger wheels? Let's find out!
Before 29ers came along, most mountain bikes had 26 inch wheels. Now, it's also possible to get 27.5 inch wheels, which combine some of the best parts of smaller 26 inch wheels with 29 inch wheels.
The Short Guide to 29ers:
29ers are generally seen as faster rolling, smoother and better for keeping momentum. They also have more grip and can be more comfortable on bumpy terrain. Compared to smaller wheel sizes, they can be a bit more difficult in very tight corners, and can feel slower to accelerate. All things being equal, a 29er will be a bit heavier than a bike with smaller wheels (as you might have already guessed).
The Long Version:
So why do 29ers feel like this? It's not just about the wheel size - modern 29ers are designed to make the most of the ride:
Better on the bumps - A lot of a 29er's ride is put down to the wheels 'smoothing out' bumps. This is because the larger wheels have a better 'angle of attack' when it comes to riding over bumps. A larger wheel will hit obstacles at a shallower angle, and spread the bump over a longer time as it travels over.
More grip - As you might expect, larger wheels have larger tyres! A 29er has a larger contact patch than a smaller wheel. More rubber on the ground means more grip!
More comfort - As well as more grip, a larger tyre means more air volume to soak up bumps. You can run narrower tyres for more speed without sacrificing grip and comfort, or reduce the pressure for more grip and comfort without the risk of pinch flats compared to a smaller wheel.
Riding 'in' the bike - 29ers have taller wheels, meaning the axles are higher from the ground. This means that the bottom bracket (that your cranks rotate around) can be placed lower (relative to the axles) compared to a smaller bike. This contributes to the feeling of riding 'in' the bike that you get with a 29er, rather than being 'on' the bike, which is how a 26 inch bike can feel.
More stability - To fit larger wheels, the chain stays of a 29er need to be longer, which in turn makes the wheelbase longer. This gives even more stability, but can be the cause of bikes feeling less manoeuvrable in very tight corners than one with smaller wheels.
While the first 29ers on the market might have seemed sluggish and difficult in tight sections, modern designs make the most of the upsides while working around the downsides. These days, 29ers are hugely popular out on the trail, and it's easy to see why!
To find out more, take a look at our range of 29ers.
View all Mountain Bikes