Back to results
Winter Cycling Tips & Getting Your Bike Ready For Winter + Video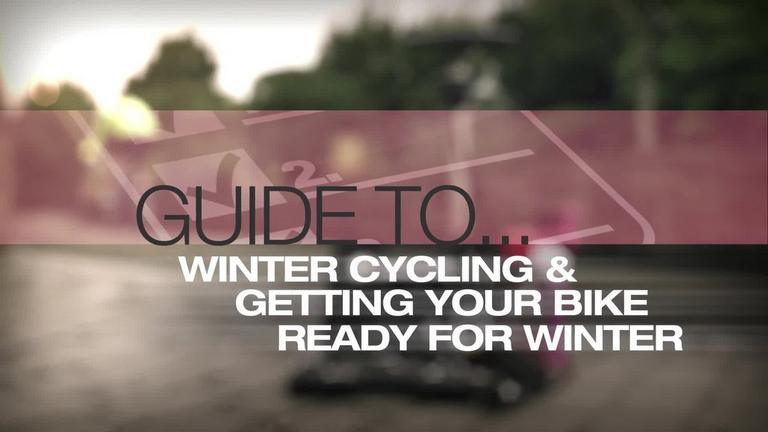 Colder months approaching? Stay safe and be prepared with our winter cycling video guide.
Winter Cycling Tips & Getting Your Bike Ready For Winter
When it's cold outside and the nights draw in, it can be difficult finding the motivation to go for a ride. If you do manage, however, there are a few things to take care of to make sure that you're safe and comfortable out on the road in winter.
Staying warm and being seen
Lights - With the days getting much shorter, it's worth investing in a good set of lights, and a legal requirement to use them if you're cycling in the dark. Our buyer's guide can help enlighten you on what to look for.
Bright clothing - Even if you're well lit, it's a good idea to make yourself as visible as possible on darker days or against a low sun. High visibility yellow or orange can make you stand out during the day, and white can do the same at night (unless there is snow everywhere!). Reflective patches and details also make a huge difference at night. Still in the dark? Take a look at our guide!
Warm clothing - You probably don't need us to explain that it's going to get colder! A good waterproof jacket is essential to avoid being wet out in cold weather, and dressing in layers means that you can be warm and comfortable without getting too sweaty. Our guide to winter cycling clothing can give you some more advice on what to wear.
Winter cycling checks
Look after your bike! - Poor weather, dead leaves and gritted roads can mean that your bike will wear much more quickly, so it's important to keep your bike well maintained during the winter. Our guide to maintaining your bike can show you how to do this, but if you don't have time, make cleaning your chain a priority! Also consider changing to a wet chain lube for the winter months.
Tyres - It goes without saying that the roads can be slippy in bad weather. Moving to a wider and more grippy tyre can really help your chances of staying the right way up, and more puncture-resistant tyres mean that you won't be left in the cold trying to change your inner tubes as often.
Take care - All the gear in the world won't help you if you don't adapt your riding to winter. Remember that stopping distances will be much longer, grip will be much less and there will be hazards like ice and drain covers to look out for. Our guide to wet weather cycling can give you some tips on how to deal with wet roads.
Hopefully now you're ready to brave the cold! If you want to get kitted out, take a look at our range of cycling equipment.
View all Cycling