Back to results
Finding the Right Size Bike for your Kids Guide + Video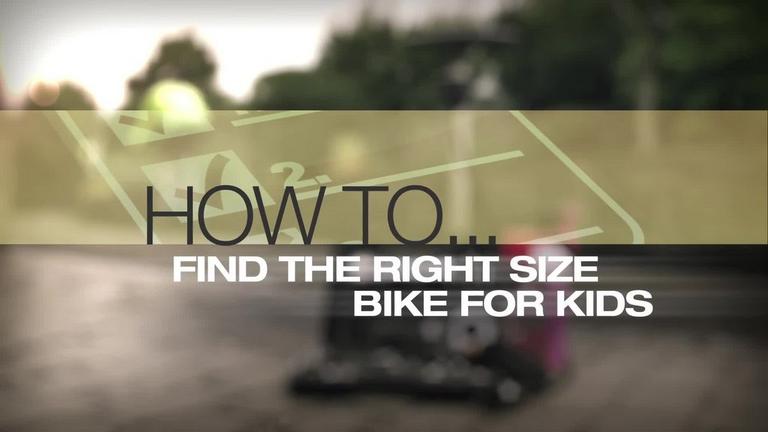 Make sure you choose the right size kids bike for your little one with our bike size guide & chart.
Finding the Right Kids Size Bike
Learning to ride a bike is hard enough without the bike being too big or too small! Picking the right-sized bike can be a bit harder for children, as the size of the wheels dictate the correct bike size for kids rather than the frame. There's also the growth spurt factor, which can quickly render a bike unsuitable after only a few years!
As mentioned, kids bike sizing is all about the wheels. Going too big or too small will result in problems balancing and controlling the bike, so it's essential to find the right size wheels to suit their measurements.
Kids Bike Size Chart & Frame Size
| Wheel Size | Age of Child (Years) | Height of Child (Inch) | Height of Child (cm) |
| --- | --- | --- | --- |
| Balance | 2 - 4. | 2' 11" - 3' 5" | 88 - 105 |
| 12" | 3 - 5. | 3' 3" - 3' 8" | 98 - 112 |
| 14" | 4 - 6. | 3' 5" - 3' 10" | 105 - 117 |
| 16" / 18" | 5 - 8. | 3' 8" - 4' 2" | 112 - 127 |
| 20" | 7 - 9. | 3' 10" - 4' 6" | 117 - 136 |
| 24" | 8 - 11. | 4' 2" - 4' 9" | 127 - 145 |
Measuring your child in-store
The best way to measure your child for their new bike is to get them to ride it! If you head to a Halfords store, our bike experts will help your child to try out a few bikes and get the saddle and handlebars at the right height for them. Here are the most important things to look out for.
They can put the balls of their feet on the floor while sitting on the saddle
There's enough room for them to stand over the top tube (the horizontal bar that goes between the saddle and the handlebars
Their arms should be straight and their back should lean forward slightly when looking at them from the side. Kids tend to ride in a more upright position, so if it looks like they're hunched up or stretching too far, then the bike frame may be too long for them.
With a tape measure
If you're trying to keep things a surprise, then you can always measure your child at home and bring the measurements in-store / use them to find the right bike for your kids at Halfords.com. Just grab a tape measure and measure their height (tell them that Santa or the Birthday Fairy needs it to check them off on the naughty list or similar) and check it off against the table below:
Kids Bike Size Height Chart
| Height of Child (CM) | Height of Child (CM) | Bike Frame/Wheel Size |
| --- | --- | --- |
| 88-105 | 2'11" - 3'5" | Balance |
| 98-102 | 3'3" - 3'8" | 12" |
| 105-117 | 3'5" - 3'10" | 14" |
| 112-127 | 3'8" - 4'2" | 16" / 18" |
| 117-136 | 3'10" - 4'6" | 20" |
| 127-145 | 4'2" - 4'9" | 24" |
| 145+ | 4'9" + | See Teenager Bikes |
Kids Bike Size Age Chart
You can also use your child's age to determine the right bike wheel size if you don't have access to a tape measure of you're worried they might get suspicious.
| Age of Child (Years) | Kids Bike Size Frame |
| --- | --- |
| 2-4 | Balance |
| 3-5 | 12" |
| 4-6 | 14" |
| 5-8 | 16" / 18" |
| 7-9 | 20" |
| 8-11 | 24" |
| 11+ | See Teenager Bikes |
Once you've got their measurements or have got them on a few bikes in store, then it's time to pick the bike for them! If you need some ideas, then our online Kids Bike Selector is a brilliant tool that will narrow down our huge range to match their age and requirements.
Does my child need bike stabilizers?
For younger riders who haven't mastered balancing yet, bike stabilizers are the little wheels that sit either side of the back wheel so they can sit on the bike without falling off. Stabilizers are usually suited for kids aged 3-5, but more adventurous kids might find that they can get by without them sooner. Remember that there's no pressure for kids to lose their stabilizers and that some kids develop balancing skills later than others.
For toddlers and under 3s, a balance bike may be a good way to get them used to moving on two wheels. These mini-bikes don't have pedals and feature a low saddle, so they can get used to pushing themselves with one or two feet on the floor with extended 'gliding' periods getting them used to balancing.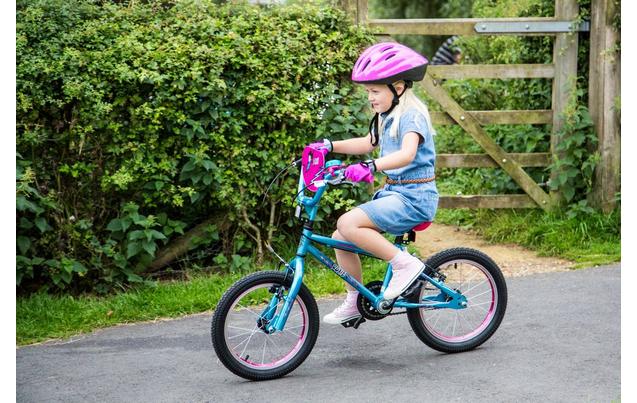 What happens if they are between wheel sizes?
If your child looks too big for one wheel size but not as comfortable with the next size up, then we'd always recommend going for the larger size. After all, they'll grow into the bike and will become more confident as they get used to riding a larger bike. Be careful not to plan for the future too much though, as buying a large kids bike for them to 'grow into' may end up putting them off riding all together if they are struggling to get the hang of it.
What happens if my child's bike size still doesn't look right after we've got it home and given it a test ride?
Just bring it back to the store! In most cases, the bike will probably need a couple of easy adjustments to the seat or handlebars to make things comfortable and our in-store bike experts can sort this out for you pretty quickly.
In-store fitting
If you're still unsure on the right kids bike sizes, then pop into one of our stores and we'll be more than happy to help you find the right kids bike. You can either bring your measurements along and we'll give you some recommendations, or you can bring them along for an exciting trip to the big bike shop! Our bike experts will then be able to give you plenty of information on the right bike sizing, as well as tips on maintenance and riding.
It might be worth checking out Kids CycleCare too. This will keep your child's new bike in top condition and includes one annual bronze service, unlimited puncture repair, unlimited safety checks and adjustments, and much more.
We can even help you to use our online tool which is designed to help find the right bike frame size, ideal if your child is still struggling on wheels that are too big or too small.