Back to results
Maintaining Your Scooter
Follow our quick tips to ensure you keep your scooter in top shape.
Scooter Maintenance Guide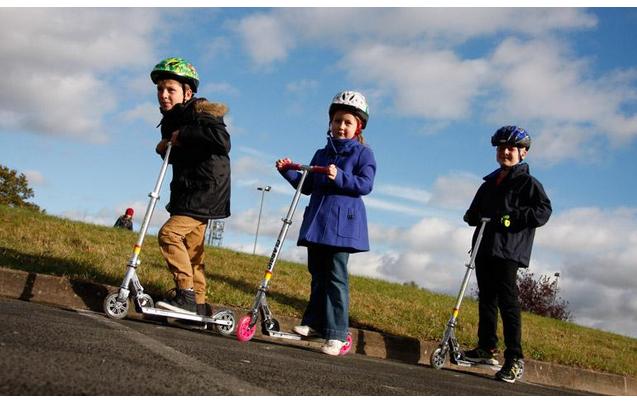 Scooters are a brilliant alternative to bikes. With less moving parts and no pedals or saddles getting in the way, kids (and even adults) can whizz around the park or along a path, with a quick kick propelling them further and faster. Despite the incredibly simple design behind most scooters, they still need some TLC every now and again to prevent them from breaking down - and more importantly - to make them last longer. Here are some quick tips to help you keep your scooter in top shape.
Get The Oil Out
As with anything on wheels, friction can cause issues if there isn't anything to provide lubrication between the wheels themselves and the axle. As scooters rely on that 'glide' period between kicks to maintain momentum, wheels that aren't turning smoothly will slow down the scooter, meaning more effort will be needed. Try applying some light machine oil or bike lube where the scooter wheel fits around the axle, or you could take the wheel out all together and apply some grease , which will provide an even better coating for friction-free scooting. Just be careful not to get any on the wheels, as things could get messy very quickly! If that all sounds a bit challenging, then a quick spray of WD40 in the same area should do the trick.
If your scooter has a folding mechanism, don't forget to the keep that well-oiled too. Connections that rely on nuts and bolts can seize up after a while in storage, so again apply some light machine oil or lube to the parts that move and you won't have to get the rubber mallet out!
Get Some Grip With Scooter Griptape
The part where you stand, known as the deck, is an important part of any scooter. This is where you'll need to get your balancing right and, of course, take one of your feet off to kick yourself along. Most scooters come with a layer of deck tape pre-installed, also known as griptape, a coarse surface that gives shoes more grip. However, if you ride often this layer can soon wear away, making the deck slippery ? disastrous if you're going to be trying out tricks and stunts!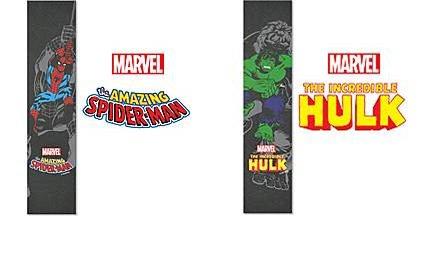 You can even get scooter grip tape featuring your favourite character to really customise your scooter.
Replacing deck tape is an easy fix if you're not getting as much grip as you used to. All you'll need to do is scrape the existing griptape off and replace it. Most replacement scooter griptape comes with a super-sticky back so you can simply stick it onto the bare deck surface, but a touch of glue may come in handy at the corners to avoid peeling (superglue will do the trick). You might also need to cut the griptape to size to fit different deck shapes and sizes and kitchen scissors will do the trick.
Shop Scooter Grip Tape
Tighten Up
Wobbly handlebars and weaving wheels may be seen as an indicator that a scooter is nearing the end of its life, but in reality you probably just need to give everything a quick tighten! The nuts, bolts and screws that hold your scooter together can come loose over time, so grab that hex key or Allen key set, a screwdriver with the right head or even a small spanner set and give everything a good turn. Just don't overtighten, as you could end up damaging threads or making the handlebars too stiff.
Improve Cornering and Control With New Scooter Wheels
Scooter wheels usually bear the brunt, skimming over cracked pavements, sliding around corners or bouncing over loose rocks and stones. Although they're often made of super-hard plastic or the same rubber used to make car tyres, they can wear away over time, causing problems for riders when it comes to cornering and control. Rubber wheels can also lose their tread, reducing performance on wet or smooth surfaces or even slowing the scooter down, especially on the back wheel where the brake can cause a lot of friction.
The hard Polyurethane wheels that you'll see on smaller-wheeled micro scooters and stunt scooters will likely get scratched after prolonged use and even compress to a point where they start losing grip. Replacing them is relatively cheap and easy, with a small spanner set and a few hand tools all that's needed to bring scooter control back up to scratch. Just make sure your wheels run free when you give them a good spin and tighten fastening bolts as tight as you can to avoid any accidents.
The best wheels for stunt scooters: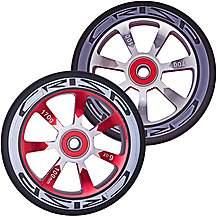 Crisp Hollowtech Wheels 110m, Grey/Red

Shop Now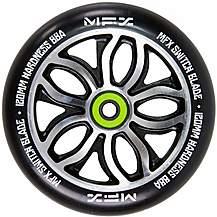 MFX R Willy S/Blade SIG 120mm Wheel

Shop Now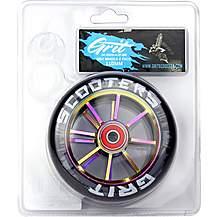 Grit Alloy Core Wheels 110mm

Shop Now
If you're struggling to change your wheels or you can't seem to get the griptape to stick, then Halfords can help! Our in-store scooter experts can get your scooter back to its best, with services such as wheel replacement and puncture repair available for just £5. You can even get an annual scooter service with ScooterCare for £10, where we'll give your dream machine a once over and check it's still safe to ride before letting you loose again!
Change Out Those Scooter Handlebar Grips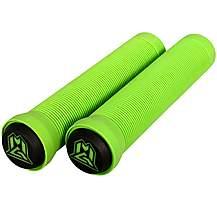 Scooter handlebars are just another contact point where wear and tear can take its toll, especially on those white-knuckle rides! The soft foam or rubber grips found on most scooters can soon get grubby or even begin to wear away after repeated use.
Luckily, handlebars are one of the easiest things to change on a scooter, so you don't need to throw the whole thing away if the handlebars start looking shabby. Again, small hand tools are all that's needed to get the old handlebars or handlebar grips off and some grips even slide on and off or click into place, saving you an afternoon spent in the garage! You can check out our full range of handlebar grips here.
Shop Scooter Handlebar Grips
Keep Your Scooter Clean
This one is a really easy fix and will prevent grime building up on the wheels and under the deck, which can slow you down. Grab the garden hose and blast the dirt and mud off, or even better, use a bike cleaning product like Muc Off to give your scooter a real shiny finish. An old toothbrush comes in really handy for getting into those awkward nooks and crannies. Remember to give your scooter a good dry afterward with an old towel to prevent rust.
With these great scooter maintenance tips you can make your scooter perform better and last longer. If you're thinking of buying a scooter, then you can see our full range here , including scooters for kids of all ages!