Back to results
Guide to Breathalysers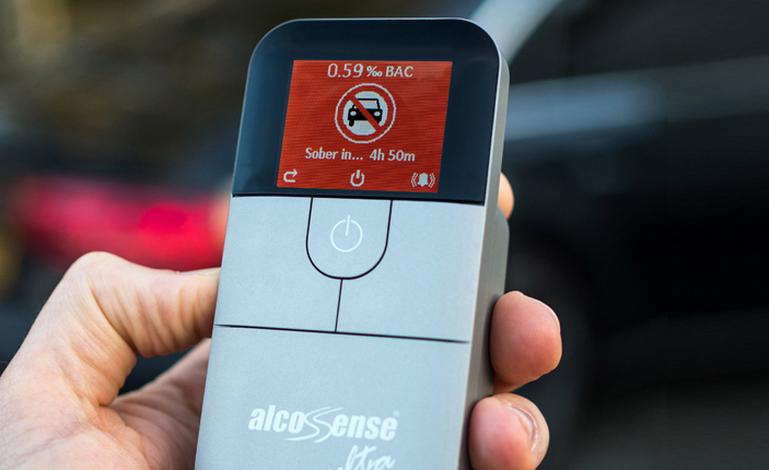 Breathalysers are a good way to help make sure you're safe to drive after drinking. Read our guide for more information.
Breathalysers Buyer's Guide
When it comes to driving after having had a few the night before, it's always best to be safe than sorry. Alcohol can stay in your system for far longer than you'd think, making driving the morning after risky. 51% of drivers have unintentionally drink driven the morning after, and 1 in 5 drink drive prosecutions happen the morning after, almost double what it was 10 years ago.
Because of this, breathalysers are fast becoming a popular way to ensure you're on the right side of the law before you get in the car. We've created this guide with help from the pros over at AlcoSense to give you the lowdown on how breathalysers work and what types are on the market.
How do breathalysers work?
Breathalysers don't work by directly measuring your blood alcohol content, but instead measure the amount of alcohol in your breath. When you drink alcohol, around 80% of it gets absorbed into your bloodstream through your stomach and intestine, which is why there's a delay of around 20 to 90 minutes from drinking to feeling its effects. (The differences between the delay largely depends on whether you have food in your stomach)
Once the alcohol's in your bloodstream, it travels around your body. When it reaches your lungs, the alcohol evaporates into the air - the amount of alcohol in the air in your lungs is proportional to the amount of alcohol in your blood. By measuring your breath, a breathalyser can work out if you're over the limit.
Price or Performance?
You get what you pay for when it comes to many things, and breathalysers are no different. Spending more on a breathalyser often results in a higher level of accuracy and reliability, as well as an increased number of features.
Some of the pricier units can tell you how long it'll take until the alcohol's gone from your system, or feature a database of drink drive limits across multiple countries. The more you rely on your driving licence, the more you should invest in your breathalyser. After all, the cost of a breathalyser is tiny compared to a fine and losing your licence.
Types of breathalysers
There are two main kinds of breathalyser: disposable, single-use breathalysers and re-usable, electronic breathalysers. Electronic breathalysers can then be further broken down into two types: semi-conductor and fuel cell.
Disposable Breathalysers
Disposable breathalysers are cheap and effective. They contain chemicals which change colour in the presence of alcohol. They can tell you if you're under or over a limit, but can't give you a reading other than a yes or no. They're also less accurate than an electronic breathalyser.
Disposable breathalysers have an expiry date of 2 years from their manufacture date, so you'd need to keep an eye on this if using one you've had for a while.
Re-Usable Electronic Breathalysers
Instead of letting you know if you're simply under or over the limit, an electronic breathalyser can display a reading of your alcohol level. They may also have other handy features, such as being able to tell you how long you have to wait until the alcohol's gone from your system.
Electronic breathalysers come in two types; semi-conductor breathalysers and fuel cell breathalysers. As a general rule of thumb, a good quality fuel cell breathalyser will give better performance than a good quality semi-conductor breathalyser.
Semi-conductor breathalysers are cheaper and provide a good level of accuracy and reliability for their price. They're ideal for occasional use, and provide a decent guide to your alcohol level. One thing to bear in mind is that these breathalysers may experience more 'drift' than fuel cell breathalysers between calibrations, where the reading from the breathalyser may change over time.
Fuel cell breathalysers use a type of sensor called a 'fuel cell', which is the same type of sensor used in portable police breathalysers. Fuel cell sensors are more accurate, robust and reliable than semi-conductor sensors, but also cost more because they contain platinum which reacts with the alcohol. The use of platinum provides great improvements when it comes to accuracy, reliability, repeatability and stability.
| | Semi-Conductor | Fuel Cell |
| --- | --- | --- |
| Use | Only used in consumer products | Sensor derived from police breathalysers |
| Accuracy | Larger tolerance in readings | Smaller tolerance in readings |
| Sampling System | Based on blow duration, less accurate | Based on breath volume, more accurate |
| Calibration interval | 12 Months | 12 Months |
| Suitable for work use | No | Yes, on higher end models |
| Suitable for users with diabetes | No | Yes |
| Usage pattern | Not suitable for testing multiple people or more than a handful of tests in a day | Suitable for use with multiple people and many uses in one day |
| Ideal For | Giving a guide | When accuracy is key |
A Note on Diabetes and the Atkins Diet
If you have diabetes or follow a low carbohydrate, high fat diet such as Atkins, your body may release ketones and acetone. Since semi-conductor breathalysers are not as accurate, they can sometimes confuse ketones or acetone with alcohol. This can result in the breathalyser giving a higher reading than expected, or a positive reading when you've not even drank alcohol. For these people we recommend a fuel cell breathalyser which doesn't pick up on ketones and acetone.
Using a breathalyser for work
If you're planning on using a breathalyser in a work environment, we'd always recommend a fuel cell breathalyser with a large sensor. The larger sensor is more accurate and reliable, and is able to handle many tests from many people. Accuracy is a top concern in a work setting as the evidence needs to stand up in case of a tribunal.
Drink Drive Limits
The UK has two different drink drive limits; 0.05% BAC (0.22mg/L) in Scotland, and 0.08% BAC (0.35mg/L) in the rest of the UK.
Ireland also has two different limits; 0.05% BAC (0.22mg/L) for regular drivers, and 0.02% BAC (0.09mg/L) for professional drivers such as HGV and taxi drivers.
If you regularly travel across borders (such as between England and Scotland), it's a good idea to buy a breathalyser with an adjustable drink drive limit. If you're heading further afield, a breathalyser that has worldwide drink limits is a savvy buy; all you need to do is select a country from the menu and it'll automatically adjust to the local laws.
Driving in France
Since 2012, it's been the law to carry an NF approved breathalyser in the car whilst driving in France. A good, cheap way to comply with this law is to purchase the AlcoSense NF breathalyser which has been specifically designed to accord with French law.
In summary
Investing in a breathalyser helps to protect yourself, your loved ones, and your licence, so deciding which one to buy should be a considered purchase. Spending that little bit more may give a jump in accuracy, reliability and features which could pay dividends in the long run.
Don't forget; any amount of alcohol will affect your ability to drive, and we only recommend driving when alcohol has completely cleared your system and you feel 100%.
Shop all breathalysers