Back to results
Sat Nav Buyers Guide + Video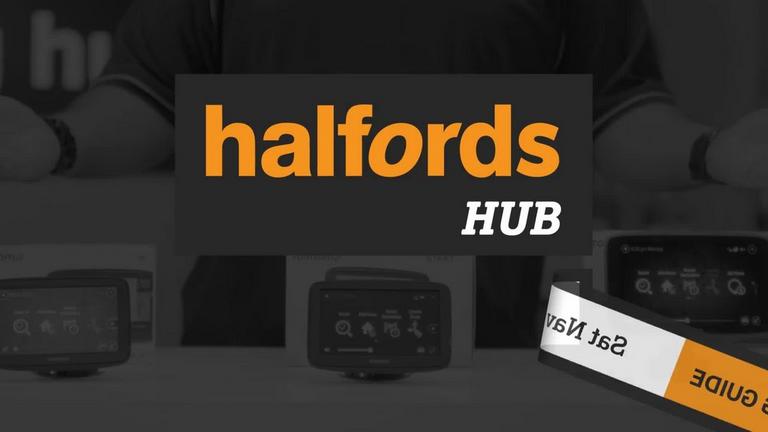 Get from A to B with the Halfords Sat Nav Buyer's Guide.
Sat Nav Buyer's Guide
---
With the help of a good sat nav, you'll be able to handle any journey confidently, - spending less time fretting about directions and more time enjoying the open road.
At Halfords, we offer a market-leading range of the latest sat navs in the UK with all the features you could ask for, from traffic updates and 3D mapping to points of interest and driver assists. Our handy sat nav buying guide will help you find the sat nav that's right for you.
What is a sat nav?
---
A sat nav is a piece of technology designed to make our time in the driver's seat much simpler and more enjoyable. Typically, sat navs are small touch-screen devices which can be mounted on your car's windscreen with a sucker pad. When driving, they help you to plot your route and provide all the instructions you need along the way, with both on-screen instructions and a friendly voice taking you through the turns you need to make.
How do sat navs work?
---
Sat navs work by using Global Positioning System (GPS) satellite receivers to calculate your position on earth, which then pinpoint your position to within ten metres. This is then aligned with up-to-date stored digital maps, so you can see your positioning on a digital road map on-screen. In a nutshell, you tell the sat nav where you want to go, and it will find the best way of getting you there.
Why buy a sat nav?
---
No matter where you're traveling to, a sat nav is designed to make life easier and more relaxing. Guiding you through your journey step-by-step means the days of puzzling over tattered maps in lay-bys - or looking for non-existent road signs - are long gone. Journeys have also never been quicker thanks to live traffic updates, diverting you away from congestion and accidents, which is useful on routes both old and new. Some models can even tell you exactly where you've parked your car, with parking location guidance. Wave goodbye to wandering around the car park with your key fob in the air!
Is a sat nav better than using a smartphone app?
---
Almost all smartphones produced today come equipped with apps that offer mapping features, traffic updates and re-routing suggestions. With that in mind, why is a dedicated sat nav a better option than a mobile phone?
Firstly, unlike many phone apps, dedicated sat navs don't rely on mobile data. Instead, they use GPS signalling, meaning that you don't need to worry about your data connection disappearing or your monthly mobile data allowance running out. Plus, if you're driving abroad, the fees could get very high if you're using mobile apps like Google or Apple Maps, where map imagery is downloaded constantly as you make your journey.
Then there's the legal aspect. Just touching your mobile phone while driving a vehicle (even when sat in stationary traffic) can land you with a £60 fine and three penalty points, or a whopping £1,000 fine and instant disqualification if your case goes to court. With a sat nav, you won't be tempted to glance at that text message or try and make a call. You'll also save your mobile battery and the map and instructions won't disappear from the screen if someone calls you!
On top of this, sat navs offer a range of features that mobiles simply aren't able to match. From traffic updates to driver alerts, sat navs have been developed by driving experts for drivers, rather than by developers who want to create a handy app that compliments the rest of the features found on a smartphone. You also won't suffer from the annoying quirks that plague smartphone navigation apps, such as the map disappearing if you accidentally swipe the screen, the screen automatically dimming if it hasn't been touched for a while, notifications blocking the map and the little blue navigation icon refusing to point in the right direction, forcing you to swish your phone around in the air to recalibrate it!
Sat nav features to help you with navigation and driving
---
Like almost all technology, the more you spend, the more features it will have. So what about sat navs? Let's have a look at the many ways different features will benefit your journey.
Touchscreen
---
All sat navs have touchscreens, with a keyboard appearing on screen for you to enter addresses or locations. Many have predictive systems similar to text messaging, which can save time.
Routing
---
All sat navs will re-route you automatically while you're driving should you take a wrong turn or a detour and get you back on track to your destination. However, routing is getting more sophisticated and intelligent every day. Sat navs can now update your route based on live traffic information, working out the fastest route for the time of day. Over time, they become familiar with your daily routines and will ask whether you're driving to home or work when powered up. Many also feature route preference options that let drivers state what's most important to their journey, whether that's getting somewhere as quickly or leisurely as possible, or avoiding costs like toll gates. The sat nav will then plan out a route accordingly.
3D mapping
---
Sat navs with 3D maps help you to visualise your route - which is especially handy for complicated junctions, or turns that follow each other in quick succession. Some sat navs have 3D mapping images for cities and other major destinations too, so you can recognise your surroundings more easily. Some even offer real-life views, so you can see exactly what the destination or road system looks like before you have even set off.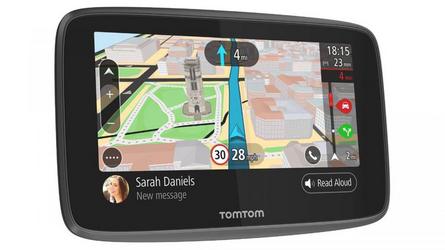 The Garmin Drive 50 LMN 5" or the TomTom Via 53 are both excellent choices when it comes to 3D mapping. Packed with all of the features you can expect in a top-of-the-range sat nav, each model also offers the same kind of pinch and swipe navigation you'd get on Google Earth, so you can see between buildings and see recognisable landmarks on-screen if you're struggling to get your bearings.
Advanced lane guidance
---
Models with advanced lane guidance show you which lane you need to be in when you're travelling through a junction, preparing and pre-warning you in advance of complex turnings.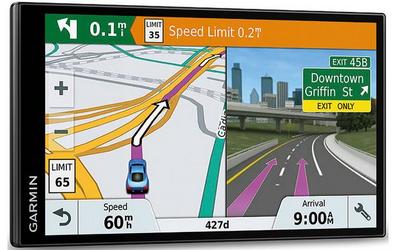 The Garmin DriveSmart 61 LMT-D is a real heavyweight of a sat nav that offers advanced lane guidance, including diagrams that feature the road signs you'll need to look out for. This means you'll only need to glance at the sat nav if you forget to listen to the voice-guidance instructions or end up on a particularly hairy junction or interchange!
International maps
---
Sat navs aren't only useful for driving in the UK; they're also exceptionally handy when travelling abroad. They provide a helping hand for unfamiliar roads, and can also point to amenities and attractions, from places to visit to places to eat.
It's key to ensure that the sat nav you're considering offers the full range of maps you require. All Halfords sat navs provide UK and Ireland mapping, but if you know you may be travelling to Europe, consider paying a little extra for a sat nav with UK and Europe maps.
Take a look at the TomTom GO 6200 for a great sat nav with world maps and lifetime map updated included, plus Wi-Fi and a built-in sim card for TomTom traffic.
Live traffic information
---
Whether you're driving in a congested city or simply keen to cut out significant delays on your daily commute, live traffic information updates are handy in almost every situation, alerting you to any potential obstacles on your journey.
Sat navs use two types of traffic information systems.
The first is known as TMC (Traffic Management Channel) which transmits information to your sat nav over FM radio by aerial, and tends to deal only with the severest incidents and build-ups. For a sat nav that offers this feature, learn more about the Garmin DriveAssist 51 LMT-D or the Garmin DriveSmart 51LMT-D.
The best traffic information systems use a mobile phone network. This allows sat navs to receive data through your mobile phone using its Bluetooth connection, or through a built-in phone unit (SIM card). This is normally included with every sat nav made today.
Map updates
---
With UK road systems constantly changing and new housing continuously being built, it's important to keep your sat nav up to date. At Halfords, all of our sat navs are sold with free lifetime map updates, so keeping your sat nav's information up to date has never been easier.
To update your maps, you'll either need to connect the sat nav to a computer using the USB cable, or it may come with a removable storage card that you'll need to plug into your computer. Alternatively, using a sat nav with a Wi-Fi connection means you can download map updates without having to plug anything in!
Speed alerts
---
Speed camera warnings are technically 'alerts' to warn you to take care, usually emitting a beep as you approach a camera and reminding you to check your speed. Some top-end models can even locate mobile cameras, although this may require a subscription fee.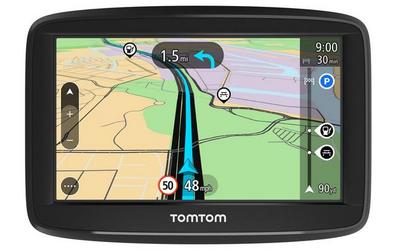 If this is a feature you're keen to explore, check out the TomTom Start 52 and the Garmin DriveSmart 61LMT-D. Both sat navs give clear audio and visual warnings when the car approaches camera-controlled sections of the road, including a graphic of the speed limit, so you won't be slamming on the brakes at the last minute.
Advanced or premium driver-assist
---
The sorts of driver-assist features often found in luxury car models are now being included in the best sat nav models. These camera-assisted driver alerts - such as Garmin's Forward Collision and Lane Departure - let you know when you're driving too close to the vehicle in front or drifting sideways across lanes.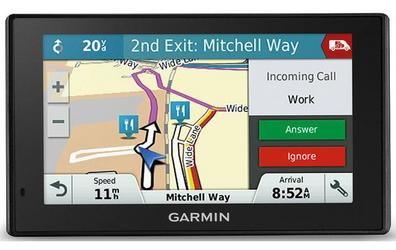 At £299.99, the Garmin DriveAssist 51LMT-D not only offers this feature, but also provides a built-in dash cam that automatically saves files upon impact, including precise GPS coordinates of where incidents occurred.
Points of Interest (POIs)
---
POIs are stored in your sat nav and show up on your map when you get closer to them. These might be for functional facilities, like petrol stations, cash machines and car parks, but also for places like restaurants and hotels, beaches, attractions, historical sites, parks, and more.
We stock a range of models that include free POI downloads, like the TomTom Start 52 and the Garmin Nuvi 2529LMT-D.
Voice recognition
---
The best sat nav models come with voice control, so you can set routes with your voice rather than having to stop the car to use the touchscreen. This becomes incredibly handy if you need to re-plan your route either whilst on the go or in a hurry.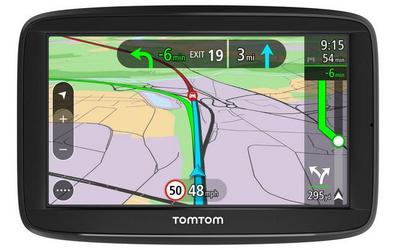 For excellent voice control navigation, we'd recommend starting with the TomTom Via 52 and the Garmin DriveSmart 51LMT-D. These sat navs have been designed to provide extremely clear instructions, with an assertive but easy to understand voice which will tell you when it's time to take a break or if the route has been altered to avoid traffic.
Connectivity
---
Using a sat nav with Bluetooth can be incredibly useful. You can connect to your phone wirelessly and the sat nav can search through contacts, make a call and act as a microphone and speaker, allowing you to use your phone hands-free. As mentioned above, this also gives you access to live traffic updates and other information. You can also download maps from any Wi-Fi hotspot or by tethering the sat nav to your mobile.
For sat navs with this feature, take a look at the TomTom GO 6200 or the Garmin DriveSmart 61LMT-D.
Screen size
---
Sat nav screens can generally be from 4 to 7 inches across when measured diagonally. The displays on most models are now really high quality, so it all comes down to personal preference. A large screen sat nav is easier to see, and the touchscreen may also be easier to use.
Camera
---
High-end sat navs are beginning to feature an integrated dash cam, which records footage through the windscreen before saving it automatically. These videos can then be shared with insurers or the police, providing crucial evidence in the case of a road traffic incident or crash.
This feature is currently available only with the Garmin DriveAssist.
What is the best sat nav?
---
Essentially, the best sat nav is the one that meets your needs the most, in terms of the features on offer and its pricing relative to your budget. There are also several leading brands to consider - we'll introduce each of them shortly.
How much does a sat nav cost?
---
Sat nav prices can vary depending on the features and spec you're looking for. At Halfords, we give you a wide selection, from sat navs under £100, to the best on the market at up to £300. What's the difference? Well, like anything, you get what you pay for, so it depends very much on how you intend to use your sat nav and how often. Generally speaking, the more additional features a sat nav has, the higher the price.
Sat nav brands
---
The two global market leaders for sat navs are TomTom and Garmin.
TomTom is a Dutch navigation and mapping company, whose sat navs are renowned for their accuracy and reliability. In fact, TomTom and sat nav have become synonymous in popular lingo! If you go for a TomTom sat nav, you'll have access to loads of features that are designed to make life easier on busy roads and motorways, as well as excellent customer support and online instructions so you can really learn how to get the most out of your sat nav.
Meanwhile, Garmin is an American technology company who make navigation aids for all sorts of markets. This includes GPS technology for cyclists, joggers, and even sailors. If you opt for a Garmin sat nav, you'll be getting a sat nav that is used by the professionals, with a slick user interface and super-fast calculation times.
Garmin sat navs start at £99.99 for the Garmin Drive 50 LM 5" Sat Nav with UK and Ireland Maps and range up to £299.99 for the Garmin DriveAssist 51LMT-D Sat Nav with Full European Maps.
TomTom sat navs price similarly, beginning at £79 for the TomTom Start 20 WE M 4.3? Sat Nav with Lifetime Map updates, with the top range model the TomTom Go Professional 6200 Sat Nav with Full Europe Maps coming in at £299.98.
In addition, there are also several other manufacturers producing excellent sat navs today, including brands like Binatone and MIO, and models like the Binatone Sat Nav for just £69.99.
These models are all great buys, depending on what you need. Just make sure you read the descriptions and list of features that accompany each device so you can get an idea of which features are most important for you.
Sat navs for different vehicles and drivers
---
There are also sat navs that are made for specific purposes and types of vehicle.
Sat navs for truck drivers and HGVs
---
Buying sat navs and data specifically for larger vehicles like HGVs is important, because they will only advise routes suitable for the length, width, height and weight of your vehicle. So you can avoid low bridges and restricted roads, and also find places to park the vehicle overnight.
One of the best sat navs for HGV and long-distance drivers is the TomTom Go Professional 6200. This top-end sat nav is packed with loads of features designed to make longer journeys safer, including a night-time dimming mode and a simple screen display that only requires a quick glance when needed, as well as full European maps for overseas deliveries. Alternatively, the more budget-friendly MIO Spirit 8670 will manage much of the same but without the more ?premium' feel of the TomTom.
Sat navs for motorbikes
---
It's no use trying to adapt a car sat nav for use on a bike, especially when there are many custom-made motorcycle sat navs out there. It's not just the mounting, anti-glare, Bluetooth headsets and waterproofness to check out, but also the ability to personalise routes for more exhilarating rides.
The best motorbike sat navs include the TomTom Rider and the Garmin Zumo. Both are waterproof, glove friendly and offer Bluetooth and hands-free so you can connect quickly and take calls without breaking the law.
Sat navs for caravans and campers
---
You can also buy sat navs with camper-specific features, such as road warnings and custom routing designed for the size and weight of your camper or caravan. They'll also help you find your preferred type of campsite or stopover place, using directories that can be filtered.
The best sat navs for campers are the Garmin Camper 770 LMT-D and the TomTom Go Camper, which are specifically designed for drivers with caravans and trailers in-tow. These are certainly both ones to look at ahead of your next camping holiday.
Sat nav accessories
---
Sat navs can provide a whole range of services. However, in order to make the most of your device, it's essential to look into accessories that will increase your sat nav's functionality and its long-term durability.
Sat nav mounts
---
Most sat navs come with a bracket and suction cup that fixes to the windscreen or dashboard. Some can be clipped to one of your air vents. You should position it so it doesn't obstruct your view of the road and so that the charging cable doesn't get in the way of your car's controls. Halfords also stocks motorcycle sat nav mounts and holders. If you lose your mount, then don't panic; replacements and additional holders can also be bought separately.
You can browse our various sat nav mounts here.
Cases
---
When you're not using your sat nav, you should protect the screen with a sat nav case. A soft carry case for as little as £3.50 will protect it from basic bumps and scratches. For a few pounds more you can get a sturdier solid case, which will also fit cables and accessories. We offer a range of TomTom and Garmin sat nav accessories, both online and instore.
Memory storage
Many sat navs have space for an additional memory card, which will allow you to store more maps and information and footage from a dashboard camera.
How does a stand-alone sat nav compare to a built-in one?
---
If you're buying a new car, you may be offered a built-in sat nav as an add-on purchase. Be warned, as these can cost a lot more than a stand-alone sat nav, sometimes over £1,000. This is usually because you have to choose them as part of an expensive multimedia system.
Even worse, the maps they use and features they offer could be out of date, while map updates may cost extra and have to be installed at a service centre from manufacturer-specific USBs, which you may never get around to doing. In addition, traffic alerts won't be very responsive compared to live traffic data and may come only by subscription.
What's more, you can transfer your sat nav from one vehicle to another. They're also ready to use straight from the box, so whatever your travel plans or car options, they're a simple way to make driving more stress free for both experienced and new drivers alike.
Sat navs - did you know?
---
What are the laws on sat navs?
The majority of sat nav laws point to common-sense safety tips, such as not having an obstructed view of the road, or not being distracted by screens.
One requirement that drivers need to be mindful of is that it's against the law to hold a sat nav whilst driving - just like a mobile phone.
Instead, drivers must have hands-free access. This could be through activating your sat nav with voice commands, or setting up your sat nav while safely stopped.
It's essential that drivers are familiar with how to use their sat nav legally. Being so is a requirement of the UK driving test today.
At Halfords we have some great sat nav deals waiting to be snapped up. Explore our wide range of the best sat nav models or use our sat nav selector to help find the right one for you.
We know it's sometimes tricky to set up and get used to a sat nav. That's why if you buy a sat nav at Halfords, we can set it up for you and give you a demo for free. We also offer a sat nav wireless installation fitting service for just £30 - let our experts take on the task, tidying up unsightly cables and giving your sat nav that professional polish.