Back to results
What Is Apple CarPlay?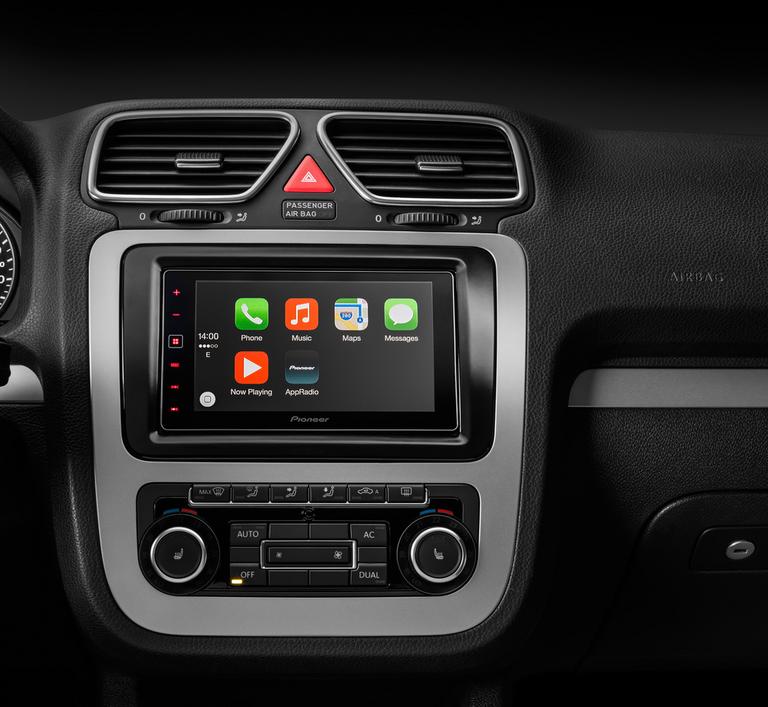 If you've been wondering what Apple CarPlay is, read our guide to it and wonder no more!
What Is Apple CarPlay?
If you own a car and use an iPhone but haven't heard of Apple CarPlay, then your world is about to change! With the help of an intelligent interface, easy and fast connectivity to your phone and tons of features that make using your phone while you drive a lot safer, Apple CarPlay is the ultimate co-pilot for any kind of journey.
Apple CarPlay is a piece of software that is installed on car head units, allowing them to act as a controller for your iPhone. Many cars now have head units (the interface in your centre console where you control the stereo, phone connectivity and sometimes navigation) with Apple CarPlay pre-installed, so you can simply plug in your iPhone and start using it. However, if you have an older head unit or a system that isn't compatible with CarPlay, you may need to upgrade.
How does it work?
Apple CarPlay seamlessly integrates with all your car's inbuilt audio controls so you don't need to take your eyes off the road. As long as you have an iPhone 5 or better, you'll be able to enjoy the benefits of Apple CarPlay.
Once you have plugged in your iPhone and gone through the first-time setup (which is very straightforward), you can access selected apps on your iPhone via the car head unit, including maps, phone calls, messages, music apps and settings.
What are the benefits of Apple CarPlay?
Rock out! You can listen to your music from iTunes, your Apple Music subscription, podcasts, or use a compatible third-party apps such as Spotify.
Navigate: Apple CarPlay can display Apple or Google Maps on the head unit display as you drive, acting just like a built-in sat nav.
Hands-free Calling: With the help of Siri, you can ideal contacts using just your voice, meaning you can keep your hands on the wheel and eyes on the road.
Check up on your Messages: If you spot an important text message notification on your head unit's display, you can ask Siri to read it our for you, then dictate a reply, all without taking your attention off the road.
Third Party Apps: With a bit of exploration and some playing around on your head unit when you're parked up safely, you can add a whole host of voice-controlled apps to your CarPlay home screen. From audiobooks and live radio to real-time sports and news updates, there are plenty of additional apps for Apple CarPlay to make the journey go quicker.
Is Apple CarPlay legal?
Absolutely. As everything is voice activated while you drive, the head unit isn't any different from a normal hands-free system or sat nav. The only time you'll be breaking the law is if you physically pick up your phone instead of using voice activation, or if you try to operate the screen without giving full attention to the road
Will my car be compatible with Apple CarPlay?
This is where things get complicated. Thanks to the larger screen required by Apple CarPlay's user interface, head units with Apple CarPlay installed need to be twice the height of a normal slot in your car's centre console (so twice the height of a normal head unit. This is known as a Double DIN head unit, so as long as you have enough space (or enough space can be made), then you should in theory be able to have Apple CarPlay installed in your vehicle.
If you only have enough space for a Single DIN head unit, or only one slot in your centre console, then you may be unable to install a compatible head unit in your vehicle.
How do I get Apple CarPlay?
If you're lucky enough to have a relatively new car (post 2016), then your car's entertainment system may already be compatible with Apple CarPlay. Check for a hard-wired lightning cable or USB slot and plug in, or check your car owner's manual.
If you've got an older vehicle or a head unit that doesn't support Apple CarPlay, then you'll need to upgrade your head unit at a minimum. This may involve re-configuring your current car's centre console layout, but luckily Halfords can help you to find the right head unit with Apple CarPlay for you, then fit it (at an additional cost).
Start by browsing our range of Apple CarPlay head units, or feel free to pop to your local Halfords store for a full demonstration.
Shop Apple CarPlay