Back to results
What Is Apple CarPlay?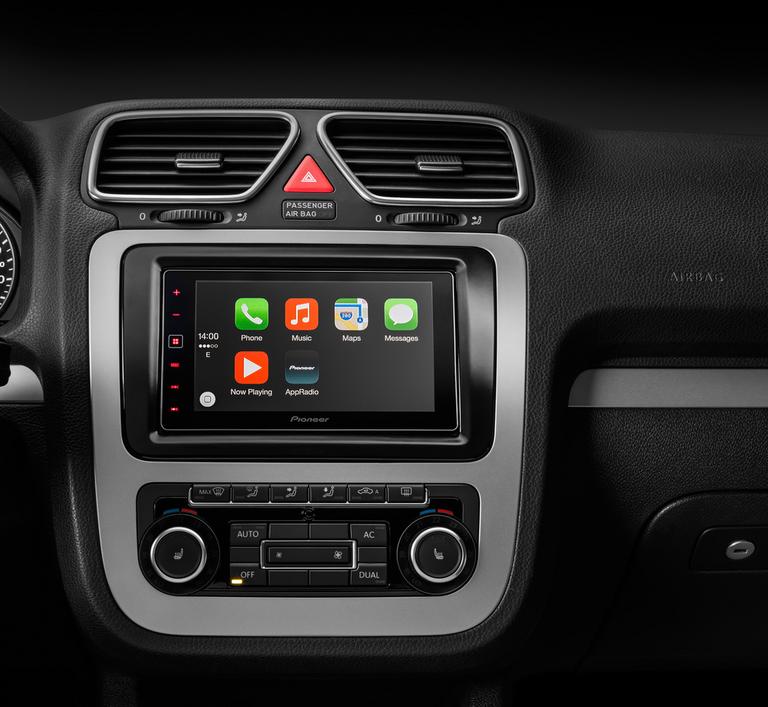 If you've been wondering what Apple CarPlay is, read our guide to it and wonder no more!
What Is Apple CarPlay?
You may have heard talk of Apple CarPlay when looking for a new car or browsing new car audio systems, but what is it, and how do you get it?
Apple market CarPlay as 'the ultimate co-pilot'. It's effectively a way to use your iPhone whilst driving, enabling you to read your messages, listen to music, navigate to a destination, and take phone calls - all from your car's inbuilt display. It makes using your phone much safer, enabling you to stay focused on the road ahead.
How does it work?
Available on select car models or as an aftermarket piece of kit, Apple CarPlay seamlessly integrates with all your car's inbuilt audio controls so you don't need to take your eyes off the road. So long as you have an iPhone 5 or later, you're golden.
To get it to work, you'll need to plug your phone into the dashboard with its lightning cable; there's no Bluetooth option as of yet. Once your phone's connected, you can use CarPlay in several ways:
Touch: You can touch the screen and control it like you would on your phone.
Buttons: Any buttons, knobs and dials that control your screen will also control CarPlay.
Siri: Apple's personal assistant, Siri is activated by voice and can help you use CarPlay completely hands-free.
So, what can I do with it?
Rock out! You can listen to your music from iTunes, your Apple Music subscription, podcasts, or use one of the compatible third-party apps such as Spotify.
Navigate: You can use your display as a sat nav with Apple Maps. As it's fully integrated with your phone, it can show you destinations from text messages, emails, your contacts and your calendar, as well as helping you to find nearby petrol stations or parking.
Hands-free Calling: Siri can help you return that important phone call, listen to your voicemail, or answer incoming calls.
Check up on your Messages: Have your messages read out to you by Siri and then dictate and send a reply.
Third Party Apps: There are plenty of third party apps that also integrate with Apple CarPlay, with more coming on board all the time. As befitting CarPlay, they're all audio based, enabling you to listen to audiobooks, live sports, the news, radio stations and more on the move.
I'm sold - how do I get it?
Apple CarPlay is available in lots of new cars, with the earliest models being built in 2015. But if you're not in the market for a new car, there are plenty of aftermarket solutions!
Lots of top audio manufacturers have created systems that integrate seamlessly with Apple CarPlay, providing the perfect solution for the tech-savvy. Take a look at all of our after-market Apple CarPlay models here, and don't forget you can get it installed alongside fascia plates at your local store. Read more about our car audio fitting service here.
And if you don't have an iPhone, there's Android Auto instead; read our guide to it here.
See all our Apple CarPlay models