Electric Hybrid Bikes Buyers Guide

Need a convenient way to get around town? Or maybe you want a greener solution for your daily commute. Whatever your needs, an electric hybrid bike may be the perfect answer!
Incredibly versatile, Electric hybrid bikes are the perfect go-anywhere, do-anything bikes. They combine technology from road and mountain bikes with powerful motors to create the ultimate urban machines – there's really nothing they can't do!
If you're thinking of joining the e-bike revolution but want to learn a bit more, don't worry! We've pulled together everything you need to know about electric hybrid bikes, so you can find the perfect option for your needs.
What is an electric hybrid bike?
Hybrid bikes combine the best technology from road and mountain bikes into one unique package to provide unrivalled versatility. They're equally at home on your urban commute as they are on a weekend ride around the countryside.
And, of course, Electric hybrid bikes have powerful motors that provide additional power while you ride – that means no more struggling over hills or walking into work exhausted. These motors can provide assistance up to a speed of 15.5mph (the legal limit!), and most electric hybrid bikes have multiple levels of assistance, so you can select how much of a workout you want. Because of this, they're perfect for experienced and new cyclists alike.
Before we delve into more details, let's clear up a few electric hybrid bike myths we've heard that can easily be debunked:
Electric bikes are 'cheating' – Not at all! This is arguably the biggest myth about e-bikes. Remember, the motor on an e-bike only provides assistance and you still need to pedal. Plus, you can choose the level of assistance you receive, which is particularly handy for steep hills!
They have a throttle you need to operate – Again, the motor only provides assistance so the bikes don't have throttles! All you need to do is select the assistance level and the motor will then help you out as you pedal.
And you don't need a licence to ride one on the roads.
Why should I buy an electric hybrid bike?
Incredibly versatile, convenient and equally adept on a commute, touring adventure or relaxed leisure rides, there are lots of amazing reasons why you should consider an electric hybrid bike.
But if you're in need of a little more convincing, here are some more reasons why an electric hybrid bike might be right for you:
They make cycling to work more accessible
Do you fancy riding to work but are put off by the thought of walking into the office exhausted? Or maybe the ride would be too far. With the help of an electric hybrid bike, commuting to work by bike is easier and more accessible than ever before!
On busy city streets, you'll be able to move faster than cars and public transport. Accelerating away from traffic lights can make the stop-start nature of city riding a little bit more fun too (especially as you shoot away from other road riders!).
If you're new to cycling or are worried about cycling long distances on your commute, an electric bike can take the fear out of the journey and the sting out of the legs. Over time, you can build up your strength and stamina, and you'll find yourself using less assistance (and needing to charge the battery less often).
Arrive fresh
No longer any need to work up a sweat over your local leg-sapping climbs, the motor can take most of the strain for you, keeping you feeling fresher for longer. You can even cycle in your work clothes - great if you're heading to a meeting or don't have showers at work.
However, if you want a workout or simply don't need the assistance for a certain ride, turn the assistance level down and enjoy your ride!
The future of urban transport
In busy cities across the UK, bikes are the future. An electric hybrid bike is a very real alternative to owning a car, especially in congested towns and cities where travelling, even short distances can take hours.
It doesn't matter whether you're slicing through traffic on your way to work, picking up your weekly shop or simply moseying on down to the pub for a swift half with friends – an electric hybrid bike is a low cost, low maintenance, low-stress transport method. And that's without thinking about the environmental benefits of e-bikes and the improvements to your health from regular cycling.
Lots of cities are now introducing clean air zones too which means additional charges for those who are driving – something you can avoid by riding an electric bike. So, whichever way you look at it, electric bikes really are the future of urban transport.
How is an electric hybrid bike powered?
If you're considering an electric bike, the chances are you like the sound of added assistance now and again. And why wouldn't you? There's no longer any need to struggle up that local hill or trudge into your office dripping in sweat! But how exactly does an electric bike provide this added assistance?
Electric hybrid bikes are powered by a motor, which takes its energy from a rechargeable battery that's fitted to the frame. These motors can be located either in the wheel hub or the cranks where your feet meet the pedals – and both types provide effective pedal assistance to the rider.
Using the motor is easy and it will only provide assistance while you're pedalling – all you need to do is select the level of assistance you want and pedal away! Using a higher level of assistance will result in a shorter range, but you can alter this throughout a ride.
Along with the motor, the battery on a hybrid e-bike is the most important (and most expensive!) component. In this instance, bigger really is better. Most batteries are between 300wh and 500wh which, depending on the level of assistance, will give you a range of between 15 and 120 miles.
A great example, the battery fitted to the Carrera Crossfire E Mens Electric Hybrid Bike will power you for up to 60 miles, which is long enough for most commutes or leisure rides. If you do run out of juice, you can still ride it like any non-electric bike.
The motor is managed through an interface which is fitted to the handlebars. More advanced models come fitted with displays that provide information, such as speed, distance covered and battery power remaining.
Common hybrid electric bike features
It's not just a motor that makes the bikes versatile, and electric hybrid bikes are packed with lots of amazing features.
Here are some of the common features you'll see on electric hybrid bikes:
Flat handlebars
When riding in an urban environment or commuting, you want to be comfortable, and that's why most hybrid bikes are fitted with flat handlebars.
Flat bars provide a comfortable, upright riding position that is pleasant for covering long distances. An upright position is also better for riding in traffic, providing better visibility of the road ahead so you can easily spot emerging dangers.
Disc brakes
From road to mountain bikes, disc brakes are the most popular option thanks to their superior performance in all conditions – and that's why most electric hybrid bikes come equipped with them.
A great example, the disc brakes fitted to the Carrera Subway Mens Electric Hybrid are high-performance, low-maintenance and work in all weathers – making them ideal for on-road and off-road rides.
Wide tyres
Most electric hybrid bikes can tackle everything from smooth tarmac and cobbled streets to canal paths and are comfortable to ride in all conditions – and one of the big reasons for this is their wide tyres.
Many are fitted with tyres that are wider than road tyres, but narrower than mountain bike tyres. This extra rubber between the wheel and road helps absorbs vibrations as you ride along, with the added benefit of enabling you to head away from the tarmac and onto to some rougher stuff should you choose to.
Mudguards, pannier racks, lights and kickstands
When it comes to riding around town or commuting to work, convenience matters, and that's why most hybrid bikes have mudguard and pannier mounts – and many of these things are commuting essentials.
You may also see fixed lights on hybrid e-bikes. It's a common feature because most e-bike power systems have a separate lighting circuit that can be controlled from the e-bike display unit. You'll never need to worry about replacing light batteries ever again!
How to select the right electric hybrid bike?
Electric hybrid bikes may be versatile, but that doesn't mean you should pick the first one you see! Instead, you'll enjoy your ride much more if you select the bike that's most suited to your needs.
Here are some of the choices you'll need to make:
Frame
There are two common types of electric hybrid bikes: step-through frames and crossbar frames. Step-through frames have no crossbar running along the top, which means you can swing your leg through the frame. Step-through bikes are common in cities across Europe. They're easy to ride and easy to get on and off. One of our most popular electric bikes, the Pendleton Somerby's low step-through frame makes the bike a convenient and practical choice.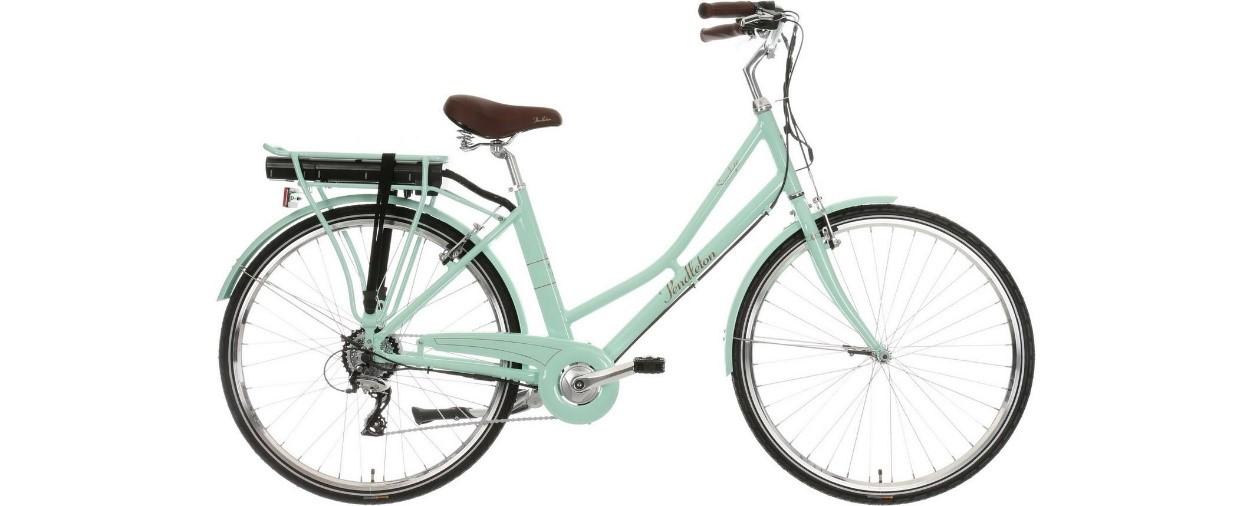 Shop the Pendleton Somerby-E Electric Hybrid Bike
Hybrid bikes with a crossbar look more like traditional mountain bikes and road bikes. They're sportier and handle better than step-through models. A great example, the Carrera Subway has a crossbar and packs a lot into an impressive package.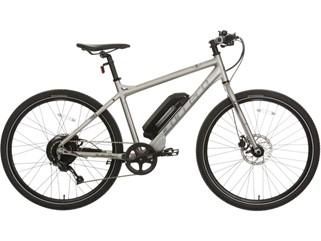 Shop the Carrera Subway Electric Hybrid Bike
Suspension
Want to ride in complete comfort? Then you'll want to choose a bike with a suspension fork.
A suspension fork will soak up the lumps and bumps of the surface you're riding on, including off-road tracks. If you're planning on using your hybrid off road, on towpaths, mixed-use paths, cycle paths and bridleways, then we'd recommend seriously considering a suspension.
Motor and battery size
When assessing electric bike systems, consider how you will use the bike – where you are going, what you are carrying and how far you are travelling.
When assessing options, consider the size of the motor and the capacity of the rechargeable battery. The bigger the battery, the longer it will be able to provide powered assistance.
The pay-off is the increase in weight. If you're planning on touring with your bike, we suggest you invest in a bigger motor capable of propelling you and your luggage.
As with everything, you get what you pay for. At the top of our e-bike range is the spectacular Boardman HYB 8.9E Mens Hybrid Electric Bike. This hardwearing hybrid packs a lightweight Fazua Evation drive system, which delivers smooth power for up to 60 miles.
---
Already own an Electric Hybrid Bike? At Halfords we are here to support you with life's journeys. That's why we have placed all of our E-Bike user manuals and guides into one convenient place here - which are available for you to read online or download to view as you wish.
Environmentally friendly, convenient and versatile, there's a lot to like about electric hybrid bikes. So, why not head over to Halfords.com where you'll find our full range, all from top brands.
Shop Electric Hybrid Bikes
Making life easier, you can also pop into your local store and test a bike in person.
Find your local Halfords store