Electric Road Bikes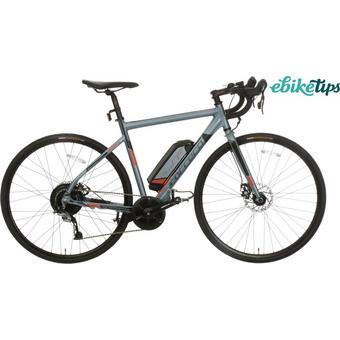 159 views today
Max range: Up to 50 miles
Motor Type: Suntour Rear Wheel Drive
Approx Weight: 19.5kg
Spread the cost
From

£29.07

per month
Supercharge your sprints and laugh up lung-busting climbs with an electric road bike from Halfords. Electric racing bikes come with a powerful, portable motor and rechargeable battery that can provide up to 100 miles of rider assistance. Flick on the power when you need it, or keep it on all ride – the choice is yours. Check our range of electric road bikes from Halfords, the UK's favourite cycle retailer.
A motor on a road bike? With modern technology, it's both possible and affordable. An electric road bike is a normal road bike that's fitted with a motor and battery. It's a standards road bike that's transformed in seconds with a flick of a switch.
Turn it on, and you'll feel an extra push each time you pedal, with the motor delivering you to a steady 15 mph. Sure, you won't become a Tour de France champion, but you'll feel like a winner when you're the motor takes the strain from your tired legs after a long ride.
We're the UK's leading supplier of electric bikes and have a superb selection of electric road bikes for all budgets. We stock a superb selection of the best electric road bikes from brands such as Carrera, Raleigh and Boardman, with every bike bought from Halfords coming built and ready for the road.
If you're new to the world of electric bikes, visit our e-bikes hub. If you're lucky enough to live near one of our 34 electric bike specialist stores, you can take your choice of e-bike out for a free 30-minute test ride, or take it home for a 48-hour trial.