Brompton C Line Urban Low Handlebar Folding Bike - House Red - 16" Wheel
Limited Stock
Pre-Built & Ready to Ride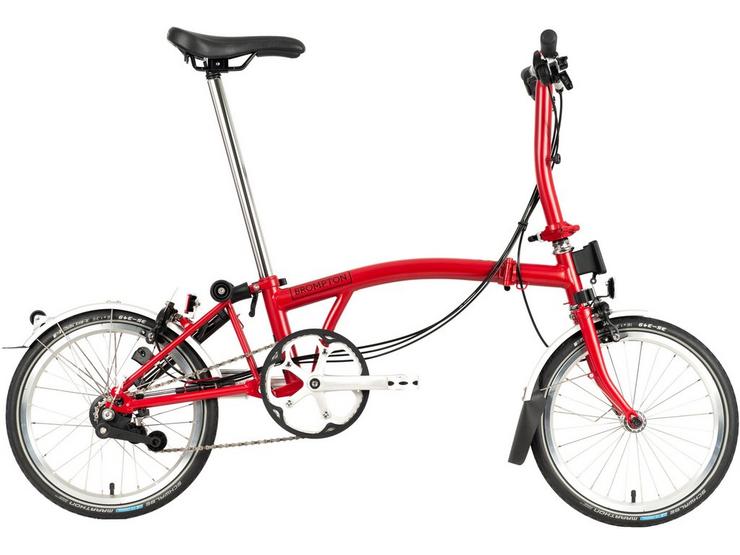 10 people are viewing now
5 purchases during last 48 hours
Brompton C Line Urban Low Handlebar Folding Bike - House Red - 16" Wheel
Number of Gears : 2
Handlebar Type : Low
Approx Weight (KG) : 11.2kg
The Brompton folding bike, invented by talented engineer Andrew Ritchie in 1975. Today Brompton bikes continue to be handmade in London with the same uncompromising quality that Andrew instilled.
Owners have taken their bikes on around-the-world trips, on country tours and even to the South Pole, but mainly they are used 365-days a year to improve day-to-day lives whilst getting from A-B (but sometimes the full A-Z).
The Brompton Fold
Expertly engineered to transform the bike into a small package a little larger than its wheels in just four easy steps - all in under 20-seconds (or less if you become a pro!).
The Brompton bike is easy to carry and easy to store. Whether at home, on a train or bus, it tucks neatly into luggage space.
Once folded the Brompton can be carried like a small suitcase using the frame or saddle as the handle. And it can be pushed or towed easily on its small roller wheels.
Nothing folds like a Brompton folds.
No limits to the freedom of your ride
When you're not zipping around on your Brompton, its perfectly engineered fold allows you to travel and take your bike with you whenever, wherever. On rush-hour trains, buses and ferries.
Folding to a third of its size it stows in small car boots and taxis, goes on aeroplanes, sits under your desk at work or securely stores at home for piece of mind.
So whether it's a commute to work or exploring far flung places that's next on the list, your Brompton adventure awaits!
Find Your Ride
This C Line model with it's steel frame is tough and can take everything the city throws at it.
The Urban specification with the 2 speed gearing provides you with the simpler, lighter weight set up, perfect for flatter environments. This gearing option provides one light gear for uphill and setting off, and another for cruising.
This model features the Low handlebar option, giving a lower, sportier position for those preferring a more responsive ride.
The 16" wheels bring great acceleration and manoeuvrability, ideal for stop-start city riding. The smaller wheel diameter also increases the strength and rigidity of the wheels. The suspension offered by the long seat post and suspension block make the small folding bike comfortable to ride over rough surfaces and for longer distances.
The C-Line is boxed pre-built and quality checked by Brompton's technicians, and will only require the pedals to be fitted when taken out of the box (15mm spanner required).
Brompton Luggage
Brompton offer a wide range of luggage that securely fit onto the front of the bike. It's the best way to carry anything on your Brompton bike.
Big, small or essentials only, all of the bags click easily into place, keeping your belongings secure and your journey as comfortable as possible.
Brompton Quality
All Brompton products go through stringent quality testing procedures by the Brompton Quality team at the Factory in London.
However, if an issue does occur, you can be confident that Brompton are there to support you.
All Brompton bicycle frames have a 7 year warranty when registered at purchase using the QR code clearing labelled on the bike.
A Line




C Line


Urban

C Line


Utility

C Line


Explore
Gears
3
2
3
6
Brakes
Brompton A Line Calipers
Brompton Dual Pivot Caliper
Brompton Dual Pivot Caliper
Brompton Dual Pivot Caliper
Mudguards
No
Yes
Yes
Yes
Weight
11.5kg
11.2kg
11.8kg
12.1kg
Saddles
Brompton A-Line
Brompton Standard
Brompton Standard
Brompton Standard
Tyres
Schwalbe Marathon Racer
Schwalbe Marathon Racer
Schwalbe Marathon Racer
Schwalbe Marathon Racer
Shop now
Shop now
Shop now
Shop now