TEMPORARILY OUT OF STOCK
Back In Stock July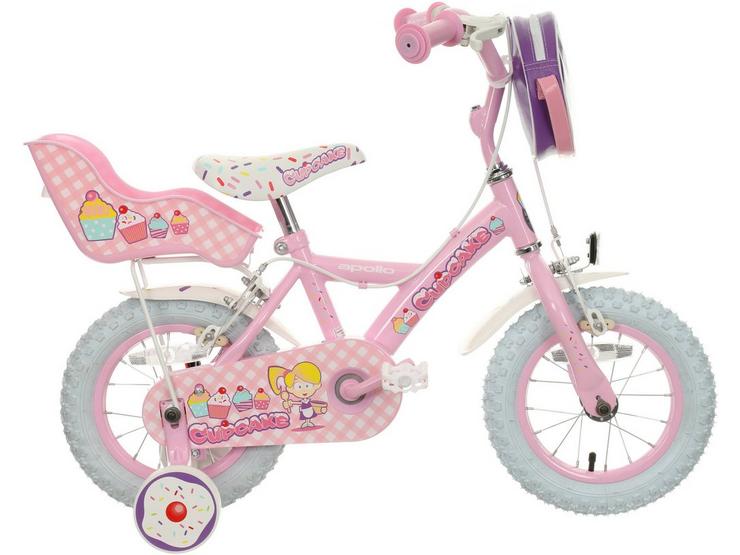 10 people are viewing now
5 purchases during last 48 hours
Age Range : 3-5 years
Approximate Weight (KG) : 8kg
Tyres : Air Filled Rubber
Apollo Cupcake Kids Bike - 12" Wheel
Age Range: 3-5 years

Approximate Weight (KG): 8kg

Brake Type: Front and rear calliper brakes

Tyres: Air Filled Rubber

Frame: Robust Steel

Stabilisers: Yes - can be removed as confidence grows

Full chainguard to protect little fingers and clothing
Additional Features:
Doll carrier and cute handlebar bag with stylish cupcake design

Mudguards to protect clothing from spray and mud
Yes, you can have your cake and eat it too! With its candy pink finish covered in sprinkles, cherries and cakes, the Apollo Cupcake Kids 12 Inch Bike looks good enough to eat! Your little one is sure to fall in love with its delicious design as well as all the fun extra accessories it comes with.
Engineered with removable stabilisers, your child can gradually build their confidence at their own pace. The stabilisers feature a delicious cupcake design on either end, which will spin around as your child begins to cycle. What's even more wonderful is that they will also learn to develop their balance and co-ordination abilities. These are vital skills, which can be transferred to other activities such as sports, when starting school. All of these features make this fantastic 12 inch toddler bike the perfect first bike for your child.
Together with its perfect matching parts and accessories, this fun 12 inch wheel bike has been built to provide many everlasting adventures for your child. Featuring a vibrant, purple handlebar bag and a plastic rear dolly carrier, your child can enjoy taking their favourite toys and teddy bear or dolly to accompany them on their cycling escapades.

Safety is at the forefront of this 12 inch toddler's bike. A fully enclosed chain guard adorned with charming cupcake patterns will protect your child's legs from getting scratched or dirty from the oily bike chain. You'll no longer have to worry about your youngster's fingers or their clothes getting caught up in the chain either. Plus, the bike features front and rear mudguards that will stop at least some of that muddy water from flying out of puddles that they'll definitely want to ride through!

For added safety, easy-to-use front and rear caliper brakes have been installed for smooth, safe riding and to safeguard your child from going too fast or out of control. This provides a high degree of control for your little one with reliable braking power that you can trust. In addition, light reflectors are attached to the front of the bike, as well as the spokes on both the front and the rear wheels. This helps improve the visibility of this delightful kids 12 inch bike, keeping them safer on dull afternoons or dark school runs.

This endearing Apollo Cupcake Kids 12 Inch Bike is suitable for children with a height between 98-112 cm, which makes the recommended 12 inch bike age, range from between 3-5 years.

As one of the UK's longest running bicycle brands, Apollo Bikes have been producing value for money, high quality bikes for everyday cyclists for many years. Tried, tested, and sold here in the UK, there is an Apollo Bike for all types of cyclists.

Apollo Kids Bikes have a variety of fun designs and exciting children's characters to make cycling fun for you and your little ones. The range of Apollo Kids Bikes are tailored to suit family life and keep children safe, so that as parents, you have full peace of mind that your child is riding safely alongside you.
Apollo Cupcake Kids Bike - 12" Wheel Extra Info
Accessories
If your little one wants to be the cherry on top of the cupcake, then some additional matching accessories will certainly have you in their good books. Grab a Kids Bike Helmet, which is ideal for helping them to stay stylish but also safe while they ride.
Bike build available by our expert bike technicians. Learn more
We guarantee that your child will want to get out and ride their new bike, so don't waste any riding time by letting us build it for you. We'll make sure it's safe to ride and even get rid of the packaging.

Bike Maintenance
Keeping your child's bike in top condition means it won't be out of action for too long. With our Kids CycleCare service, we'll make sure your child's bikes components aren't wearing out and make sure everything is good to go before they start riding again. Don't forget that you can bring the bike into any Halfords store for a free safety check at any time.

Our Guarantee
We take the quality of our bikes seriously, which is why we offer a lifetime guarantee* on frames and forks.

*Please see our T&C's here
Size Guide
Wheel Size
Age (Years)
Height (Inch)
Height (cm)
Balance
First Bike
2' 11" - 3' 5"
88 - 105
12"
3 - 5
3' 3" - 3' 8"
98 - 112
14"
4 - 6
3' 5" - 3' 10"
105 - 117
16" / 18"
5 - 7
3' 8" - 4' 2"
112 - 127
20"
6 - 9
3' 10" - 4' 6"
117 - 136
24"
8 - 11
4' 2" - 4' 9"
127 - 145
26"
9 - 12
4' 6" - 5' 0"
138 - 154
For Children 11+ please consider our range of adult bikes. Below gives an indication of the sizes you should look for. (For accurate sizing please view size guide on individual bikes).
Frame Size
Age (Years)
Height (Inch)
Height (cm)
14"
11 - 14
4' 10" - 5' 6"
148 - 168
14"/17"
12 - 15
5' 0" - 5' 8"
154 - 174
17"
13 - 16
5' 3" - 5' 10"
160 - 178