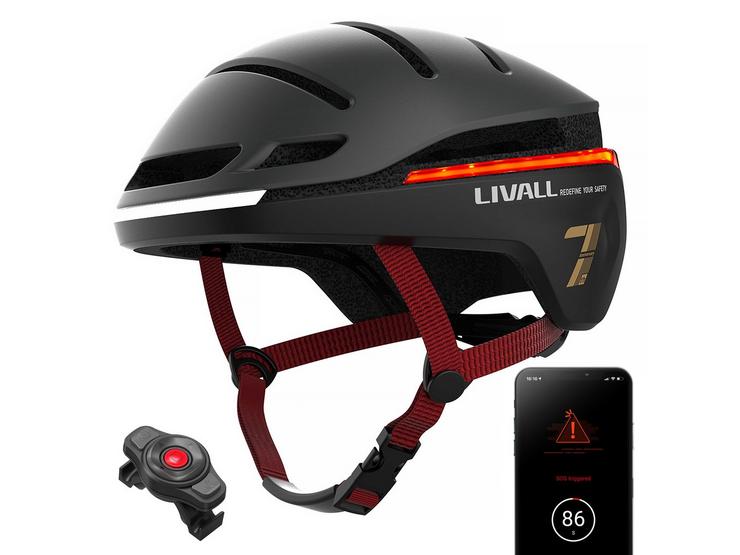 10 people are viewing now
5 purchases during last 48 hours
Type : Smart
Rear Light : Yes
Protection System : Standard
Livall Evo21 Smart Leisure Helmet
• SOS Fall detection system alerts a contact in the event of a sudden fall.
• Smart LED indicators let you alert other road users when making a turn, giving you confidence that you will be seen.
• Automatic Brake Warning Light alerts others when you are slowing down.
• IPX5 waterproof rating, so the LED lighting system and remote control will continue to work in the rain.
• 10 air vents help air flow travel through the helmet to keep you cool whilst pedalling.

Most traditional helmets only protect you in case of a crash. The Livall Evo21 Smart Leisure Helmet uses active protection help try to prevent accidents before they happen by making riders more visible on the road. LED warning lights combined with SOS fall detection and location alert technology provide superior visibility & confidence for all cyclists.

Award Winning Design
IF Design Gold award winner 2021: "The design of this road bike helmet is a successful blend of highly functional and aesthetic demands. The wind-flow-optimized form combines performance with great focus on safety. The extended rear light optimizes visibility and communication among traffic participants by integrating functions like brake and directional lights as well as an SOS system".

360° Visibility
The EVO21 offers true 360° coverage, with a brake warning light and turn signals for visibility from all directions (to be used additionally to the highway code).

SOS Fall Detection System
The LIVALL features patented fall detection and SOS technology. In the event of a fall it sends a text message alert to your emergency contact with your exact GPS location.

Smart Lighting
Wide-angle front lights and super-bright 270° rear lights are integrated into the helmet, maximizing your visibility from distance, whilst the smart LEDs allow you to signal to drivers what you'll do next - stop, turn, or ride on through (to be used additionally to the highway code).
Plus, three dynamic light effects will make sure you get noticed on any street, improving your visibility and helping you ride in style.

Turn Signal lights
Use the handlebar remote control to activate the helmets Indicator signals to alert traffic of your turning direction to enhance your visibility (to be used additionally to the highway code).

Automatic Brake Warning Light
Get in sync with your cycle. The EVO21 has sensors to detect when you're slowing down or coming to a stop, and it automatically turns on the brake lights on the back of your helmet. Letting other riders and motorists know you are stopping.

Wide Beam-angle Front Light
The front light has a 45° angle reach, so it can be seen if you have your head low over the handlebars or you are sat upright. The EVO21's wide beam light will shine through at any angle, making you visible at long distances and letting everyone know you're coming.

IPX5 Waterproof
The EVO21 is IPX5 waterproof so the LED lighting system and remote control will continue to function should your cycle ride encounter the finest that our British weather can throw at us.

10 Hour Battery Life
With 10 hours of battery life, the helmet gives you piece of mind that you will remain visible to all for multiple rides before it needs to be recharged. Recharging is easy too, with a USB cable you can just plug n when you get home, ready for your next ride!

LIVALL App
Get the most out of your ride with the LIVALL Riding App. Customize everything from light settings, turn signals, battery reports, and daily cycling records. And the App links up to LIVALL's community of like-minded riders. So next time you see a beautiful sunrise on your morning commute, you can easily share it with your friends. App features: Battery indicator, Riding community, Fitness tracking, Route tracking. Compatible with STRAVA and iHealth.

What's in the box?
• 1x LIVALL Smart Bike Helmet
• 1 x LIVALL Remote Control
• 1 x USB Charging Cable
• 1 x English User Manual

Specifications:
• Product size: Medium: 54-58cm Large: 58-62cm
• Net weight: 350g
• Colour changing LEDs: 38
• Warning distance: <200m (656ft)
• Battery capacity: 600mAh
• Battery type: Rechargeable Lithium-ion
• Battery duration: 10 hrs (under continuous operation)
• Charging time: 3 hrs
• Charging type: Magnetic Charging
• Charging port: USB
• Ventilation system: 10 vents
• Waterproof: IPX5
• Bluetooth: Bluetooth 5.0
• LIVALL Riding App:
• Compatibility: IOS 6 / Android 5.0 and above.
• Connection: Bluetooth 5.0
• Supported Languages: 12 (English, French, German, Italian, Spanish, Dutch, Polish, Simplified Chinese, Traditional Chinese, Russian, Japanese, Korean).