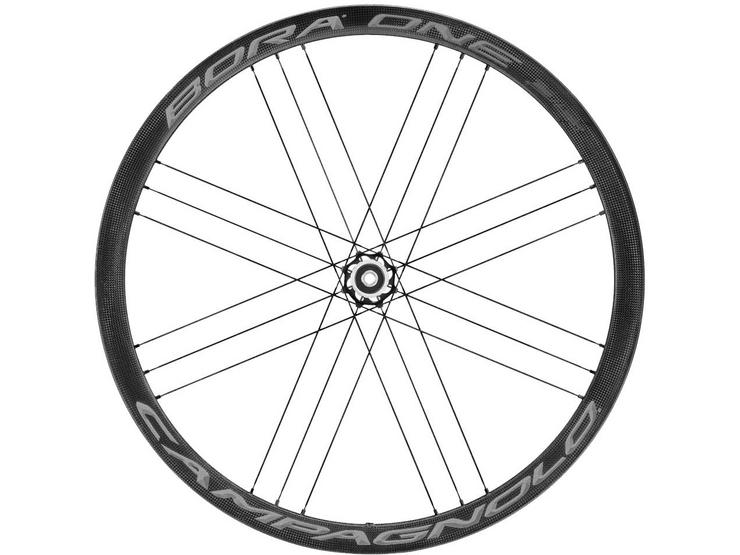 10 people are viewing now
5 purchases during last 48 hours
Campagnolo Bora One 35 DB Drk BT12 AFS Wheelset 700c, Campagnolo
Features:
Full Carbon high profile 35mm rim, in clincher and tubular versions.
RDB (Rim Dynamic Balance) exclusive technology engineered into the rims, assures perfect balance even at high speeds
Ultra lightweight decals eliminate the need for heavy adhesives and painting, reducing the overall weight by nearly 15g
Aluminium hub with oversized flange, cup and cone USB bearings and aluminium axle
Aerodynamic spokes with exclusive Mega-G3 spoke pattern with anti-rotation system
Freehub: CA 9/10/11/12x, SH 11x or 9/10x with spacers
Weight: 1483g Clincher, (CA) for Campagnolo, (SH) for Shimano
Bolt-Thru Axles
Assembly
The Bora One 35 Disc Brake Wheel is entirely hand built by a specialised Campagnolo technician and is checked in every tiny detail with electronic tools. This ensures that every wheel conforms to the high standards that Campagnolo pride themselves and will have unbeatable reliability.
Tech Specs
Spokes
Spoke Count: 24 Front & 21 (G3) Rear
Bladed aerodynamic stainless steel with aluminium nipples
Rims
Profile Height: 35mm
Rim section (height/width): 24.2mm
Material: Carbon
Hubs
Aluminium hub
USB Bearings
Width: 100mm (Front) / 142mm (Rear)
Cup and cone bearing system
Disc Fitment: AFS/Centre-Lock (Lockring included)
Freehub: CA 9/10/11/12x, SH 11x or 9/10x with spacers
In The Box
Valve Extender
User Manual
Warranty Booklet
Campagnolo Wheel Identification Card
The Campagnolo engineering staff have developed a new construction that has created a braking performance above and beyond anything found on carbon rims to date.
With maximum aerodynamics, extreme speed and incredible handling, The
Campagnolo Bora One 35 DB Drk BT12 AFS Wheelset 700c, Campagnolo
is sure to give you the best performance in any situation. Even on the most challenging mountain curves. Increasing the rim width from 20,5mm to 24,2mm allowed the Campagnolo engineers to not only improve the aerodynamics but also to allow the wheel to accommodate wider tyres. Using wider tyres increases control, as the contact area between tyre and asphalt is larger, thus improving grip and creating a more comfortable ride.
USB Bearings are ceramic which vastly reduces the weight and greatly improves the smoothness of the bearings. The ceramic ball bearings inside also mean that maintenance will be far less common and it has a much higher resistance to corrosion than standard bearings.
The Mega-G3 Spoke pattern is a type of spoke assembly that improves energy transfer between the hub, which reduces stress on the right-hand side which in turn increases the rigidity of the wheel. This is achieved by having twice as many spokes as the left-hand side.
The wider rim profile increases structural integrity, without increasing the weight of the wheelset. Weight is further reduced thanks to a smaller profile front hub. Campagnolo engineers were able to reduce the weight and size of the hub while maintaining all of the performance characteristics of the previous version.