Stans NoTubes 10 Yard Rim Tape - 21mm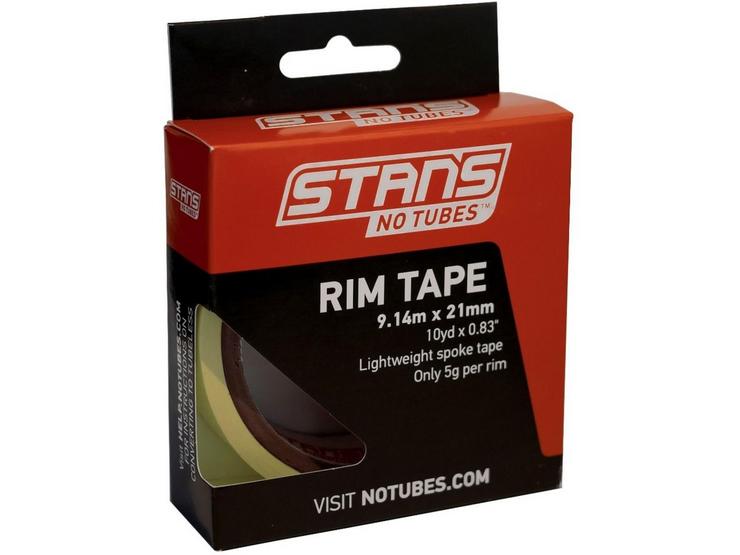 10 people are viewing now
5 purchases during last 48 hours
Stans NoTubes 10 Yard Rim Tape - 21mm
Creates durable, airtight seal over spoke holes
Completely non-porous vapor barrier seals rim interior from moisture
Low friction surface helps tire beads slip into place
Stans NoTubes 10 Yard Rim Tape
Creates durable, airtight seal over spoke holes
Completely non-porous vapor barrier seals rim interior from moisture
Natural gum rubber adhesive sticks where and when you want it to but leaves no residue
Low friction surface helps tire beads slip into place
Stans NoTubes 10 Yard Rim Tape Extra Info
FITMENT:
Stan's 21mm Rim Tape is recommended for rims with an internal width of 19-21mm.
WHAT YOU NEED TO KNOW:
Stan's Yellow Tape is designed to work with tubeless-ready rims and wheels. If you'll be inflating your tires to 45psi or less, one layer of yellow tape in the bed of your rim is all you need for most rims. For road tubeless and similar tires that require more than 45psi of pressure, a double wrap of tape is required.
WHAT IF I HAVE AN OLDER RIM?
The BST (Bead Socket Technology) profile developed by Stan's NoTubes was a departure from traditional bicycle rim design, and its core concept is the basis for the vast majority of "tubeless-ready" rims and wheels on the market today. Stan's Yellow Rim Tape is not, by itself, a tubeless conversion for older, traditional, non-"tubeless-ready" rims. These older rims require the use of a Stan's NoTubes Rim Strip (now discontinued) to re-shape the rim bed to achieve a safe, secure tubeless setup. While we would recommend considering a new tubeless-ready wheelset in place of a rim strip conversion, Stan's Rim Strips and kits may still be available at your local bike shop and can be used to convert vintage bikes with older, non-tubeless-ready rims. Using only Yellow Rim Tape and Stan's NoTubes sealant on a non-tubeless-ready rim can result in not only difficult inflation during set-up, but catastrophic "burping" issues while riding