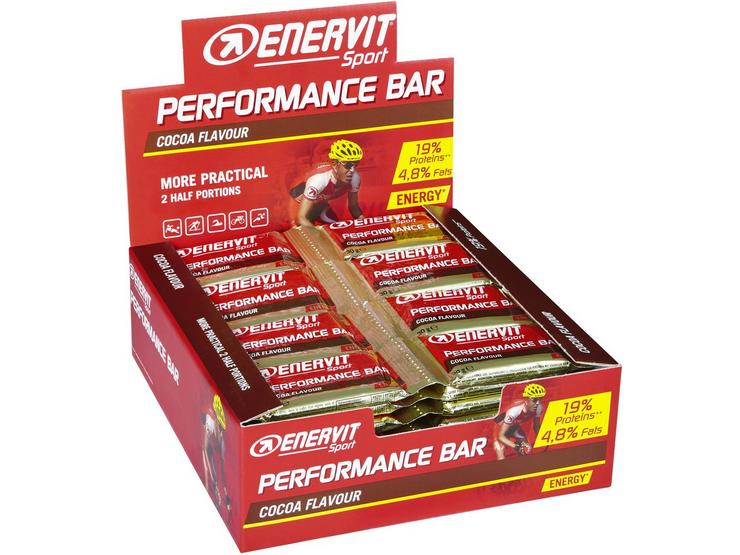 10 people are viewing now
5 purchases during last 48 hours
Brand : Enervit
Flavour : Tropical
Product Size : 30g
Pack Size : 28
Enervit Performance Bar Cocoa 28x2 30g
Enervit Sport Performance Bar is an energy bar useful in the event of intense muscular effort in sports.
Two half portions - 30g x 2 (60g) of Enervit Sport Performance Bar gives:
A Reduced fat content (reduction of at least 30% compared to the average of the best-selling sports and outdoor bars)
A source of proteins (19%), which contribute to muscle maintenance
A source of magnesium that contributes to fatigue and tiredness reduction, and to the normal metabolism and to the electrolyte balance.
A source of potassium that contributes to the normal muscle function.
A source of vitamin C to help to protect cells from oxidation stress.

HOW TO USE
We recommend 1-2 portions per day. During sport take two half portions (60g), with an appropriate quantity of water.
WARNINGS
This product should be used as part of a varied and balanced diet and a healthy lifestyle. Store in a cool, dry place.
More Info
Key Ingredients: Carbohydrates, Proteins
Product type: Bars
Sport: Cycling, Triathlon, Cross country skiing, Ironman
Consuming time: During Sport
NUTRITIONAL INFORMATION
Per 100g, Per 2x30g (Cocoa)
Energy: 1446Kj, 854kj, 342Kcal, 202kcal
Fat: 4.8g, 2.9g
Of which Saturates: 1.4g, 0.8g
Carbohydrate: 54g, 32g
Of which Sugars: 36g, 22g
Protein: 19g, 11g
Salt: 0.25g, 0.15g
Thiamine: 0.28mg, 0.17mg
Vitamin B6: 0,35mg, 0,21mg
Potassium: 500mg, 300mg
Magnesium: 120mg, 72mg
INGREDIENTS:
Glucose-fructose syrup (16,5%), Milk protein (11,6%), Maltodextrin (9,2%), Fructose syrup (9%), Skimmed milk powder, Dextrose (7,5%), Tapioca starch, Ground almond praline (almonds, sugar), Alkalised cocoa powder (cocoa powder, acidity regulator: potassium carbonates, vanillin) (6,3%), Oat flakes, Condensed milk, Egg white powder, Malt extract (from barley), Flavouring, Cocoa fibre (1%), Magnesium citrate, Hazelnut paste, Potassium citrate, Potassium gluconate, Antioxidant: tocopherol-rich extract, Micro-encapsulated vitamin B6 (pyridoxine hydrochloride, emulsifier: mono-and diglycerides of fatty acids), Thiamin hydrochloride.
*May contain soybeans, other nuts.*