Gift Cards
A Halfords Gift Card is the perfect way to reward and engage your employees, customers and partners alike. You can select from traditional gift cards for an authentic present or an instant e-Gift, sent straight to the recipients email if you need a more instant solution.
Simply choose the amount you'd like to put on a card between £1 and £1,000 and the lucky recipient will be able to use it in any of our 460+ Halfords and Cycle Republic stores.
There's also a handy extra discount available if the recipient chooses to spend more than £1,000.
All orders on Halfords Gift Cards are fully tracked for peace of mind at no extra charge. Plus if you order before 1pm on a weekday, we'll send it out the same day.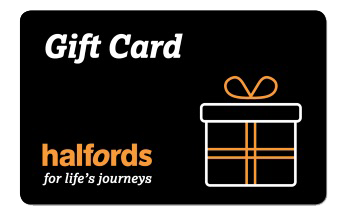 Purchasing a Halfords Gift Card is easy.
Simply use the contact us form and a member
of our team can discuss your options further.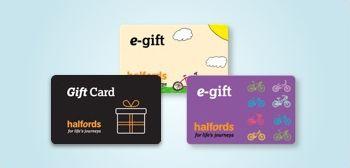 Free next day delivery on all direct bulk purchases

Open value or fixed denominations from £1-£100

Reloadable gift cards available

Free presentation wallets available upon request

Bulk discounts may be available to help you budget (minimum spend £1,000)

Giftcards can only be redeemed instore or through website orders using click & collect
Get In Touch
If you require any further information on our account services, please get in touch with us via the Contact Us form.
Customer Testimonials
We Are Discounts (Health card discount for NHS)
"We are proud to be a long standing corporate rewards partner of Halfords .. Our partnership with Halfords is an active demonstration of our company values, and our commitment to our members."
Mike Walker at Stored Value Solutions UK Ltd (SVS)
"Growth has been achieved through collaboration and a true partnership approach...The team always listen to my recommendations... we meet regularly to review project progress"