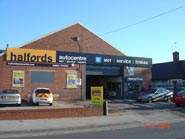 Halfords Autocentre Wakefield (Ings Rd)
Ings Road Wakefield , WF1 1RE
What customers are saying about us
New battery fit.
My appointment was honoured and the work carried out quickly, politely and efficiently. Couldn't have asked for better service
I am happy with the job ☺done in my car.
I am happy with the job ☺done in my car.
What a farce.
MOT done on Saturday 09/01 - Fail due to washer pump not working. Got told to take it home as my 'pipes were frozen' and sit with my engine running. 3 hours later. No luck. Phone call back to say it 'might be your pump that needs replacing' but will have to order the part on Monday as it's dealership only and they're closed now. Expect a call on Monday. I had to phone myself late Monday evening to check. 'Oh yeah, we're chasing it up for you. We will call when it's sorted.' Friday 15/01 get a call to say the part is on order and will be arriving Saturday 16/01. Email (that went straight to my junk folder and I didn't see it until late night 17/01) to say I was booked in 18/01 at 8am. Took it down on 18/01. Part hadn't arrived but hoping for it to arrive that day. 5km+ walk back home. 3:30pm phone call to say my car is ready and the pump just needed a clean out as it was all clogged up. 9/10 days of money and time wasted.