Locking Wheel Nuts
Find what's right for your vehicle
Enter your registration number and we'll only show you appropriate products.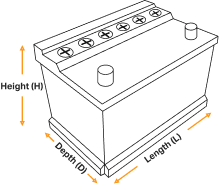 Check which battery is right for my car
About our range of locking wheel nuts
Locking wheel nuts are a significant deterrent for thieves. While the rest of your car wheel bolts are a standard size that can easily be removed with a wrench, every locking wheel nut is slightly different and can only be opened with a specific key. As a result, locking wheel nuts make it much more difficult for thieves to access your vehicle.
Locking wheel nuts were first used by car enthusiasts who wanted to protect their expensive alloys and rims. Now, they're pretty standard on most vehicles.
Wheel nuts to fit all cars and budgets
We stock a wide range of locking wheel nut kits, for every car and every budget. We've got reliable standard replacements for your wheelsand also stock a whole range of premium locking wheel nut kits. Hard-wearing, corrosion-free and Thatcham-approved; our high-quality wheel locking nut kits will keep your car and its wheels together forever.
Our locking wheel nut tool takes the hassle out of choosing the locking wheel nut kits and installation tools are right for you. Just type in your registration number or some details about your car and you'll see a selection of locking wheel nuts that will work on your vehicle.
Locking wheel nut keys
Every kit comes with its own unique key. You'll need this for unlocking your wheels when you replace your tyres or if you ever get a puncture. While it may be tempting to keep your locking wheel nut key in your glove compartment, it's the first place a thief will look. Don't make it easy for them!
Locking wheel nuts are one of the most popular car accessories we stock at Halfords. You can use our Click and Collect service to have your new locking wheel nuts delivered to your local Halfords store or buy online. Spend over £20 and you'll qualify for free delivery too.