Snow Chains & Socks

Find what's right for your vehicle
Enter your registration number and we'll only show you appropriate products.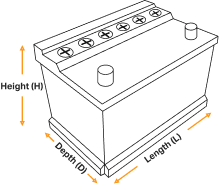 Check which battery is right for my car
About Halfords Snow Chains and Socks
Heavy snowfall is becoming more common in the UK during the winter months. Driving in snow and ice is highly dangerous unless you're got the right gear. Thankfully, you can get everything you need at Halfords.
Snow chains and snow socks slip onto your existing tyres. Digging into the ice and snow, they prove extra grip that standard rubber tyres just can't provide. Snow socks for tyres are an alternative to chains which are easy to fit and lightweight.
Across Europe, a set of snow chains are not only essential, but they're also compulsory. It's a good idea to plan ahead and ensure you have a set of snow chains or ice socks in the boot or the garage. If you wake up to a deep-settling of snow, getting to a Halfords store it might be a bit of a challenge, and it's unlikely any couriers will be out and about.
There are loads of different types of snow chains and ice socks available, which can make it challenging to know what's right for you. Our snow chain tool can help you see a selection of winter car accessories perfect for your vehicle.
You can choose from some of the best brands, and our own brand of Halfords' snow chains that have been keeping drivers on the road, whatever the weather, for over 100 years. If you're worried about driving in winter weather, check out our tips for driving in the snow.
Order Snow Chains and Socks Online
You can find our complete range of cold-weather car accessories online or at your local Halfords store. You can purchase today with free delivery over £20 and free returns, or have your winter weather kit available ASAP with Click and Collect.