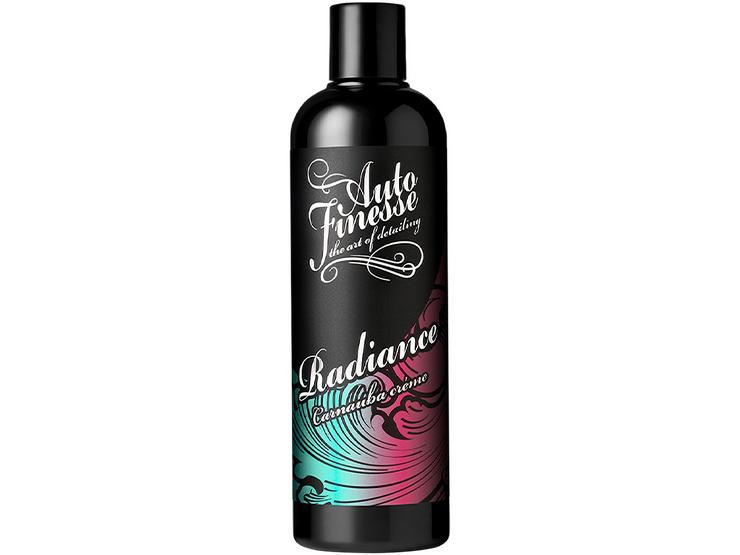 10 people are viewing now
5 purchases during last 48 hours
Cleaning Stage : Polish/Wax
Suitable For : Paintwork
Auto Finesse Radiance Carnauba Creme 500ml
Auto Finesse Radiance Carnauba Créme offers the deep wet look shine associated with our hard wax collection in an easy to use cream formula.
This cutting-edge finishing product is the perfect solution for those who hanker after the benefits of a wax but prefer the consistency of a cream. In fact, this may be the most effortless wax-based finisher ever conceived!
Specifically developed for the most simple, easy-on and easy-off application, Radiance is a lusciously thick, nonabrasive liquid that spreads evenly, hazes quickly and bonds to the paint surface to provide a durable layer of protection that lasts for up to 3-months. After a final buff with a fresh microfibre cloth, it leaves behind a super-slick surface which will repel grime and environmental fallout, while offering extreme water behaviour.
Safe for use on all paint types and all colours, the application is a simple case of massaging into the paintwork, panel by panel, over the entire vehicle, before buffing off to an ultra-deep shine.
Features & Benefits:
Packed with T1 Carnauba wax
Durable for up to 3 months
Easy on, easy off
Non Abrasive formula won't harm bodywork
Provides a long-lasting deep radiant shine on all paint finishes
Suitable to use on all colours and finishes
Use and Care:


1) Thoroughly wash and dry your vehicle before application.
2) Apply two small pea-size drops to a microfibre (or foam) applicator pad.
3) Work into the paintwork using light pressure and small, overlapping circular motions.
4) Apply to the entire vehicle before removing with a fresh microfibre cloth.