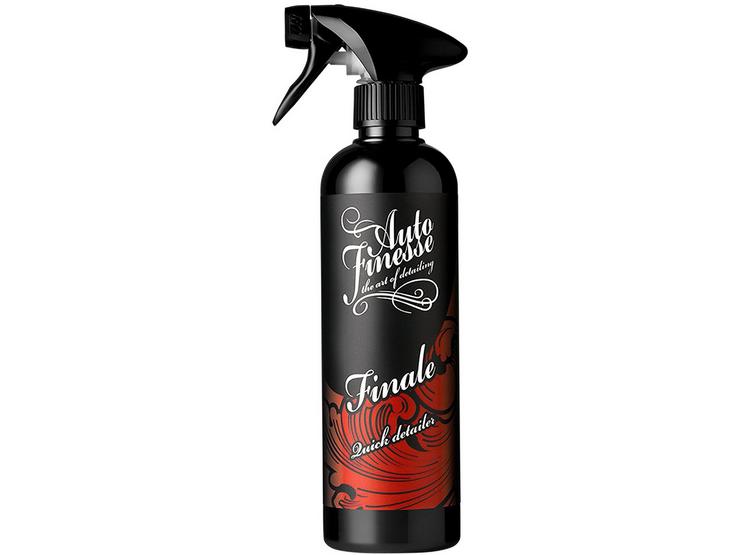 10 people are viewing now
5 purchases during last 48 hours
Cleaning Stage : Detailing
Suitable For : Paintwork
Auto Finesse Finale 500ml
The Auto Finesse Finale quick detailer is the perfect way to finish off detailing with its water-based solution and suitability for all surfaces. Also, effortlessly remove fingerprints, watermarks and more with the Finale detail spray.
Detailers love its sweet Maraschino Cherry scent and warm carnauba glow. The Finale is safe on all surfaces, including paint, glass, hard plastic and brightwork trim.
The Auto Finesse® Finale Carnauba-infused, water-based quick detailing spray does not smear or streak when used in hot, cold, or humid weather conditions.
Finale's water-based unique solution can be used to finish off paintwork to buff it to its best, removing watermarks, towel residue left behind by previous detailing stages, as well as removing any leftover product residue. It is safe to use and should only be used as a very final quick perfecter. You can also use Finale as a drying companion, as it assists in the drying process to make it quicker and easier to get a streak-free finish.
The Auto Finesse Finale quick detailers can also dramatically help the drying stages. After washing, spray a light mist over the vehicle whilst wet to aid drying and add lubrication. Do not use Finale in direct sunlight, or temperatures below 0 degrees celsius.
Features & Benefits:
Water-based solution, suitable for all surfaces
Removes fingerprints, watermarks and more
Maraschino Cherry scent
T1 grade Carnauba wax
Non-streaking
Suitable on all surfaces, including paint, glass, hard plastic, and brightwork trim
Safely remove light surface contamination from paintwork
Adds gloss, shine & slickness
Boosts existing wax layers, prolonging longevity
Use on the wet car before drying to avoid water spot marks
Suitable for use as a clay lubricant
Application:
1) Start by giving the bottle a good shake to activate the ingredients.
2) Apply a fine mist of product onto one section at a time and spread over the panel using a plush microfibre towel. A little goes a long way, so it is unnecessary to oversaturate the surface.
3) Turn over or re-fold the towel to reveal a clean, dry side, and gently buff until the finish is clear. If using Finale during hot weather, it is advisable to work over small sections at a time to prevent premature drying of the product.
4) Auto Finesse Finale is safe to use on all surfaces, including paint, glass, hard plastic and brightwork trim.
Additional Note:
*We advise storing upright at all times.